Speak Your Mind
MVHS politics club prepares for first debate conference of the year
On Thursday, Nov. 15, the MVHS Politics club, also known as JSA (Junior State of America), met in F102 to go over the logistics of their first conference of the year, JSA Fall State in San Jose. Senior and president Adamya Srivastava shared about what will be in store for them at the two-day conference, including speakers and competitions.
"At the conference, students are going to be exposed to a wide variety of opinions on issues, and meet some types of people they otherwise wouldn't," Srivastava said. "So at this conference, I'm hoping that students can not only speak their mind but grow their worldview."
The MVHS Politics Club also has a specific goal in mind for their members and Srivastava hopes will stay with them throughout their lives: a deeper interest in politics coupled with student activism.
Srivastava's love for politics started in middle school when he had a desire to learn about history and stay up to date with current events. He first joined the Politics club at his former high school, then when moving to MVHS, he decided to help expand it given that it wasn't as big of a club.
The Fall State on Nov. 17-18 will be junior Sean Chen's first conference. He will deliver a six-minute speech followed with on the spot questions, all judged by the audience.
Chen joined JSA to get to know other people with similar interests.
"The best part of JSA is being able to exercise thought on different issues in this country," Chen said. "It's an important topic and it's good to have an outlet for that."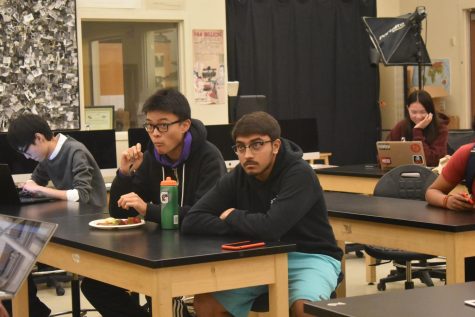 Like Chen, advisor and art teacher Brian Chow sees the importance of the club, and the potential it gives for students to learn and develop what it takes to become the leaders they want to see in the world.
"I hope they learn to become empowered and be part of the process," Chow said. "The system is not perfect and there are a lot of areas where we can engage from a political standpoint but also creating change in action … And the first part is by participating … I want students to learn to use their voice and that they can be heard."
Chen believes that clubs like MVHS Politics club is an important way of teaching students not only within the club but also those around school how to grow and know that with the passion they are capable of the change.
"There is a multitude of ways that they can use that voice to affect change now and later in life to be leaders for our country," Chen said.