MVHS student takes third in 45th annual Japanese speech contest
Third place winner shares her process and motivations
On Sunday, Nov. 4, the 45th annual Japanese speech contest was held in San Francisco's Japantown at the Japanese Cultural and Community Center of Northern California. The event was a joint effort between the Consulate General of Japan in San Francisco, the Japanese American Association of Northern California and the Northern California Japanese Teachers' Association. Of the 25 total contestants, junior Nishchala Beeram took home third place in the non-native speaker category with her speech, "The power of language."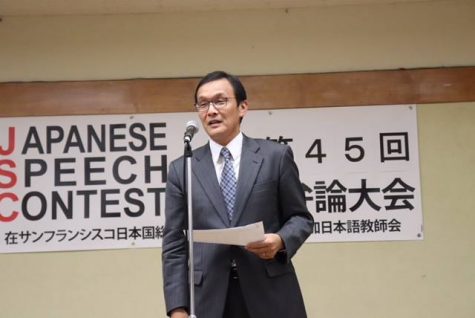 Beeram has been studying Japanese for four years, starting by self-studying in middle school. New to Kennedy MS, one of her first friends was listening to a Japanese singer called Piko, and Beeram wanted to understand what the song lyrics meant. After two years of self-studying, she took Japanese 1 as a freshman and AP Japanese as a sophomore. While in AP Japanese, Beeram entered the 44th annual Japanese speech contest, receiving second place for her speech, "Why I'm learning Japanese now."
Japanese teacher Keiko Howard notes that she typically tells her classes about the contest by putting information on the whiteboard and sending it through Schoolloop. Howard encourages students to participate, as she feels that it's a good opportunity for them to practice speaking in Japanese in front of an audience.  
"I heard about it from my teacher and since I was an advanced student at the time, she's like, 'You should probably do this,'" Beeram said. "And I decided to try it because I wanted to get better at public speaking."
After winning last year, Beeram decided to try again this year. Though she did have past experience, Beeram felt her preparation for this year's contest was more rushed. The number of contestants was limited; each school can only enter one candidate and two alternate candidates. The alternate candidates are only accepted if extra spots are available, when other schools do not participate.
"I wrote the speech kind of last minute," Beeram said. "Because I'm not taking Japanese, our teacher wanted to know that no one else wanted to go to the speech contest [before I entered], so it was really rushed."
Howard expresses that the time limit was also due to communication from the contest's organizers.
"They [told us] who can participate the competition almost two weeks before the competition, so until I receive the approval, I didn't want to ask [participants] to write the speech because they're busy [and] if they find out they cannot participate," Howard said. "So just mere two weeks and they are so busy. [The] last week before the competition, they start[ed] writing [a] draft."
Though the short amount of time to write her speech was a challenge, Beeram was already familiar with the competition and how to prepare for it, making the overall process smoother. She wrote her speech, then asked Howard to revise it. As Howard's students have been participating in this contest for about 10 years, she is familiar with the judging process and also provided guidance in other aspects, such as with the time limit or when choosing a topic.  
"I didn't have much time to work with them actually [practicing] speaking, but the writing, I gave them some idea[s] because I know what the judges like; I know the judges' tendency," Howard said. "Then, they have to put the speech within four minutes. Last year, Nishchala's speech was over four minutes so she got [a] deduction, so that kind of thing, I helped."
Beeram's chosen speech topic also reflected her original reason for wanting to enter the contest — her fear of public speaking.
"The one this year was about how my mom helped me to get over my fear of talking to people," Beeram said. "Because talking to people is one of my hardest things to do, I decided to do it about that."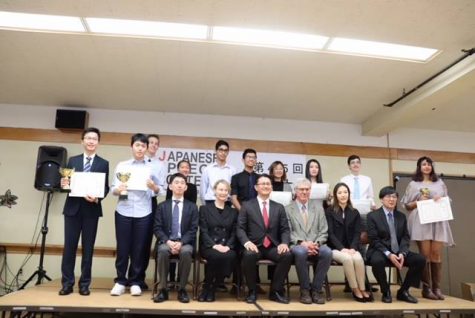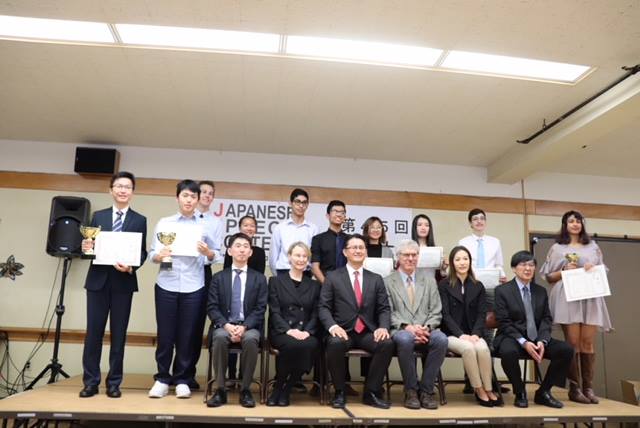 Though Beeram was "very scared" while giving her speech, she was ecstatic to find out that she won third place, competing in the Japanese not spoken at home category and under the middle school and high school division. Beeram accomplished her goal, which was to get top three and earn a spot at nationals, in which she could then potentially qualify for the worldwide competition in Japan. At the San Francisco contest, Beeram received a third place trophy along with a certificate of achievement and will be heading to nationals in Los Angeles.
Header image used with permission of the Consulate General of Japan in San Francisco.