Exploring the brain with MV Neuroscience
President of MV Neuroscience reflects on her neuroscience journey
For senior and MV Neuroscience Club president Siddhi Shah, a family friend diagnosed with autism was what spurred her initial interest in neuroscience. A middle schooler at the time, Shah recalls spending a lot of time with him and observing how everyone treated him differently.
After her introduction to neuroscience, Shah has continued to explore neuroscience through several different facets, including summer activities, research and leading MV Neuro.
Additionally, she founded an organization called Neuro Nerdz, which aims to teach elementary school students about neuroscience by conducting classes in person as well as through online videos. The motivations behind the founding of Shah's organization connect back to her experiences as a child.
"When I was growing up and I wanted to learn more about neuroscience as a middle schooler, I didn't really have access to resources about neuroscience," Shah said. "A lot of the things online [were] geared towards people in college and people in high school, so it wasn't really always easy to learn about what I wanted to learn about."
In addition, Shah's experiences with her family friend motivated her to teach younger kids about neuroscience — she saw how he was treated differently at his school and how it affected him while growing up. She hopes that more neuroscience education will lead to reduction in the stigma surrounding diseases like autism, and mental health issues.
"There's a lot of stigma around mental health because people don't really understand the way that the brain currently works," Shah said. "There's a lot of misconceptions out there, so part of what we try to do at Neuro Nerdz is try to stop those misconceptions from spreading to younger kids. By teaching it to them the right way from an early age hopefully we can correct those misconceptions."
Shah says these kids' curiosity only continues to grow as they learn more in their classrooms or through video calls. They ask a wide range of questions, about everything from the brain of a dog to the different types of mental illnesses.
"The way that they look at the world is just so different from the way that we look at the world," Shah said. "Answering their questions actually helps me learn more about neuroscience and think about it in a different way as well."
Teaching young children new concepts feels fulfilling, and Shah and her fellow teachers often try to implement activities that will make lessons more fun for the students. For instance, Shah says everyone loves an activity called the Egg Drop Challenge. Essentially, an egg is placed inside a fluid and dropped, yet the egg doesn't shatter — mimicking the way the brain is protected by the skull and fluids.
"They get to see how a real world application relates to neuroscience and that's usually how they understand the concepts that we try to teach them," Shah said. "It's been really fun working with them and seeing them grow."
In contrast, MV Neuro is different in terms of its goals as well as activities. In Neuro Nerdz, the goal is to cultivate an understanding and awareness from an earlier age; however in high school, the focus is slightly different.
"Most people, by the time they're in high school, already have a sense of what they want to do and what they're interested in," Shah said. "So MV Neuro is trying to get them involved if they're interested in science already."
Shah says that the most unique aspect of MV Neuro is that it brings guest speakers who work in neuroscience fields, allowing people to see what a possible career path might look like for them.
"I think in high school, people are trying to explore [career paths] rather than explore a certain interest," Shah said. "[Guest speakers] show people how other people started in high school with an interest in neuroscience and took that further to an actual career. Hearing from them really improves people's overall understanding of how the brain works and what you can do with that in the future."
About the Contributor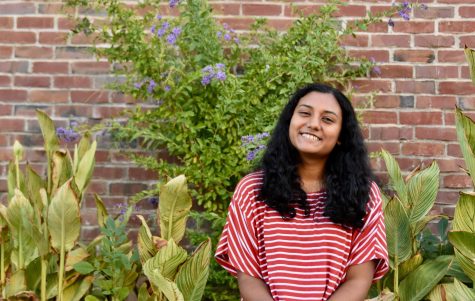 Oishee Misra, Opinion Editor
Oishee Misra is currently a junior and opinion editor for El Estoque. She enjoys reading, trying new foods, hanging out with her friends, watching Netflix, and is obsessed with dogs. She loves to read works by New York Times columnists and hopes to be like them someday.