MVHS staff celebrates Halloween
Staff members hold a costume contest in honor of Halloween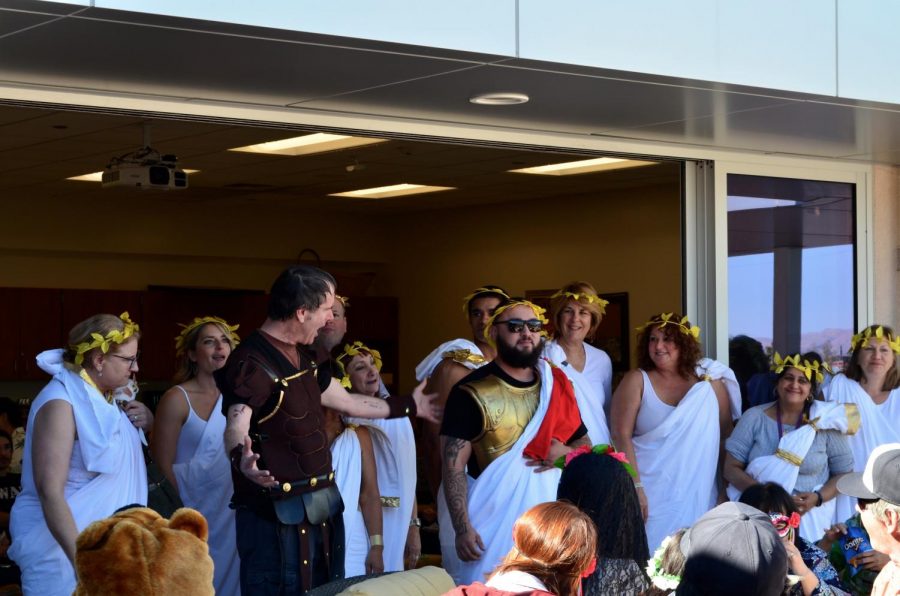 During lunch on Oct. 31, while MVHS students crowded around the rally court to participate in their annual Halloween costume contest, staff members filed into the staff lounge to eat and socialize with each other before their own costume contest began.
Each department dressed up according to their department theme, such as the English department's theme of punctuation superheroes and the history department as Pac-Man characters. After each department showcased their group costumes, the staff members voted for the 'most funny' and 'most organized' departments, with final results being based on the amount of cheers each department received. Ultimately, the physical education department, with Goldilocks and the Three Bears costumes won 'most funny' while the special education department, which dressed up as Greek gods and goddesses, won 'most organized.'
Physical education teacher Dasha Maximovich described the thought process behind their award-winning costumes, in which her fellow teacher Julie Sullivan proposed the idea of Goldilocks and the Three Bears.
"We thought it was a perfect fit because we had three people who could be bears and then the fourth person who could be Goldilocks," Maximovich said. "We thought it was [going to] be a good twist because rather than the female teachers, we made it more comical and had Mr. Sullivan dress up [as Goldilocks]."
In contrast to the physical education department's way of coming up with a costume idea, where one teacher suggested an idea and the rest followed, special education teacher Ceazar Agront described how his department held meetings just to brainstorm for their costumes.
"One of the first things that we talk about at the beginning of the year is Halloween," Agront said. "As teachers, we have collaboration time and we will talk about stuff that's important in the department but there's always time to kind of brainstorm. I think it's a way to bring the team together and just have fun."
For first-year MVHS staff member and attendance technician Supriya Lawrence, who was a former librarian at Christa McAuliffe Elementary School, the costume contest was something she had never experienced before. Lawrence described her thoughts on the contest and the differences between the two schools' ways of celebrating Halloween.
"The number of staff at [McAuliffe] was smaller so the whole staff picked a theme, and we all kind of collaborated and did one outfit," Lawrence said. "Whereas here, it was a lot more fun because the different departments got to do different themes and it was like a competition and a surprise so there was a lot of excitement."
One aspect Agront wishes would change for the future costume contests is the way the winners are determined. As of now, winners are solely based on the number of cheers each department gets, but because larger departments automatically get an advantage, Agront believes this is something that should be resolved.
"I was laughing because I was looking at the dates that are on the trophy that they give us and it says special ed department on almost all years," Agront said. "We're the biggest group so obviously we'll make the loudest noise, so it kind of echoes the school spirit and I would like to get more people engaged and do some different scoring ways."
Maximovich also hopes that for the future Halloweens to come, the audience of the staff costume contest will be expanded and done in front of students as well.
"We're keeping [our costumes] as a secret until lunchtime to dress in our full attires before we go on to the lunch event," Maximovich said. "So making it open more to public and doing it in the rally court or on the stage, so that kids can see that we have a light and fun side to us as well, would be nice."
Check out photos from the event below.
About the Writer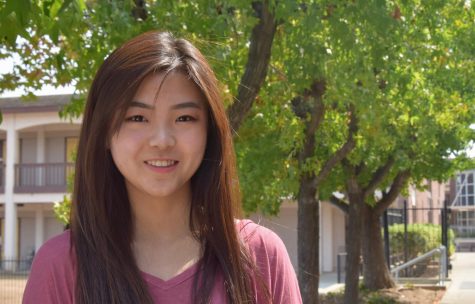 Julia Yang, Features writer
Julia Yang is currently a senior and a features writer on staff and has previously written for entertainment, sports and news. She enjoys dancing, listening to music, eating good food, and spending quality time with family and friends.