Concrete Growth: Renovations bear the F building have cause a few mobility difficulties
Renovations near the F building have caused inconveniences for Robotics students and teachers.
Since the start of the school year, construction near the F building has been underway. A main entrance and botanical garden is being built near the back end of the F building, and the main gym is being remodeled to have classrooms on the second floor where the new leadership room will be. In order to make way for this new construction, five portables were removed and access to the F building from the back was partially obstructed.
For woodshop teacher Ted Shinta, the construction provides some minor inconveniences. Although it does not directly affect his classes, it does hinder mobility. Shinta uses the space between the student parking lot and his room to bring in wood into the wood shop (room F105). While this won't interfere with class or teaching, it will make the process longer. Despite these setbacks, Shinta will find another way to bring materials to class and on the plus side the tough sheds will be moved closer to his room which could save time.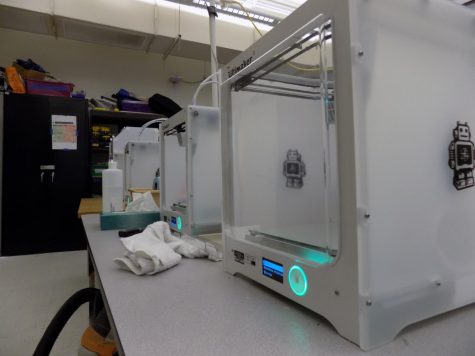 "So it might actually end up being in a much better place than it was before," Shinta said. "There's always hopes [that] when they start [a] construction project, there's always a hope that you're going to be better off and maybe we are, maybe we aren't."
For Shinta, the lack of space could prove troublesome for Computer Integrated Manufacturing, a class he hopes to teach next year. In this future class, Shinta intends to get a large machine for the maker space, where students can manufacture their own projects. Besides access problems, Shinta's main concern is whether there will be ample room after construction.
"So that's a bit worrisome for me, I don't know what's going to happen, and I think that, for me, the biggest thing is not knowing what the final outcome is," Shinta said. "No matter what it is, if I know what it is, then at least I'll know what it is, and I could deal with that. But right now, I feel worried because I don't know what it's going to be, and I don't know how it might impact [things] as far as movement of students and equipment from the room."
After construction, there will be a clear separation between the maintenance yard and the F building. However, for Shinta, who considers himself a scrounger, this provides no benefits as he frequents the maintenance shed for leftover furniture to use as wood for his classes.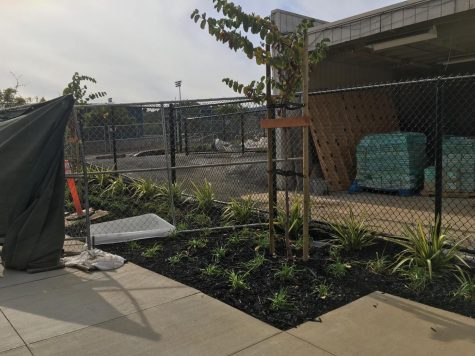 "So hopefully, everything will work out," Shinta said, "But I mean, no matter where you work, you have to always adapt to what the situation is. So I'm not going to get like all crazy about this. I mean, there's a lot worse things that are things that require more [of] my attention, then to worry about some construction changes or something like that."
In order to build the entrance, the portables were removed and one of the portables, portable five, was used by MVHS Robotics as a work and storage space. For junior Sophie Ye, who's been part of MVHS Robotics for three years, the loss of the portable caused inconveniences in terms of work space, and the issue has yet to be remedied.
"We haven't been offered a replacement so that's kind of unfortunate," Ye said. "We've had to downsize and then they had us unload all of our stuff from our old storage container so they can move it to the other side of campus."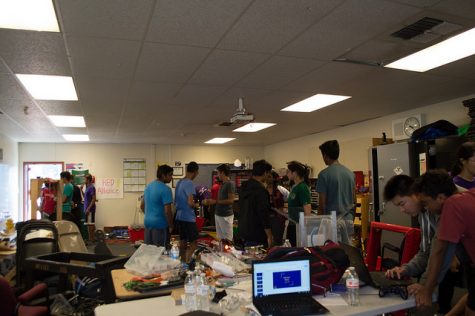 With the loss of a room, Robotics has taken up roost in Shinta's room to construct their robots, with the rest of their materials being stored in the choir room. They had roughly two weeks to adjust to their new situation before build season. However, Ye would still prefer a new room over the entrance way due to overcrowding and inconvenience in transporting materials.
In terms of priorities, landscape only recently became an option, as  modernizing the campus as a more important priority. Facilities manager Chris Kenney explains that a bond, which is a loan funding public projects,  made it possible to update MVHS' facilities. These bonds, used for the public, receive money from private investors and and are decided on by a vote. "In past, MVHS hasn't had a lot of landscape projects," Kenney said. "When we started doing projects in 2001, they didn't include landscape and then very recently when we did the auditorium, they decided to do some landscape out in front of the McClellan Road to change some things."
The new sprinkler system, known as the drip system, make landscaping easier and more efficient. The drip system does not have actual sprinklers, but instead has pipes with holes running through the ground. When the water system is turned on the water seeps into the soil, thus eliminating water waste.
This has helped changed the front of MVHS and incorporate more plant growth into the campus. With the addition of plants breaking up the concrete jungle, Kenney hopes the entryway will be more appealing to visitors.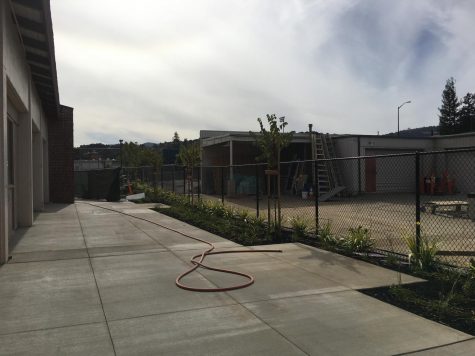 "If you went to a football game, all you [would see were] the portables, and the portables aren't the best looking thing in the world," Kenney said. "So now [that] they took that area out when visitors are coming to a football game, water polo game, volleyball [game] or basketball [game], [they'll see] a nice entryway."
All these additions were funded by the bond project, and another bond would allow for more adjustments and maintenance for classrooms. It would help fund the replacement of HVACS (Heating, Ventilation and Air Conditioning Systems) in classrooms. Alongside replacing the HVACS, the boilers in the buildings would be replaced with the VRF (Variable Refrigerant Flow) system which would reduce noise.
"I hope they don't take it for granted," Kenney said. "When we do a bond project, it's helping the students have a better environment, so they're not broken down buildings."
About the Writer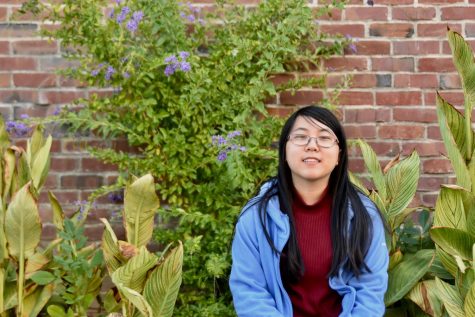 Sarah Young, Graphics Editor
Senior Sarah Young is currently a Graphics editor for El Estoque. In her free time, Sarah likes to draw, read and take walks in the park. She is currently really into pointillism and marshlands.