Lava lamps in Erlenmeyer Flasks
Women in Science, Technology, Engineering and Mathematics holds first lab of the year
On Oct. 17, members of Women in Science, Technology, Engineering and Mathematics (WiSTEM) gathered in biology teacher Lora Lerner's room during lunch for their first experiment of the year: the lava lamp lab.
With input from club members, WiSTEM decided to host this lab in particular. To make these lava lamps, teams used accessible materials including water, vegetable oil, food coloring and Alka-Seltzer tablets. Despite its simplicity, the officers were able to relate it back to chemistry.
"The science behind it was explaining what polarity is and what density is," senior and club president Rujuta Sathe said.
After the officers presented the background of polarity and density, club members got to work.
Junior Catherine Cole joined WiSTEM to conduct fun labs that weren't graded. She expresses her interest in this lab and the unexpected nature of the experiment itself.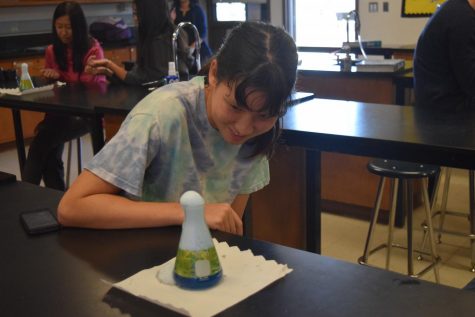 "It was really cool to watch," Cole said. "I didn't really think [the bubbling] was going to happen, but it did and it kept going for awhile so it surprised me"
Cole also shows interest in future WiSTEM club meetings to do similar experiments.
Two days prior, the club officers sent out an email with a form attached that polled students about various categories ranging from astronomy to psychology. The officers then took the results and did quick Google searches to find the experiment that had the right complexity and held highest level of interest. Senior and lab coordinator Samhita Bhat recalls the poll results leaned toward the subject of chemistry.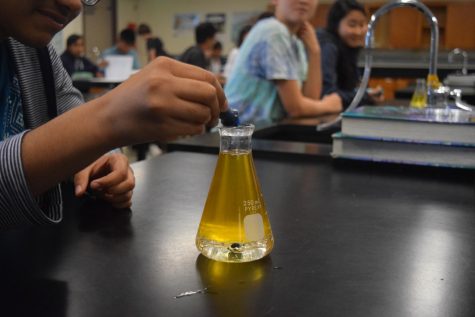 "Our responses were more chemistry-based, but if people were interested in a physics lab we would be doing something else," Bhat said.
As the year goes on, the labs will increase in complexity. WiSTEM plans to hold a bacteria growth lab next, where the officers will teach club members not only how to grow bacteria but other components as well, such as dealing with the agar bacteria grows on.
"Many people are new to the concept of growing bacteria in the first place – it's not just like swabbing something and growing it," Sathe said. "There are a lot of other technicalities like creating the agar, how to let it cool, which temperature to incubate it at."
Every lab needs the necessary materials and funding. Luckily, many of the experiments WiSTEM conducts include lab equipment borrowed from Lerner, who is the advisor. For this lab, they were able to use Erlenmeyer flasks found in the storage behind the biology classrooms.
As for fundraising, WiSTEM plans to follow the standard methods such as holding boba fundraisers and participating in the annual Club Grub day, where every club has the opportunity to set up a stand in the blacktop and sell its food of choice. WiSTEM officers mentioned McDonald's as a possible option.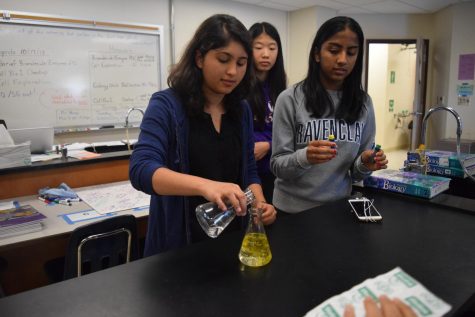 The club officers find joy in the responses of club members as they see the bubbling reaction take place.
"It was fun," Sathe said. "I went around and they said they enjoyed it."