Woodshop loses numbers
Due to loss of student interest, Woodshop sections dwindle down to one
Hang on for a minute...we're trying to find some more stories you might like.
In years past, industrial technology teacher Ted Shinta taught three sections of Woodshop. This year, he's down to one. When the first-period bell rings, 28 students get to work on a variety of projects using the many available machines. With his newer classes like Intro to Engineering Design and Principles of Engineering gaining enrollment each year, Shinta believes it's only to be expected that Woodshop may disappear soon.
"I started out with three periods but as time has moved on, I guess there's less student interest," Shinta said. "I teach engineering now and it seems like some more students are signing up for engineering. The engineering classes [are UC approved] as an elective and so I think most parents and students think that that's more essential for them to have."
Freshman Sinchana Geopl took Woodshop throughout middle school and is continuing this year. Geopl says the declining numbers of Woodshop students could be attributed to what he thinks is the "culture of Cupertino" and how parents here often see no use in taking classes that hold "no academic benefits."
"I feel like a lot of the parents these days, they're a bit more focused on [taking] courses that … you can put on your transcript to help you get into a better college," Geopl said.
Senior Guna Vengalasetti has fallen victim to this as well. Guna wanted to take the course since freshman year but hesitated because of the number of other classes his parents urged him to take. He waited until his senior year to enroll in Woodshop and finds it to be one of his favorite classes he's ever taken.
"I do regret [not taking Woodshop]," Guna said. "As a Monta Vista student, I always take hard classes, so I'm glad I'm doing it now."
With retirement on his mind, Shinta fears that in the coming years, when he does leave MVHS, no one will take up the class. At other schools in the district, he says that when a teacher leaves a course like Woodshop or Art, it's less likely to find a replacement due to the amount of dedication demanded from the teacher.
"They've ended the Woodshop program at Fremont and Homestead," Shinta said. "I think I have about seven or so years until I'm retiring. I don't know, maybe Woodshop will be gone before then."
Geopl says she is afraid future MVHS students won't get to experience Woodshop. Since Geopl uses Woodshop as an escape from her daily life and if a course like that disappears, she'll struggle with finding another class she enjoys as much.
"Crafting art that's made by you; it just seems like something that you can be proud [of]," Geopl said. "It's like a break from every other academic class and Woodshop is one of the best electives there is."
Guna believes that Woodshop is unlike any other class as it's more "hands-on," and it can teach students different values and self-discipline that can help later in life. If Woodshop disappears in the coming years, Guna says students will lose these learning opportunities.
"[Students] are not taking advantage of the opportunity," Guna said. "If more people know about Woodshop and if they know it's cool, they'll do it. I think more people need to hear about it."
Shinta has grown to accept its fate but still feels bad for all the students losing what he says is more than just a class, but a family.
"I put a lot of myself into Woodshop," Shinta said. "It's a lot different now than when I started. Once you're old enough, you realize everything changes and you just have to go with the changes. [We] do what we have to do and people get what they get. That's how life goes on."
About the Writer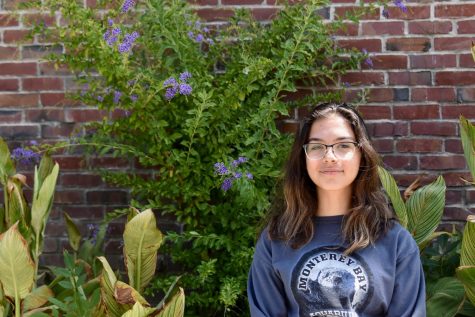 Ayah Ali-Ahmad, Arts & Entertainment Editor
Ayah Ali-Ahmad a junior and Arts and Entertainment Editor. Outside of being an editor for El Estoque, she is the Public Relations Officer for GSA (Gender-Sexuality Alliance club), the Director of Communications for MVHS's largest volunteering club, Octagon, and one of the Social Management Officers for the Color Guard team. In her free time away from her school life, she enjoys listening to music and getting boba with friends.

View more about Ayah: https://ayahaliahmad.weebly.com