Backlot lunchbox
Restaurant delivers lunches to campus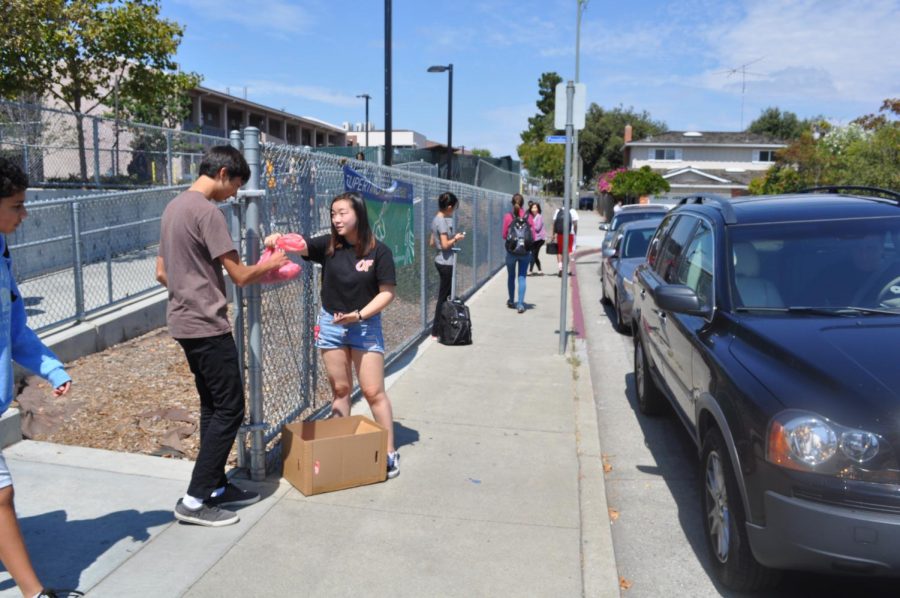 Every day, a car drives up near the basketball courts on Fort Baker Street.  When the lunch bell rings, some MVHS students make their way to the car, coming back onto campus with a red takeout bag and a bento box. Some recipients refer to this delivery as "shady" or "sketchy," but the company's method is quite successful.
Chef Z's is a local restaurant that has been catering food to students since the beginning of the school year. Students use WeChat, an online chatting and mobile payment app, to view the updated menus and place orders for the week. Sophomore Shannon Tarng orders these meals on a  weekly basis, and she has been impressed with the system. Furthermore, she doesn't find it to be shady or odd.
"I've never heard of something [like this] before in any other schools or any other programs," Tarng said. "It's high quality food and packaging. I think it's a great method."
Chef Z's caters Chinese cuisine to its customers, such as students from MVHS, Cupertino HS, Lynbrook HS and Hyde and Miller Middle Schools. According to junior Glenn Chen, he likes to incorporate the catering in his meals about once a week.
"It's nice to have a variety of choices," Chen said. "I think they realize a lot of kids at school don't really think of the school lunch as all that great."
Chef Z's owner, former MVHS parent Zheng Wen Hai, has been in the culinary business since graduating from high school and is excited at the prospect of  providing students with lunches. His restaurant specializes in Sichuan food, which commonly is spicier than other Asian cuisines thanks to its heavy incorporation of the Sichuan pepper.
"Kids like American food, or Senpo Chinese food, like Panda Express," Zheng said, "[but] many people [are] very consistent. Students order the whole week."
According to Zheng, the person who delivers the food to the school is also a MVHS parent.  Tarng says she appreciates the consistency of the delivery.
"I think what makes it safer is that it's always the same person that does it," Tarng said. "You always see the same face who gives it and it's always in the same packaging."
Having purchasing Chef Z's lunches ever  since the school year started, Tarng has seen more of her friends become interested in her food.
"The first time I brought it, everybody wanted to eat my food, and that was a great way for them to advertise," Tarng said. "I think that if this gets around, it'll go to the PTA, and it will be incorporated into many schools."
MVHS cafeteria manager Debbie Herrera is aware of the process, but has no comments against it.  Due to the open campus policy, any food purchased and collected outside of campus complies with school policy. However, she also notes that she would like to send a survey out to MVHS students asking what they would like in the cafeteria. According to Herrera, the food students get from outside can be made on campus.
Until then, people like Chen will continue to search for other ways to obtain varieties in their lunches. According to Chen, he finds Chef Z's lunches to be better than the cafeteria's.
"Some days, [the cafeteria doesn't] have anything I want," Chen said. "They sometimes run out a bit quickly too. And if you order something from an outside restaurant, you know that you're going to get what you wanted."
Through his catered lunches, Zheng has provided students with another option.  A once small group of 60 customers has gradually increased to nearly 300, and it's not always about the business for Zheng. According to him, it's for the students.
"I want kids to eat enough and to eat healthy," Zheng said. "I just provide the service. Parents say, 'Chef, we need hot food, we need healthy food.' If I continue this business, I want to continue service for the kids. That's very important."
About the Writer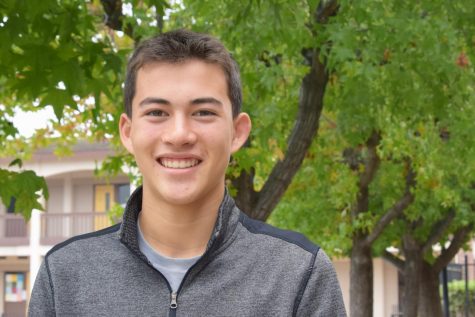 Brandon Ng, Staff Writer
Brandon Ng is a sophomore and is in his first year on the El Estoque Staff.  While not in the middle of reporting, he spends his time playing for Mountain View Volleyball Club, traveling up and down California for matches.