Changes to the Synopsys fair
The Synopsys Championship adds a limit on the amount of projects from each school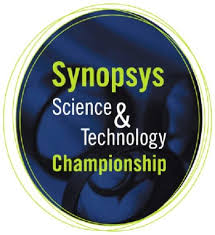 Every fall, students enter the Synopsys Science and Technology Championship, a Santa Clara county  science fair where they run their own research-based report, guided along the way by mentors. MVHS students have been a consistent presence in this county-based science competition every year. For biology teacher Renee Fallon, every year holds the same process of helping students develop and conduct a research thesis based on their own held experiments. In addition, Fallon's Independent STEM Research class prepares for each student's research report to be submitted into the fair.
"There's a lot of scientific competitions and obviously Synopsys is not the only one. But the issue is that [there are more] most prestigious competition [which are] so prestigious and everybody wants to go and you can't just compete directly," Fallon said. "The only way you can compete there is by starting off by your local affiliated fair."
Math teacher Debbie Frazier also mentors students competing in Synopsys. She advises students about data collection, the validity of experiments and plans for presentation. She believes that the fair is a great opportunity for students to delve into research and development.
"It's fun watching MVHS students [be]cause a lot of them tend to be cerebral which is great for academics," Frazier said. "But for them to think creatively in design or engineering or a experiment kind of process is challenging for some of them."
But at the start of last year, Synopsys implemented a project limit for the first time. In the early stages of the 2018 fair, it limited the amount of submissions that each school could submit. With the limit in effect, schools can now only submit up to 30 projects, not including submissions from the school's research classes, which can register up to 36 students.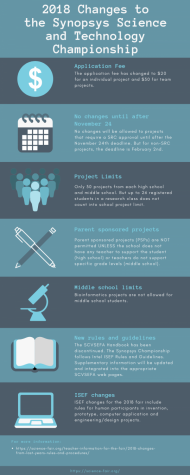 "Two years ago, we had 90 projects," Fallon said. "So more than 90 students competed in the fair. But last year Synopsys put in limits per school … so last year was the first year under this new system."
Because Synopsys has implemented a limit, MVHS has decided to internally filter student submissions. The process involves a committee, created by Fallon, to oversee and approve the nomination of the 30 projects from MVHS students that would ultimately be entered in Synopsys.
"We have put in place a committee to review applications and they will be reviewed for quality, for originality and for feasibility," Fallon said. "We are still in the process of how we are going to decide who goes on."
Due in part to the earlier submission date, many students were misinformed the previous year and were consequently unaware about the screening process before submitting their projects. Fallon had seen that many students had missed the earlier review and ultimately missed the opportunity to apply for the fair. She also mentioned that she received inflammatory emails from students about missing the deadline and now warns about the earlier target date.  
"In order to give everyone equal chance of getting in, we have to have a due date that's on the earlier side so that we have an internal review," Fallon said. "So last year, we put in that due date, and basically every project that submitted their proposal by the due date was in. Then I got a lot of students who were really mad, and kept emailing me, 'I can't go', because they didn't know about this process."
In the past, there have been as much as 90 projects that get entered to Synopsys from MVHS. Although the restrictions are new, Fallon doesn't believe it will impact any of the competition at the fair.  
"The main reason is that there are not many schools that exceed [the limit] anyways," Fallon said. "I think there are two to three schools total [who exceed the limit] so it's not really going to affect the competition."
Senior Rujuta Sathe, who had competed in the 2018 fair, echoed a similar opinion. Her project, which had took place in a NASA internship she attended, explored the underlying problem of an decreased metabolism in humans in space. She had competed for the past few years and was qualified into states in her freshman and sophomore year. She also agrees that the cap on the number of submissions and the selecting committee would boost the quality of the projects.
"I think the feasibility will be a lot better because people are now aware of the deadline and start thinking of their project earlier on," Sathe said. "And therefore it would be more thought out."  
Although Sathe is not preparing to enter into the 2019 fair, she has high regards for the students representing Monta Vista.
They place really well," Sathe said. "I think Monta Vista is usually awarded the school that has the highest number of winners…I knew a lot of people from MV who did really well."