Korean Club holds first meeting of the year
Officers and members explore goals for the new school year
I
n the corner of E101, several boxes of donuts lay scattered on the side table. Yet all eyes were on the front of the classroom, where the Korean Club officers introduced themselves and talked about activities to look forward to in the upcoming year.
For senior and second-year member Angus Jyu, one of the most popular activities last year was the Fire Noodle Challenge, something that the club plans on bringing back this year. There were three rounds to the challenge: noodles would get progressively spicier in each round, with the last round of noodles consumed without any water. According to Jyu, the club often brings in foreign foods like the fire noodles for the members to try.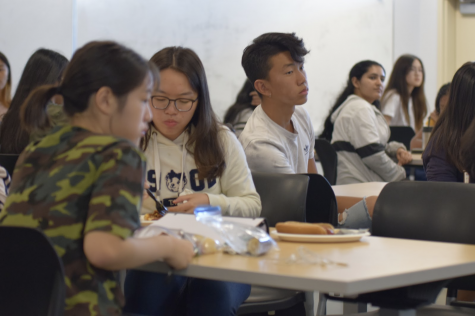 "[We sample different] tastes [and eat] food from around the world," Jyu said. "We just got to try a lot of, you know, sweet and salty foods. It's fun. And I think it's something that Korean Club can exclusively offer that I think other culture clubs can't necessarily do."
Besides continuing the food sampling, co-president and junior Kelly Sadikun is also hoping to expand the club's influence by helping senior citizens in Korea.
"So we're thinking of holding a fundraiser at [a] local Korean cafe or restaurant where people can come and buy food there, and a portion of the proceeds will be going to the senior citizens charity," Sadikun said. "We might have a booth where people learn certain words in Korean as letters to send to those senior citizens."
Like Sadikun, treasurer and junior Ashley Kim wants to direct attention away from Korean pop culture and focus more on political aspects and newsworthy issues going on in Korea.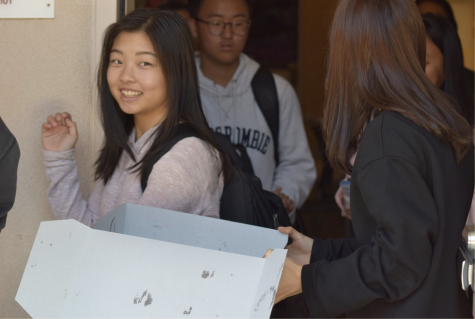 "There really aren't a lot of Koreans in this school," Kim said. "A lot of the members here are not Korean, so I feel like theymight not have an easier understanding of the culture that we have, so that might be a little of a difficulty."
For club members like Jyu, who is Taiwanese American, this club provides a more hands-on experience about Korea. For example, Jyu has only read books on the influence of Korean culture in Western society, known as the Korean Wave or "Hallyu." Through the club, however, he has sampled foods from Korea participated in activities like the Fire Noodle Challenge and danced K-pop routines at MVHS Culture Night.
"A lot of people think that Korean equals K-pop," Kim said. "We don't want that idea to spread; we want people to know that there are other aspects to Korean culture."