¡Viva México!
Spanish classes take part in a day-long Mexican Independence Day celebration
I

n a flurry of tap-dancing and skirt-twirling, the Mexican folk dance group Ensamble Folclórico Colibrí took the stage on Sept. 14 as part of a Mexican Independence Day celebration involving all Spanish classes as well as students who were in the rally court at lunch. Several Spanish teachers, including Marie Autran, took part in organizing the day-long event. Along with the dance, the event also included the traditional Grito, where Mexicans emulate the battle cry that started the Mexican War of Independence, as well as eating Mexican food such as tortilla chips and guacamole after all the dancing was done.

According to Autran, the idea to host Mexican Independence Day celebrations first originated from a collaboration session with Spanish 2 teachers, who wanted to celebrate something from Mexico in order to acquaint students with its culture. They also wanted to dispel any misconceptions that students may have about Mexican culture, particularly the notion that Cinco de Mayo is the same  as Mexican Independence Day. Autran worked with the other Spanish teachers in her department to make sure the celebrations were not only fun, but also an educational opportunity.

Autran first encountered Ensamble Folclórico Colibrí at the Mexican Heritage Plaza, located in San Jose, which is where the team rehearses. She presented to them the opportunity to come to MVHS and perform several Mexican dances for its students, and they readily accepted. The maestro for the group, Arturo Magana, is also a teacher, and expressed interest in making his art an educational opportunity as well.

A dancer for Ensamble Folclórico Colibrí, Magdalena Mendez wore a colorful dress and performed a Mexican folk dance with her partner as other dancers tap-danced to the rhythm around them. Having been in the group for over three years, and dancing for about nine, Mendez has practiced footwork and partner dancing, and learned three songs within the span of two days. She emphasizes the importance of not only preserving Mexican culture, but making it visible.

"It's important for me and for all of us in the Mexican culture because it's our heritage," Mendez said. "We'd like to bring out our culture and not just leave it there where no one will see it. We like to bring out our dancing, singing or any festivals."

Autran sees the celebrations as not only an educational opportunity, but also a way to reach out to Mexican students at the school who may not feel as if their culture is represented as frequently as, say, Asian culture. She firmly believes that even though Mexican representation at the school is fairly limited, Mexican students should regardless hold pride in their heritage like Mendez does.

"[The Mexican] population [at MVHS] is very small but we hardly do anything for them or to acknowledge their culture," Autran said. "So this is an opportunity for us to show them that they matter, that their culture is taken into account. It is important and something they should be proud of."

Junior Brendan Trinh, who has taken Spanish for three years in high school, agrees with Autran. As someone who is more experienced with Spanish than his peers in Spanish 1 and Spanish 2, Trinh was one of several leaders of the Grito. Trinh described being nervous as a leader of such a historically significant cultural tradition.

"It's kind of nerve-wracking," Trinh said. "I just didn't want to mess [the Grito] up. It has a lot of cultural significance."

Though the experience of being a leader for the Grito initially made him nervous, Trinh nonetheless believes the Mexican Independence Day celebrations the Spanish classes hold every year are a good way for students to become immersed in other cultures outside of their own. He notes that students at MV often celebrate other cultures, and a festival for Mexican Independence Day is just another way of doing so.

"I think it's a pretty good way to acknowledge different cultures," Trinh said. "We do the same thing with other holidays and stuff too, like sometimes we do stuff for Lunar New Year in Asian cultures, and that's just a good way to gain acknowledgement of different histories or stuff like that."

Although she is only in her first year of Spanish, freshman Hannah Baker agrees with Trinh. Baker's mother comes from Mexico, and she visits Mexico occasionally in order to visit family. Additionally, even though her family is Meixcan, Baker has not celebrated Mexican Independence Day prior to the celebration at MVHS, making this her first Mexican Independence Day celebration. Like Trinh, Baker believes that celebrating holidays from other cultures can help broaden one's perspective of the world.

"I think [celebrating Mexican Independence Day is] important because you're able to understand how other cultures celebrate and what they like to do and how you differ from them but also how you're similar," Baker said.

Mendez agrees, saying she was honored to dance for MVHS students and spread awareness of her Mexican heritage. Holding a similar view with Autran, she believes the representation of Mexican culture is important for not only Mexicans, but American students as well.

"This school is really amazing," Mendez said. "I like how you guys all come with your group, and you guys are enjoying this Mexican culture and bringing us and having us here. I'm really glad to be here with you guys."
About the Writer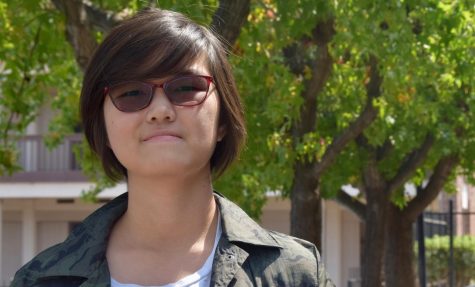 Andrea Perng, News Editor
Andrea Perng is a senior and news editor. When not writing stories, Perng enjoys playing video games and writing exams for Mock Trial.