Congressman Ro Khanna speaks at San Jose town hall
Khanna answers questions from Bay Area constituents
Congressman Ro Khanna addressed a gymnasium full of his constituents at Joaquin Miller Middle School. He answered questions from Sunnyvale, San Jose, Milpitas and Cupertino residents about a wide range of topics, including gun control, policy regarding the Middle East and the Immigration and Customs Enforcement (ICE).
Rising senior Sneha Dharmadhikari, who attends Cupertino HS, was present at the town hall, hoping to get answers out of Khanna regarding the HR392. Otherwise called the Fairness for High-Skilled Immigrants Act of 2017, it is a bill that aims to make the immigration process fairer for high-skilled immigrants like her father, who is not yet an American citizen. While she feels that Khanna was empathetic and respectful, as well as happy that he supports the bill, she also wishes for Khanna to state the specific steps he would take in order to further support immigrants like her family.
Andrea Perng
"I do wish that he was more actively advocating for this [immigration] issue since it's affecting so many people and it's at least, to me, very important," Dharmadhikari said. "Nothing has actually been done about it. We aren't really seeing results."
Captain Jerry E. Kromrey, an officer for the Reserve Officer Association Department of Public Affairs and a veteran of the Air Force, also wanted Khanna to address one of his concerns. Khanna, a member of the Armed Services Committee, has voted against the National Defense Authorization Act in the past, a point of concern for Kromrey. He wanted to ask him about supporting hearings or legislation to properly compensate disabled veterans whose medical records have been lost.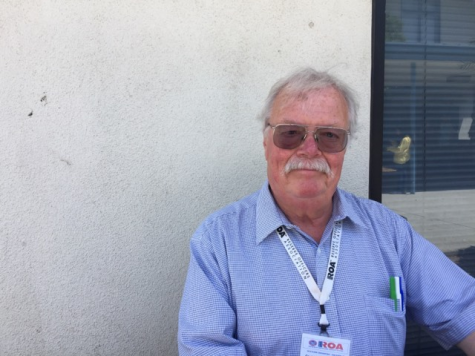 "You don't find many people in these town halls speaking up for defense, speaking up for veterans' affairs," Kromrey said. "I find myself the only one among 300, 400, 500 people who espouse what I'm espousing."
By contrast, intern Anusha Agarwal, an MVHS alumnus, has been working with Khanna since the opening of Khanna's office in 2017. In her tenure as Khanna's intern, Agarwal thinks highly of him.
"I really love working for Congressman Ro Khanna; I really think he is an amazing man," Agarwal said. "He truly cares about his constituents, and he really wants to work to improve everyone's lives."
In addition to helping out during town hall meetings, Agarwal assists staff around the office, collecting information regarding case works and answering phone calls. Agarwal believes her job as an intern allows her to contribute to the community.
Agarwal has attended multiple town hall meetings as an intern, and to her, they are important for constituents to voice their opinions and questions.
"I think [everyone] can leave this town hall feeling that the Congressman is working for them and that the Congressman cares," Agarwal said. "[I believe] that [he] will go back to [Washington] D.C. and do something about it."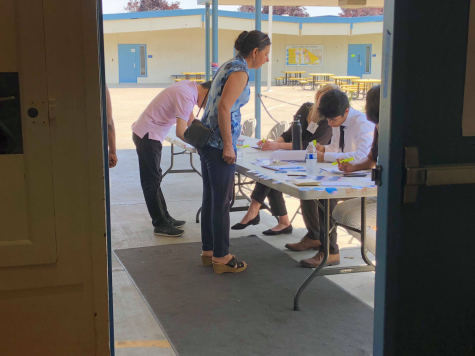 According to Agarwal, town hall meetings allow Khanna to return to his office with a new perspective of the issues that his constituents face everyday. She thinks that with this new lens, Khanna will be able to bring change to the community.
Some, like Dharmadhikari, arrive at the town hall to express interest in seeing more action taken to support those who are green card holders, while others, like Kromrey, join the town hall to represent and speak up for veterans. Regardless of the large diversity of constituents under Khanna, Agarwal believes that Khanna will be able to address all of their concerns through events like this.
"At the end of the day, he's here for the constituents," Agarwal said. "And if his constituents are pressing issues that they want him to focus on, these events are very important because they bring so many people together."