Q&A with GSA president Ollie Venzon
A member of the club for the past four years reflects on his experience
When senior Oliver Venzon came to MVHS, he already knew that the Gender Sexuality Alliance was something he wanted to be part of. He has been in the club for the past four years and finished his senior year as president. Through his involvement with the club, he says he's gained public speaking skills and a sense of community. Venzon realized the power that teenagers can have and how he has contributed to MVHS.
El Estoque: How has your involvement with the GSA increased over the past four years?
Oliver Venzon: So I was public relations in my sophomore year and junior year and then I was president this year, though to be honest I don't remember what officer I was sophomore and junior year … I have been in this club since freshman year, but I only started regularly coming to meetings halfway through my sophomore year.
EE: How did you first start going to meetings?
OV: I first started going to the meetings like at the very beginning of the year. I think I was interested in joining the GSA before I actually got to high school, so it was something that I researched, but I couldn't really find any information about it. We have trouble publicizing our presence on campus, which is something we're working on. But I found out about it at the club fair, so then I went to that first meeting. I feel like the first year that I was there I didn't really know anyone. So I wasn't really going to the meetings and then, sophomore year when I became an officer was kind of when I started getting a little bit more involved. It was also when I started taking more of an interest in activism and political organizing. So that was like, kind of my start, I guess.
EE: Tell us a little bit about your work with [activism] and how being in the club has influenced that.
OV: GSA was definitely the first thing that got me involved in any substantial way, like aside from internet stuff, but it's like … it was through the GSA that I started organizing, or being part of organizing, the South Bay Youth Pride Festival, which was one of the bigger things that I've done that helped me branch out in terms of working with other organizations as well. And with GSA, I was able to do a lot of work on campus with the other officers. My sophomore year, we did a meeting. We went to one of the staff meetings where the entire school staff is there and we talked about how to support trans students on campus. And then we started doing the yearly bio panels for the freshmen … So we started to make more changes on campus, and that … showed me that there are things that I'm able to do, on a smaller level to like change the communities around me. Not all political organizing is like writing letters to politicians. Like obviously, that is big part of everything. But there's also things that you can do like within your own communities to change things. And that was a really cool realization to have when I was like 14 or 15 because everyone has this idea that like, oh, you're a kid, you can't really do anything. So just proving that [young people have the power to initiate change] was nice.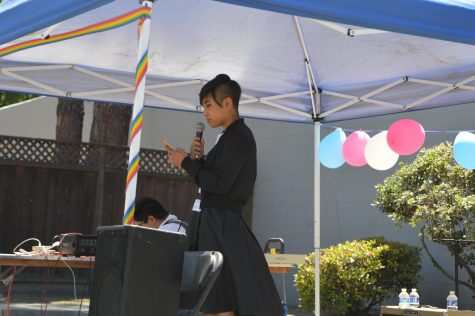 EE: How have your relationships within GSA affected you?
OV: I don't talk to a lot of people and I'm not good at talking to new people, so GSA kind of helped me a lot with that along with, like, my abilities to present … It definitely made me a lot more organized and helped me with my public speaking, but it also helped me talk to people … I feel like I definitely made a lot of new friends, especially people outside of my grade, which I feel like I probably wouldn't have talked to people outside of my classes if it weren't for GSA, and I'm thankful for that.
EE: What do you think were the best parts of being in GSA?
OV: The work that we've done on campus with this staff and admin and everything has been really influential in terms of increasing our presence on campus, even when we're not just working with the students, because we're able to directly affect the curriculum and how [the] staff handles things in general. And that's something that's going to be affecting students for years after I'm gone, so I think that's really cool.
EE: Anything else you'd like to share about GSA?
OV: GSA meets every Monday at lunch in A208 … It is a great place to join to find community and you don't have to be part of the LGBT community either, and you don't have to be out or anything and it's a safe space. And also, it's a good place to meet new people, make new friends, and also get involved in activism, if that's something that you're interested in.
About the Contributors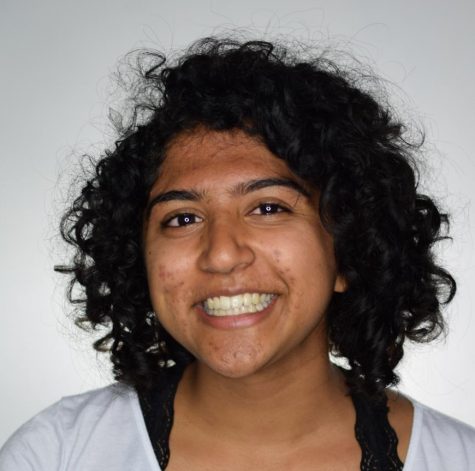 Anjini Venugopal, Staff Writer
Anjini Venugopal is currently a senior and previously served as beats editor for El Estoque. She is quite fond of music and coffee. When she isn't reporting, she's likely to be found sitting with a book.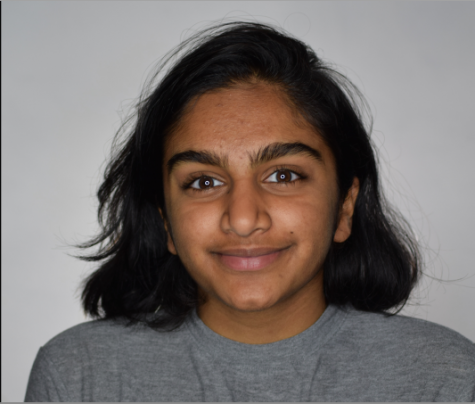 Himani Yalamaddi, Staff Writer
Himani is a senior at MVHS and a second-year staff member. She enjoys trying new things, going to different places and being outdoors.