Finding their circles: how friendships defined the experiences of MVHS seniors
As they prepare to leave MVHS, seniors reflect on the impact of friendships
Next to F103, far away from the bustling rally and academic courts where most of the MVHS student body hangs out during lunch, a group of boys sit in a circle, most of them with school lunches. To passerby, they seem calm and quiet, but a burst of laughter will suddenly erupt and contagiously last for minutes.
Senior Ethan Lin has been friends with most of these boys since sixth grade. Although a few joined the group in seventh grade and a few more freshman year, their friendship has only strengthened over time.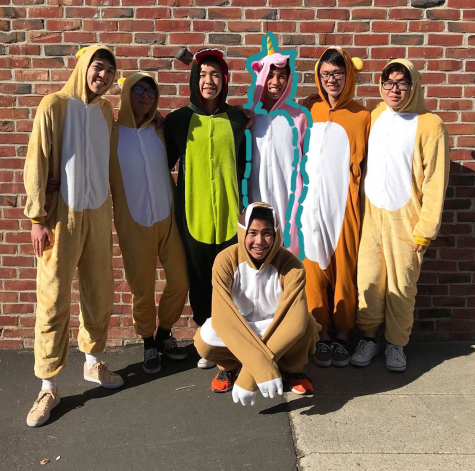 "Usually on Fridays, after school, we would go out to eat … and we started motivating each other to go to the gym," Lin said. "That's a pretty big part since without them, I wouldn't be going to the gym because going on your own is kind of scary … there are really big dudes."
While some seniors have stayed close with their middle school friends throughout high school, others, like senior Priya Kini, found themselves drifting apart from their old friends and finding new ones. It took a while for Kini to settle down with a friend group she "clicked" with. However, she noted that she still cherished the friends she made while floating from group to group her sophomore year.
"I made a lot of really good friends individually who I stayed in touch with even after I went from friend group to friend group," Kini said. "[But] junior year was when I found a group that I really clicked with. … It's nice because we spend a lot of time together … It makes school a lot better because you always have someone to do something with whether [or not] it's school related."
The friend group Kini eventually formed junior year created a community where she felt most like herself. Senior Grace Zhou had a similar experience; she grew closer to people who were in the same organizations and groups she was, such as FBLA and Speech and Debate.
"Because I grew closer to people who my interests are more in line with, I was able to get a lot more support throughout my four years here," Zhou said. "I think freshman year when I was growing closer to people who had similar interests as me, that's when I really found not only friendship, like people you can talk to, but also [people who are] going to be with you every step of the way and support you. And I feel like that's really important."
Kini, on the other hand, found her place with a group of people who were wildly different from one another. While she says that she and her friends vary drastically in interests and personalities, being around them has made her a more adventurous and open-minded person.
"Even though it's easy to get along with people who are really similar to you because you can always do the same things, with different people, you get so much more variety," Kini said. "Because you want to support your friends, you end up supporting the things they do and then that ends up in turn giving back to you … because you get to see what other things go on in your life that you normally wouldn't have."
According to Kini, the effect her friends have had on her high school experience has mostly manifested itself in support and mutual struggle. She says that, together, they help each other figure things out, like filling out SSR forms and how to prepare for AP exams.
Friend groups usually hang out at the same spots around school. Though Lin and his friends originally decided on their lunch spot based on the shade and the quiet, over the years, the spot held precious memories for them.
Similarly, Kini used to hang out with her friends in the rally court during and after school. Throughout the years with her friends, the rally court has come to hold many valuable recollections for Kini. As it is senior year, Kini and her friends often go out for lunch. But a few weeks ago, they stayed behind and sat in the rally court, just like old times, to connect and interact with one another like they once did.
For many seniors, as they leave MVHS and branch out, distance and new environments pose a challenge to the friendships they have built in high school. Kini acknowledges that the relationships she has with her friends now will inevitably evolve in the future, but is optimistic that they will stay connected.
"I know that our friend group won't be as strong in college, but I think that when we come back, because we've had so many memories and so many things that we've shared, and we're already so different now … no matter how different we get in college and how much we change, we [will be able to] still have a lot of fun with each other," Kini said. "I think that it will be less close but just as fun."