Dylan and his stars
Boys volleyball has unofficial team mascot in 5-year-old Dylan Tagawa.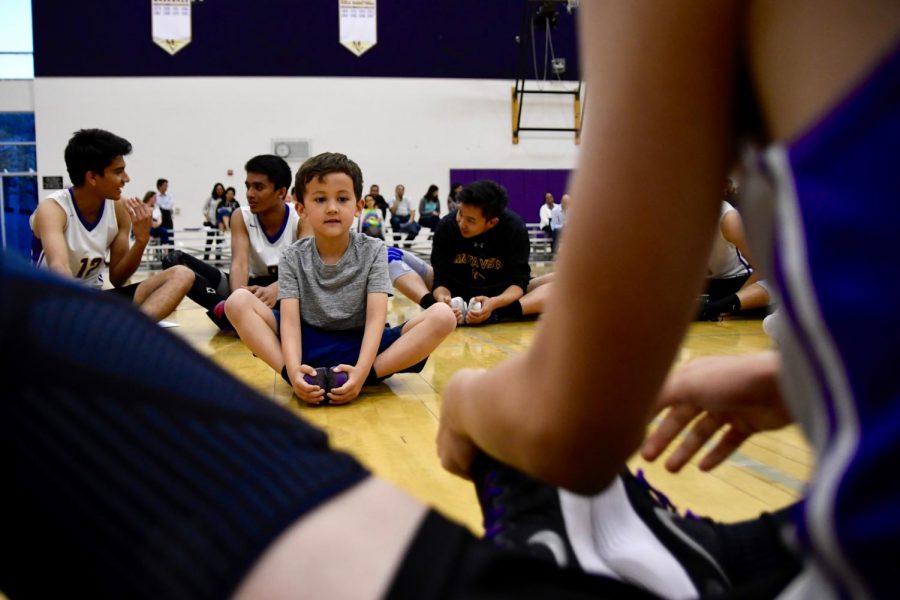 Among towering volleyball players sits 5-year-old Dylan Tagawa. Surrounded by the team's postgame chatter, he stretches and sits quietly for a few seconds before standing up to make an announcement. The players lower their volume and turn their attention to Dylan, who begins his latest story.
"It's about them moving as fast as hurricanes," Dylan said. "They were like crazy scary. Not like usual crazy scary. Like crazy scary on how good they were."
Dylan is the youngest of three brothers in the Tagawa family; Brendan is an eighth grader at Kennedy and Ryan is a junior at MVHS. Dylan has been attending MVHS games since Ryan was on the junior varsity basketball and volleyball teams as a freshman, but he used to be more of an observer.
Before Dylan started interacting extensively with the players themselves, he showed up to practically every game. He'd hang out in the stands, sometimes lying down with his coloring book and at other times greeting the parents and cheerleaders near him. After the games, some of the players would go to say hi, but that was the extent of his interactions.
Now, he has found his place in the center of the stretching circle and runs out at the final whistle, ready to share his thoughts on the game. Sometimes, when the team does well, Dylan commends the players, awarding them "stars" for a job well done and crowning one player each game as the "star player."
According to his family, Dylan is outgoing, which is something members of the team agree with. But junior Nikhil Bapat recalls a time earlier in the season when he and others would approach Dylan and talk to him, rather than the other way around.
"I think he's gotten a little bit less shy," Bapat said. "Because at the beginning [of the season], at the end of the game, we'd go talk to him and we'd get him involved, but now as soon as the game ends, he just runs in. He knows exactly what he's doing like he's leading stretches and giving us a speech … he's kind of accepted his role as our mascot."
A mascot is supposed to bring luck to the team. But Dylan provides more than just luck, according to Ryan. What Dylan's presence provides is a positive environment for the team.
"It's a morale boost," Ryan said. "Everyone is happy; everyone is hyped. I honestly don't know why they kind of just started going crazy once they started seeing him."
The feeling isn't one-sided according to their mom, Heather Tagawa, who says that Dylan is delighted to spend time with his brother's teammates and be involved with the team. Heather finds it amusing that due to Dylan's constant presence, her two older sons are now known as "Dylan's brothers" rather than the other way around.
"[Dylan] just really enjoys being around the players," Heather said. "He likes hanging out with the basketball team and the volleyball team. He just really enjoys participating."
After a MVHS victory against Mountain View HS on May 2, Dylan congratulated the team, describing his brother and his teammates as "hurricanes." During the game he colored, wandered around, sat with different players' parents and climbed up and down the stairs alongside the bleachers. As the game progressed, he periodically checked on the score and reacted to momentous parts of the game, once even jumping up and down after a kill.  
According to Bapat, despite Dylan being only five, he manages to give speeches appropriate to the team's mood that give the players something to rally around. After a tough loss against Saratoga HS left the team disappointed, Dylan had words of motivation.
"He came up after the [Saratoga] game and we were all really upset, and he was like, 'Guys we lost this game, but we'll win the next one,'" Bapat said. "And it's something really simple coming from a 5-year-old, but [it] still … had a pretty big impact."
While Bapat and Ryan focus on Dylan's role in motivating the team, Dylan's father Leon Tagawa points out another side to Dylan's involvement.
"We're just always thankful for the team and the attention they provide to him to give him this kind of opportunity, so I think it's something very special [for him]," Leon said. "He's always going to remember [this] and whatever can help motivate the team … that's all we're looking for, so it's great."
About the Writer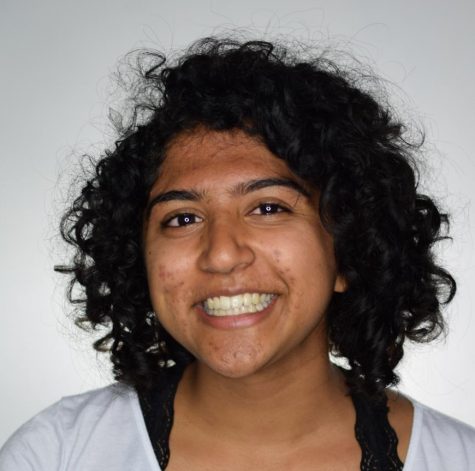 Anjini Venugopal, Staff Writer
Anjini Venugopal is currently a senior and previously served as beats editor for El Estoque. She is quite fond of music and coffee. When she isn't reporting, she's likely to be found sitting with a book.