Boys volleyball: Team sets up rematch with Bellarmine CP after NorCal quarterfinal victory
After rolling through Whitney HS 3-0, team looks to clamp down on errors and defeat rivals BCP.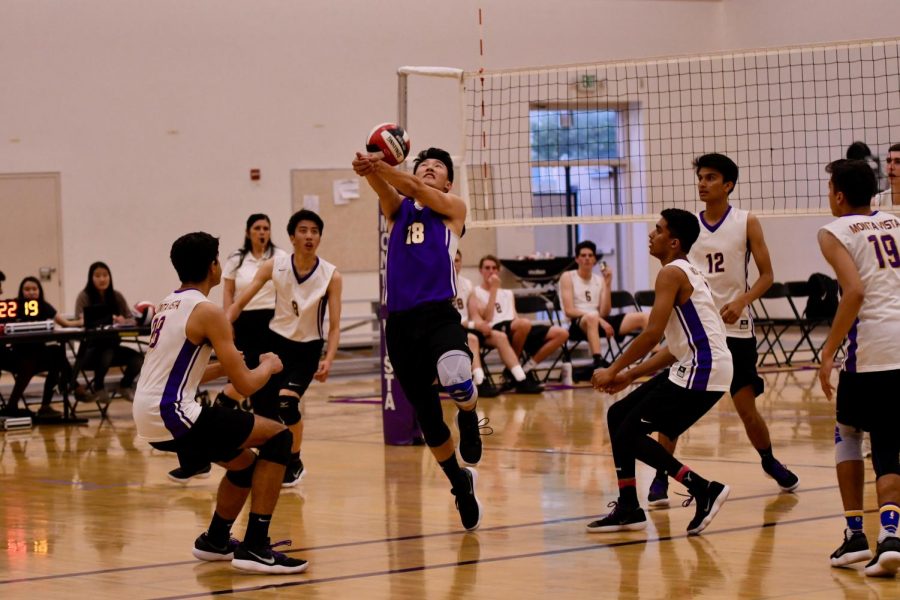 Junior Nikhil Bapat was on a roll in the beginning of the first set, nailing shot after shot against a Whitney HS team that faltered with every swing and serve. But when the score reached 21-14, WHS got its first solid block off a swing by Bapat who finally faltered. Bapat tried tipping, and WHS got a body on it and returned with their own kill. He tried swinging hard again, but the hit didn't clear the net.
Just when it looked like WHS was coming back with a four-point scoring streak to bring the score to 23-19, senior Jason Shen started talking Bapat back up. On the next volley, Bapat tried tipping into a WHS block again, except this time Shen was waiting underneath. He passed the ball back to Bapat, all the while yelling words of encouragement, and this time when Bapat went up to meet the pass he let a big swing loose and got an even bigger kill.
"I think he was just telling me to forget about it and move onto the next play, and keep swinging away," Bapat said. "On that ball I got blocked on it stopped my momentum, but I was able to forget about it and regain my game and regain my momentum through the end of the set."
MVHS won its first NorCal game in three seasons on May 22, and despite the narrow victories of 25-19, 25-21 and 25-21, the team is already looking past its 3-0 win and gearing up for its rematch with Bellarmine CP in the NorCal semifinals tonight.
"One more time. One more time with these [BCP] guys," head coach Paul Chiu said.
In the first set, MVHS dominated early while WHS struggled to catch up to the MVHS offense. They put significant pressure on the passing ability of WHS hitters, and MVHS was able to key up their own offense to keep their rhythm going.
"I think we game planned for them to be jump-topspin serving, but one of the guys who we expected to be doing that actually stayed down and that took a lot of pressure off of our passers," junior captain Kevin Mathew said. "I feel like our passers came in more engaged than they would have been had we known they would have been serving lollipops to us."
The second set is the point when this game began to resemble a postseason game, and the momentum MVHS was carrying from the first few sets was whittled down by the strong hitting team of WHS. At 13-10, the MVHS roster depth was on full display as outside, opposite and middle hitters Rajas Habbu, Nikhil Bapat and Poofy Pachori let off a succession of swings that ultimately led to a WHS net error. However, at 22-19, WHS came back with its own heavy offense as they got three shots off desperate dives by seniors Jason Shen and Christopher Liou.    
Head coach Paul Chiu started to experiment with his rotations here, as he put in sophomore Willie Liou to free up Mathew to play on opposite. Despite Liou struggling to give sets, Mathew was able to collect on one errant pass and convert it to a tip and a point for MVHS at 23-21.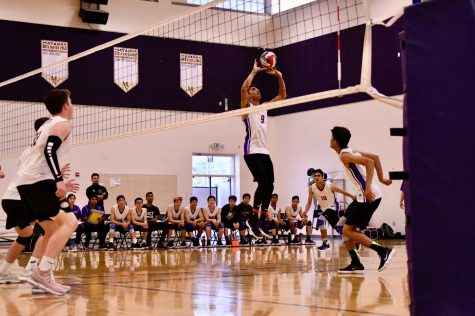 With the beginning of the third set approaching and WHS in danger of ending its season early, MVHS looked to be at its most vulnerable. The third set started with hitting and serving errors caused by miscommunication by MVHS. After a 0-5 run by WHS, Bapat and Mathew started to calm down and brought the momentum back to MVHS.
"We knew that their big hitter was in the back-row, so I knew personally from the service line all I needed to do was put the ball in and let our defense play," Mathew said. "Nobody in the front row was gonna put the ball down with a lot of pace on us. So as long as we could get a ball up and get a chance to swing, we'd be able to go on a run."
Mathew's serves tightened the screws on a WHS team that is not renowned for its passing, and from their errant freeballs Bapat was able to let loose big swing after big swing with no real opposition. At 10-7, Bapat, Habbu and Pachori took turns letting loose on the WHS defense, each swing harder than the last, and by the time Mathew set to Pachori he bounced his kill straight down the net.
As MVHS scrapped for each point this set, it appeared as though Habbu recovered to the form that had put him in the starting lineup in the beginning of the season before he injured his ankle. After the team let off a string of well placed hits to bring the score to 23-20, Chiu started bringing in the JV players who had been bumped up to varsity to throw WHS off their game.
"I wanted to give [Mathew] some swings, so it would give us an opportunity to get out of that rotation [that started the third set]," Chiu said. "Also to shake some things up, give some of those guys some touches. You know, we're short players like [junior Gautham Dasari] and [we've] got other players who've got, I guess, heavy academic loads that are missing. On our depth chart we're down to about Chris, who's our fourth outside hitter."
On the last point, Willie set to Mathew for a big hit down the line from outside that secured both the win and first NorCal victory since 2014. Now the team looks to do what they couldn't do in the CCS finals, and defeat a Bellarmine CP team that ended many of these player's postseasons before.
"We know [BCP], we've got a lot of tape on them," Bapat said. "So we're going to go back, look at what we did wrong, look at our errors and try to adjust what they did to us, and hopefully we can change the outcome this time."