Student Produced Plays: A look behind the scenes
A small crowd began to appear on May 19th and 20th outside of F104, more commonly known as the black box as the MVHS Drama Department hosted their last event of the year: student produced plays. At 5:15 p.m., the doors opened, and students and parents were ushered in. Take a look at each of the three plays from the perspective of the directors.
"Dark Road"
It took a little over two months. Two months to get her actors together. Two months to figure out how she wanted certain accents to come across. Two months to choreograph fight scenes to look as realistic as possible.
Two months to get the play, "Dark Road" by Laura Lundgren Smith, a story about a female Nazi guard named Greta and her internal connection with evil itself, perfect.
At first, when senior Shreya Roy was looking for a play to direct, she had one goal in mind: to inspire.
"Personally, I don't prefer to direct plays that are just there for comedic effect," Roy said. "[I] want to direct something that will impact people. When I read this story, I just made a lot of connections with that play to current events."
Roy mentioned that a majority of the play is told through the perspective of a Nazi guard, a unique angle compared to how the Holocaust is usually told and what ultimately convinced Roy to pick this play to direct. She felt it was powerful, taking a tragic historical story and connecting it to current relevant news. She wanted to convey to the audience that even though the perspective might be one that the audience doesn't agree with, understanding such a different perspective could increase their understanding of the issue. In a way, she feels like the importance of understanding the other side ties into the increased polarity between present-day  political parties.
"I feel like especially now you have Republicans versus Democrats where you know no one is actually listening to each other," Roy said.  "Even if I don't support a Republican on their pro life beliefs, I still need to understand how they think in order to make progress in society."
Roy states that although she was pleased with the final outcome of her play, the road to getting there was a task. Roy knew that in her play there were people who had ancestors who were involved in the Holocaust, and she had to condition the actors to get used to playing a character they weren't comfortable with. She talked to the creator of the show, Laura Lundgren Smith, first hand in order to get her insight of how to direct a sensitive play.
"Obviously, I know that watching it once and taking away all of that current event connections is difficult," Roy said. "But I definitely wanted them [to] be able to see it and to understand that at the end of the day, [you] need to understand both sides of the story before you can completely understand it."
"Beggar Your Neighbor"
With the black box roaring with laughter with every door slam, one stands apart from the rest of the audience. She looks on with shining eyes and a bright smile, finally seeing the work she had created come to life. This girl is the director, senior Natalie Standridge.
Standridge decided to direct the play "Beggar Your Neighbor." The play is about the wild banter between two police officers and two neighbors who hate each other with a passion. Standridge originally picked the play due to its "classic humor," which relied on how the characters executed the lines themselves and physical humor, like in the chase scene. It was the perfect combination of physical and witty comedy, thus perfect to direct. However, directing the chase scene was challenging for Standridge.  Although one of the main reasons why she picked "Beggar Your Neighbor," the hardest part to direct was the chase scene, especially working with the doors. Standridge didn't have a lot of time to work with the doors and all the slamming – she wasn't quite sure how that was going to work out.
"I blocked the chase scene right at the beginning so every day before rehearsal, we would just keep running through it and we would add new stuff and [just] keep working it out so that it was smooth and ready for the show," Standridge said.
When watching the final performance,  Standridge felt nothing but happiness as she looked  at the audience's reaction. It was exactly what she was hoping for: laughs and a sense of accomplishment.
"This isn't a play that has a really deep meaning but I just hope that the audience was able to enjoy it and laugh at [it,]" Standridge said. "It's a really funny show so it brought happiness and laughter."
"Here Lies Jeremy Troy"
Senior Malikah Nathani knew one thing and one thing only: the last play she directed would have to be a comedy, no matter what. Having participated in "Boeing, Boeing," a student produced play from last year,  she knew she wanted to create a similar experience. So upon discovering "Here Lies Jeremy Troy," a play created by Jack Sharkey, about a man whose lies have caught up to him, she knew this was the play she wanted to put on.
"Since I know a lot about comedy, not to toot my own horn, I just wanted to give other people that experience and make other people laugh like I made other people laugh last year," Nathani said. "[I] spent a really long time trying to find the show I wanted to do and this one really spoke to me, and I really liked all the crazy chaotic things [happening.]"
After the first performance of the play, although there were some moments that were not planned like one of the main characters spilling coffee on himself and some of the props falling over, overall, Nathani was proud of the final outcome. After working so hard for so long, seeing the people smiling and laughing along with the jokes of the play warmed her heart. Ultimately, she looks back at the directing of the play with both positive and negative outlooks.
"Since you're working with people [your] age and they see you as an equal, it's kind of hard to take a position of [power,]" Nathani said. "But it was also really nice because since they were so comfortable with me, it was such a great atmosphere to work in [and] people were always having [fun]."
Drama promotional images used with permission of Aaron Chao and Radha Ganesh.
About the Writers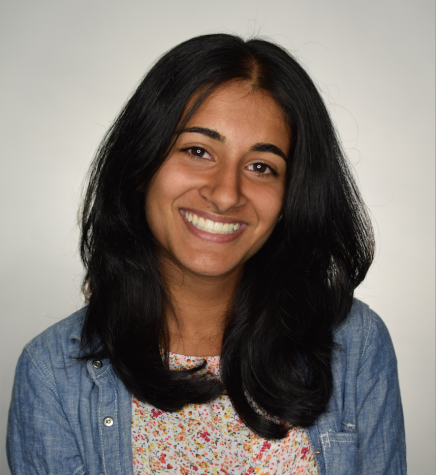 Akshara Majjiga, Staff Writer
Akshara Majjiga is a senior and third year staff member for El Estoque. She has formerly served as Managing Editor and Sports Editor.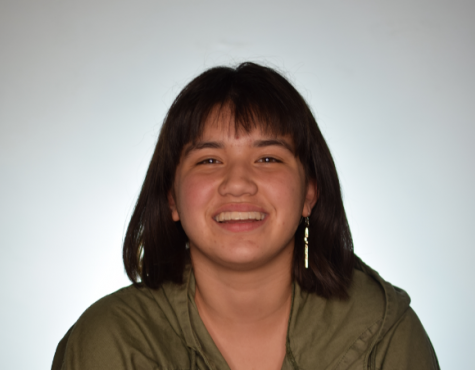 Emma Lam, Staff writer
Emma Lam is a senior and a third year member of El Estoque. She enjoys pitching creative ideas in her section as well as designing pages. She currently serves as a copy editor and in the past has served as a Special Report Editor and Public Relations