MVHS Art Festival celebrates student artwork
Attendees at the Art Festival reflect on the festival's purpose and impact
On Saturday, April 28, all of the pieces created by art students throughout the school year culminated in the MVHS Art Festival, a three hour event hosted by the Art Department to celebrate their work.
"I'm really involved in the art department so I thought it was only right that I come to basically the biggest art event of the year at our school," junior Natalia Nguyen said. "It's basically a display of all the art produced by all the art students from Art 1 to Art 4 and photo and 3D design; it's like a joint effort to show the creativity of MVHS art students."
Along with the art showcase held in the library, the festival also included a large blank double-sided mural for visitors to paint on and large blank pieces of paper to draw on.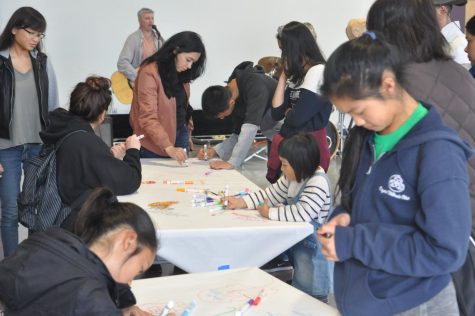 According to Nguyen, who has spent her three years of high school as part of the art department, these two aspects of the festival exist to allow those viewing the art to create their own pieces of art as well.
"I love the paper and the markers because you can draw anything," Nguyen said. "It's to encourage people to express themselves. Because they've been looking at art all day, they get a chance to do it themselves."
In addition to celebrating art, the festival holds other significances for MVHS parent Cynthia Smyth. Since her daughter, senior Kelly Smyth, plans to pursue art as a career, the festival serves as a useful experience for her in the future.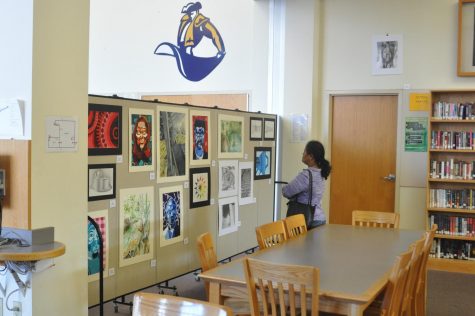 "Once she goes off to college, they'll be doing student art shows like this too, and in that case, you actually have industry professionals coming to view those types of shows and it can have a huge impact if they're actually seen or discovered," Cynthia said. "So it's good practice for that kind of real life scenario. Everyone likes to shine, everyone likes to see their stuff up in a professional setting."
The formal setting of the art showcase was coupled with entertaining events like face-painting, a snow-cone food truck and live music played by several art teachers, which ensured that a variety of people could attend and enjoy the festival. Senior Lepakshi Poonamallee, a ceramics and 3D design student at MVHS, attended the show to relax and view her friends' art pieces.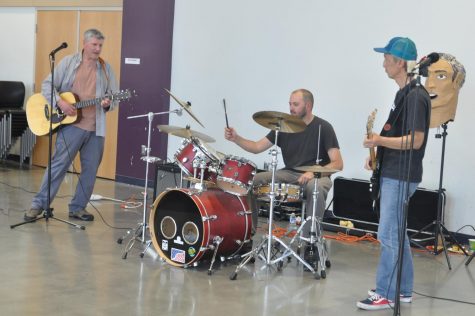 "I think it's just a fun event; it's kind of a stressful time [in the school year], so this is a nice place to be to just chill," Poonamallee said. "I've only taken one type of art class here …  so I don't really get to see a lot of art pieces that much or different types of media. It's fun to find other pieces that your friends have."
In the end, the event allowed parents, friends and young children to view the work that MVHS art students have created over this school year. According to Nguyen, it serves to both celebrate and promote the arts, and to reveal how prevalent they were at MVHS.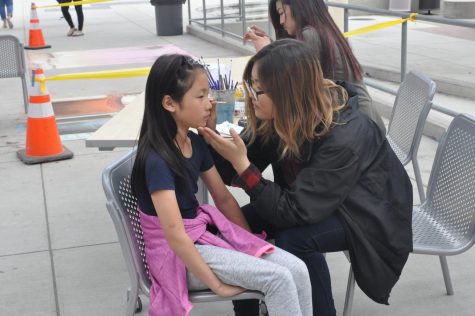 "I think especially in an environment like MVHS where the academics are extremely stressed, when you can see different sides of the school, such as the creative and artistic sides, you can see that we're really multifaceted and that there's more to us than just studying," Nguyen said. "So I think [the event is] really encouraging for people who want to do art and it lets the parents see more of what we're capable of."