Team FemStem's app-building process
Group members reflect upon completing the Technovation Challenge
On April 23, freshmen Ria Doshi, Eesha Ramkumar and Harini Arumugam submitted their app as part of the Technovation Challenge, an international six-week competition in which teams build an app to target a global issue of their choice. The three Technovation members, who together make up Team FemStem, created Alleviate, an educational app for autistic learners.
The group members came up with the idea after considering several issues in the community, then further explored the topic. After conducting market research and sending out a survey regarding the challenges autistic people face to 50 autism centers nationwide, Team FemStem decided to focus on helping those with autism.
"I think in the beginning, we were trying so hard to look for issues to solve in our community, thinking of ideas that didn't really apply," Arumugam said. "In the end, we decided to look around and see what kind of options we had. We had a special education community that we felt really needed attention, so we thought we could bring awareness to this community and make a project off of that."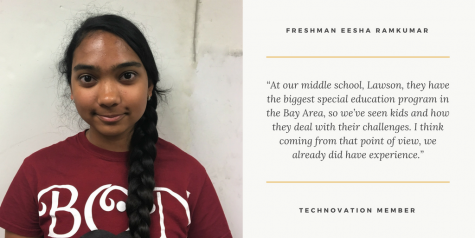 Experience with special education students at previous schools, Lawson and Stratford MS, also influenced their decision.
"We noticed how well we were able to interact with those students and how we wanted to interact with more, learn more about that community," Arumugam said.
To inform their brainstorming process, the group also used the survey to learn about the challenges that people with autism face and based their app off of this information. Even with prior research, Team FemStem encountered a difficulty halfway through developing the app, realizing that it wasn't headed in the direction they wanted. As the group wanted to create an app that was an educational tool, rather than providing information or services that were already accessible, they stopped to rethink and rework their original idea of making a memory game.
"Our app focuses more on developing skills which I think was a big thing for us because at the beginning, we were just using games that people could find online," Doshi said. "It wasn't something we thought could be genuinely helpful yet."
Another objective that they wanted to achieve with their app was increasing its accessibility to those with autism, especially in terms of price. Though Alleviate is not yet released on the App Store, according to Doshi, it will cost $1.50 once it's available, which is 16 times less than the cost of the average autism app. This is one factor that separates them from other apps that already exist.
"There are other autism apps out there, but none of them are [at] a place where it's affordable," Ramkumar said. So we wanted to keep something that's affordable for all our users and still benefit[s] them."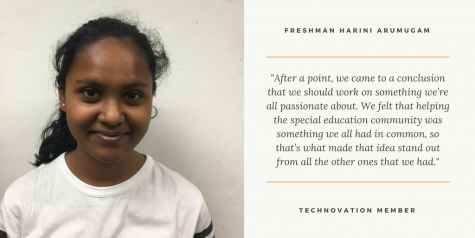 After solidifying the idea for their app, the team got to work on building the app itself. As the Technovation Challenge not only includes building and coding the app but also requires other aspects like a business plan, the group divided the roles among themselves.
Doshi and Arumugam mainly coded the app using MIT App Inventor, with Doshi syncing the code up to the database and working on various game components, while Arumugam worked on the app's raw features, using voice interaction and getting the speech to text features to work. Arumugam was also in charge of the media aspect, such as editing the demonstration and pitch videos, while Ramukumar mainly wrote the business plan. Though the group did split up the varying components of the project, members collaborated as a team to work through each aspect.
"All of us felt an inclination to do as much as possible and help each other out, so the roles often overlapped," Doshi said. "Though we all worked on designing the app together, in terms of coding and business, it was equally split up among everyone. Like in the business plan, some people would do the market research, other people would do the strategy and implementation, so it was a group effort."
After completing Alleviate, Team FemStem wanted to put their app to the test, turning to the community at MVHS to do so.
"One thing we really wanted to do was to make sure that our app is really practical and helping people with autism," Doshi said. "We went to the special education community at Monta Vista, tested our app on a lot of students and the students loved it. [Speech Language Pathologist Eli] Yamauchi said she wanted to show our app to other districts because she felt it really helped the students interact and relax in overwhelming situations."
Others also expressed the satisfaction of having a finished, final product and seeing it be put to use. The experience of watching students use Alleviate not only helped the team shape the app's various features but also left a lasting impact on group members.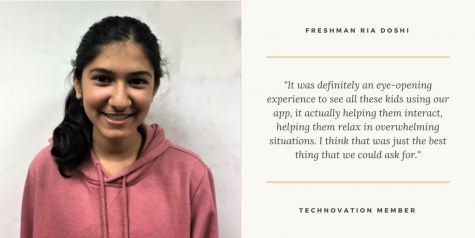 "It was a really worthwhile experience," Arumugam said. "I personally felt really changed after the testing that we did with the community here at Monta Vista. I just felt really good about what we were doing [and] felt like I grew because of that experience."
For a demonstration of Alleviate and its features, watch Team FemStem's video below.