In other words: what fanfiction means to authors and readers
Fanfiction writers and readers explore the stereotypes and meaning behind fanfiction
Fanfiction.
The word in itself invokes a quiet sense of unease for some; already fangirls can be heard squealing in the distance, the unpleasant 18+ scenes emerging from the shadows. To many, fanfiction is a disgrace to the realm of creative expression.
But to the rest, fanfiction is liberty. For sophomore Katherine Chung, it's an asylum where she can take refuge away from the real world.
"It's like freedom … because I get to say things that I normally can't say in real life," Chung said. "It's … putting a space out there for me to say those types of things."
Chung has been writing fanfiction for more than a year now since discovering it in middle school. Chung bases her stories on K-pop idols such as Bangtan Boys, Seventeen and EXO. These idols are portrayed as fictional characters who are used to address real, non-fictional troubles like mental health issues.
In order to maintain a serious tone throughout her stories, Chung doesn't often include ships, which are relationships between two or more characters that the writer of a fanfiction prefers. On the contrary, sophomore Jessica Chen believes that such ships are essential to fanfiction.
"I think ships are the basis of [fanfiction]because most fanfiction is [written because readers] didn't like the canonical [storyline]," Chen said. "That's what fanfiction comes out of — a different ship, or a different alternate universe."
According to Chung, homosexual ships are widely accepted in the fanfiction community. In fact, Chen prefers gay ships to straight ships, since stories revolving around the latter frequently insert the reader into the story as a character, labeled "character x reader."
"Usually [character x reader stories are] written by obsessive fangirls who have nothing else to do," Chen said. "You can usually tell [they are amateur writers] because their grammar is usually not good. They use too many [tildes]. The plot's usually not developed."
These things which character x reader stories lack — grammar, plot development and flow — are a few criteria a story has to meet in order for Chen to recognize it as quality fanfiction work.
Senior Ethan Lin has come to terms with how difficult meeting these standards really is. He had anticipated spectacular results with a perfunctory wave of the hand, but never got around to writing more than one story.
"It takes a lot of creativity to write fanfiction," Lin said. "It's based off of pre-made characters but then the storyline is completely your own decision. You have to be artistic in your words and plot."
Rather than struggling with long-term commitment like Lin, Chung wrestles with the inevitable writer's block.
Furthermore, since Chung uses K-pop idols as her characters, she can't alter their personalities very much —  which can make writing even more difficult. But in the book series and anime fanfictions sophomore David Hui reads, the same characters in different stories can be drastically altered.
"It's starting to become less of [basing] off of an original thing," Hui said. "Some people just start to create entirely new plotlines, create entirely new stories, just using the same characters."
With this raw creativity and talent he finds, Hui wants to show that there is another spectrum of fanfiction that isn't filled with the infamous "smut" stories.
However, of the stories Lin has read, the majority are sexually explicit Harry Potter stories recommended by his friends. Although he finds them quite interesting, he doesn't particularly enjoy them.
"A lot of the times people think [fanfiction] is like … all those [explicit] fanfics, but a lot of the times fanfiction can also be really wholesome," Lin said. "I feel like the connotation behind fanfiction is automatically bad in some context."
Another notion linked to fanfiction is that there is a lingo unique to fanfiction. Chen, who found it hard to adapt to the slang and acronyms used, unknowingly looked up lists of terms she couldn't understand and was met with a multitude of disturbing information.
Specifically regarding the K-pop fanfiction community, Chung and Chen often find authors deliberately imitating the Korean language in botched English.
"There's a line that you cannot cross," Chen said. "Words like 'hyung' [which means 'older brother'] are on the right side of the line … But when you say stuff like, 'saranghae' [which means 'I love you'] you have an English translation for that."
Despite the flaws in fanfiction, Chen, Chung, Lin and Hui are all united in their belief that fanfiction should be respected as any other genre of writing.
"You are still creating a piece of art; it's just not like a painting," Hui said. "You're still using your senses, you are still having you reader imagine things and [create] their own little world."
About the Writer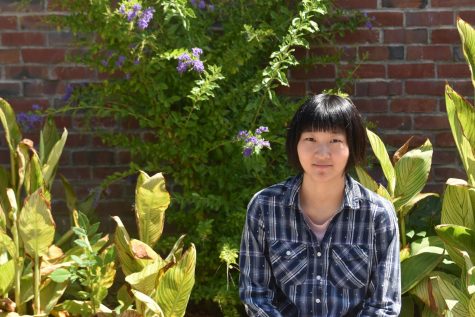 Claire Yang, Graphics editor
Claire Yang is currently a senior at MVHS and a graphics editor for print.