Monta Vista Robotics Team recovers after having their robot stolen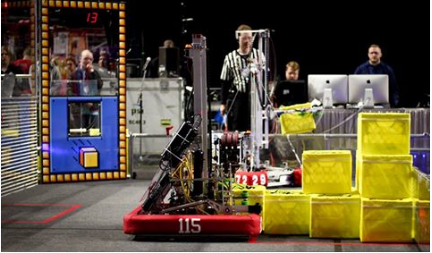 The Monta Vista Robotics Team was in high spirits as they boarded the airplane for their competition in Salt Lake City, Utah. With a truck full of tools and the robot that they had worked on tirelessly for months, they checked into their hotels and did some brief preparation for the next two days of competing they had ahead of them.
Although they started out with a few issues because of broken pieces with the robot, the team quickly moved past the minor problems, eventually going on to win seventh place out of 52 teams.making it to semi-finals. On the last day of their competition, the MVRT ate a team dinner and played in the snow, happy with their results and ready for a good night's sleep before waking up at 5:00 a.m. to catch their early-morning flight.
According to director of outreach and sophomore Ranya Pendyala, everyone felt content and the experience was unforgettable because of how excited the team was.
"The competition was super lively, we were all super hyped to go to the competition," Pendyala said. "We got to semifinals, it was such a great experience to have as part of our team, it's always such a fun experience to have for all the members, especially [new members], because they've never gone to competition before."
However, when the team woke up in the morning to board their flight, their excitement quickly disappeared, only to be replaced by anxiousness and devastation.
A mentor had gone outside to check his truck in order to bring team members to the airport, when he had discovered the missing trailer, filled with tools, parts and the robot they had built for the competition. After contacting the police and reviewing surveillance footage, the mentors had not found who had stolen their robot, and could only break the news to the rest of the team. In total, the team had lost $55,000 worth of materials, as well as weeks worth of hard work and memories.
For president and senior Ishan Mitra, the experience was especially difficult, as he had spent countless time and energy on the robot.
"It was pretty heartbreaking at first because we had worked so hard on the robot and put so much work into it," Mitra said. "When it came down to the fact that it was stolen and all of our tools were stolen — and these were tools we've had for the past couple years, it wasn't just bought this year — [it] was [surreal], [the] fact that everything that we had worked on so hard for the past month was stolen."
Although the team was distraught by their loss, they didn't let it distract them from their goal: having a successful rest of the competition season. They immediately began taking action, setting up meetings and fundraising to rebuild their robot.
"Thanks to all the support of the community of different teams in this area, we thought it might actually take two weeks to build everything, a couple days to wire it and a couple days to just test it and make sure it's working," Mitra said. "So we were pretty sure we could get it done in the amount of time."
Instead of brooding over their stolen items, Mitra, Pendyala and the other officers spent time everyday planning the next few weeks and making sure they were ready for their next competition, scheduled within the next three weeks.
"We had a lot of meetings just to discuss what the situation was, what we could do to improve it," Pendyala said. "I just think overall, we work well as a team. We understand what's going on, we all have a general idea of what we could help it. All the officers have their own division that they manage. Through our divisions, we help the overall crisis that was going on.'
The team had figured out a plan and were completely motivated to do everything they could to contribute the the cause. However, almost as soon as the situation began, it solved itself. A week after having their robot and tools stolen, the officers received a message saying that their robot had been found in a nearby citizen's front yard.
During this time, MVRT's situation had received attention from many different news stations, and word of the problem spread quickly. As the manager of public relations, senior Sameer Kapur had to handle a series of interviews from many different reporters.
"After we had a lot of news coverage from local news channels, ABC 7, KRON 4, FOX and some channels in Utah, San Francisco papers covered us, I think news got around that it was our robot." Kapur said. "The good samaritans [that found the robot] called the police immediately after, because they had also seen the news, and they saw the robot in their front yard."
Police investigated in Utah while the team waited for the news of the robot back at MVHS. After a thorough search, the detectives cleared the robot. A few days later, it was once again sitting in the robotics room, room F108. But before celebrating, the team had to assess the damage done to the robot.
"Right now, we have to replace some of the electronics given that some of them weren't working because they were exposed to water," Mitra said. "We've actually gotten the components with all the fundraising that we had, we were actually able to get the components that we need, so we're in the process of replacing those."
Although the team had some minor issues, the robot was still functioning well for the most part. After the emotional rollercoaster from the previous week, they welcomed the good news.
"That was pretty awesome, we actually found out through the Instagram post," Mitra said. "They posted an Instagram post, and someone sent it to me in a chat. They were like 'Hey, it looked like someone found your robot.' But we hadn't known until that happened. I sent it to all the people and everyone was pretty excited that they found it."
Throughout this journey, Mitra, Pendyala and Kapur, along with the rest of MVRT, received support from all over the country.
"The one thing that really stood out to me this whole journey of losing our robot, then losing all the tools, and then finding the robot and fundraising money," Kapur said. "It's really how much the community really cares about us. The First Community – the company that sponsored the organization – the local stores, even the school did anything that they could to really help us out, and that's really nice to hear."
Despite a difficult setback, the team is on track and left for their regional competition in Idaho on March 28. All of the members are excited and hopeful for another successful year, especially after overcoming such an arduous set of challenges.
"I definitely think we'll be ready for the competition," Pendyala said. "We're a pretty resilient team, we have the capability to do this. I believe we have the capability to build a whole new robot in three weeks, we can definitely just fix up our old one too. It's honestly so much fun to be part of a regional, you get to see a lot of teams, like 50 teams or so. We're going to go to another state, we're going to fly on an airplane with our closest friends, which is pretty amazing."
Follow MVRT's journey through the photo gallery below.
All photos used with permission from Ishan Mitra