On board: Collaboration in diving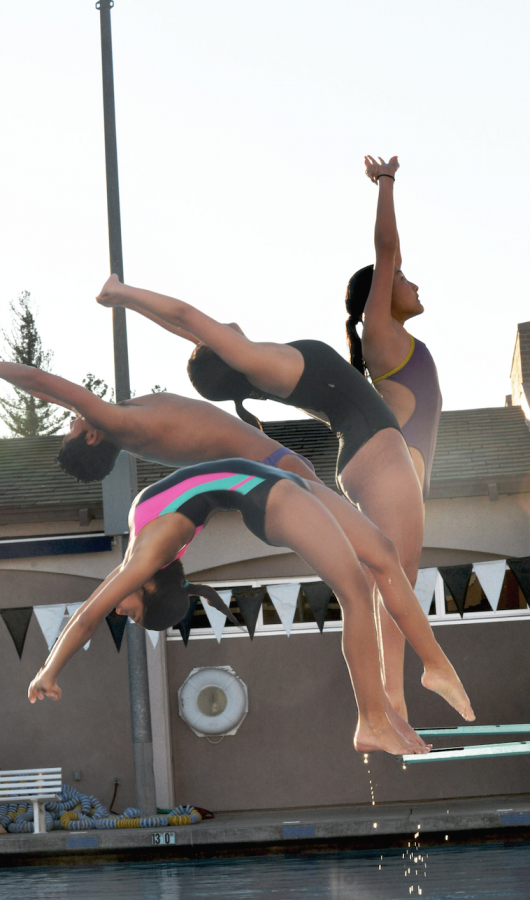 I

t's MVHS tradition to be competitive — from contending against other classes during rally weeks to promoting the annual Beat Lynbrook Day, Matadors seem to think that if people aren't on the same team, they're competing against each other.
But the MVHS diving team holds a different mindset.
WITHIN THE TEAM
Jan. 29 marked the MVHS diving team's first practice of the 2018 season. Since then, they have returned to the pool five days a week, from 3:30 to 6 p.m., allowing novice divers to learn four basic dives within the first two weeks. The team was on an accelerated program this year, with each diver needing six dives for the first meet on March 1. This unforgiving requirement makes diving coach Gregg Mahurin view the sport as one of the most challenging for beginners to grasp.
"The difference between diving and other sports like swimming or track is, you can run track or you can swim and just be slow," Mahurin said. "But you can't [be on the team] unless you can learn the dives."
Because of this, Mahurin aims to use the first couple weeks of the program to solidify the basics for beginners, such as the approach and the hurdle. As the season progresses and divers get increasingly comfortable with their technique, he plans to introduce new, more complicated dives.
"The thing about diving is you've trained your whole life to not let your body do certain things," Mahurin said. "Don't go backwards, don't do this, don't do that. Your body follows your head. So, [for] diving, you have to re-train your body to go backwards and to not turn your head … you have to trust yourself. And so I think it's more mental than most people think it is."
Even for senior Pranav Malavalli, who has been on the diving team for four years, there is still a sense of fear and anxiety as he prepares for a dive. Like Mahurin, Malavalli believes that diving pushes the body further than mere physical discomfort.
"What I found it to be is more like a character test," Malavalli said. "Every time you go up on the board, you're scared of flopping, so you have to get over that fear and you've got to keep working on yourself."
Senior Demetra Williams, another four-year MVHS diver who has competed at Central Coast Section every year, notes that the difficulty of learning and retaining a dive makes it challenging to continue season after season, which may be why divers who join the team in ninth grade often don't continue throughout high school.
"It's a hard sport to stay by, especially when you're not doing it all year-round," Williams said. "So just to have to come back and to kind of have to quote 'relearn' your dives afterwards is kind of difficult."
It is this uneasiness and sense of singularity that Mahurin believes largely account for the lack of participation in diving at MVHS in recent years. He feels, however, that the individuality of diving — performing and being judged as an individual — is what fosters perhaps the most collaborative environment out of any sports team on campus. In fact, the MVHS team is joined by divers from Lynbrook HS, who compete in a different league from MVHS, for practices and bonding events.
"Everybody's on the same team," Mahurin said. "Even though we're competing in the finals against each other, in all the schools, all the divers always help each other because in the end, you're only competing against yourself."
WITHIN THE LEAGUE
Because of his goal to foster a sense of community among divers, Mahurin, as well as some of his fellow coaches, make it a point to establish camaraderie, not just within their own teams but across the league. A couple of years ago, the group of seven coaches from all of the teams in the Santa Clara Athletic League De Anza Division decided to attempt league-wide practices. After their original success, the coaches attempted to make these practices more regular over the last couple of seasons. This year, the coaches hope to host four to five league practices over the next few months.
"The coaches have all gotten together with a common goal and a friendship, and we all strive together to work together instead of separately as individual schools," Mahurin said. "It's benefiting kids in a way that I don't think would've ever happened."
During these league practices, usually around three to four of the seven teams in the league are represented. With music blasting on the pool speakers and a table of snacks on the deck, divers from any of the seven schools are encouraged to come to get feedback from different coaches to improve their technique. Since diving is scored by judges who inherently have different opinions on specific dives, having different coaches give feedback to the same diver can be beneficial, according to Mahurin.
"Every coach out here wants every kid out here to do their best," Mahurin said. "Whether it's their school or not their school. If you get beat on a day that somebody else dove better, that's fine. Then you work harder and you get better."
The reason these league practices were originally established and the reason they continue to be successful is in large part through the friendship of the coaches. Mahurin was a gymnast when he was younger, not a diver, and coach Michael Berwald of Los Gatos HS was a swim coach who learned to coach diving through books and Youtube. They realized that working together benefitted all of their divers, and so all-league practices were formed.
"That's very unique probably within all the leagues. I mean you wouldn't find very many coaches working together," Berwald said. "It has to do with kind of the openness of all of us as dive coaches to understand that we don't know exactly what we're doing. And we're learning along the way just like these kids are learning."
Their professional relationship and common goals have fostered a friendship between them. The coaches from across the league attend coaching clinics as a group, and after a league practice or league finals at the end of the year, they often go out to lunch together, sometimes with their divers. Their friendship, they hope, allows their divers to realize that in a sport like diving, rivalries are unnecessary because everyone is going through the same struggles.
"There's a special fraternity of divers," Berwald said. "Because they're the only ones who kind of understand how those belly flops and back flops feel and so they really do empathize."
When Berwald first started coaching, he noticed that at higher level meets like CCS, experienced divers tended to clump together with their club teams, leaving divers who had never competed for a club with few friends to cheer them on. Through these league practices, Berwald hopes that newer divers are not only able to improve their skills but form relationships with other divers they may see at later meets.
Mahurin echoes this sentiment, believing that friendships among competitors are more important than rivalries, and in a sport like diving, friendships are inevitable.
"We all sit in the same hot tub," Mahurin said. "I don't care how many kids are here, we're all sitting in the same hot tub so you're going to get to know these people and become their friends."
About the Writer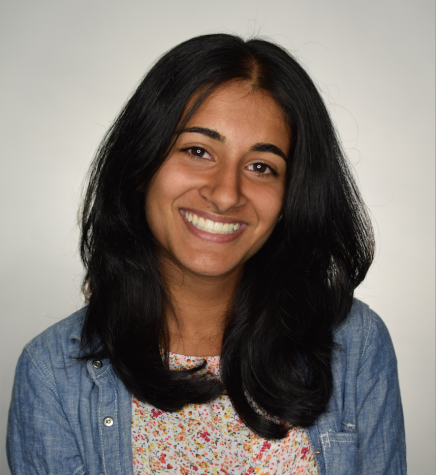 Akshara Majjiga, Staff Writer
Akshara Majjiga is a senior and third year staff member for El Estoque. She has formerly served as Managing Editor and Sports Editor.