Ignorant Ingraham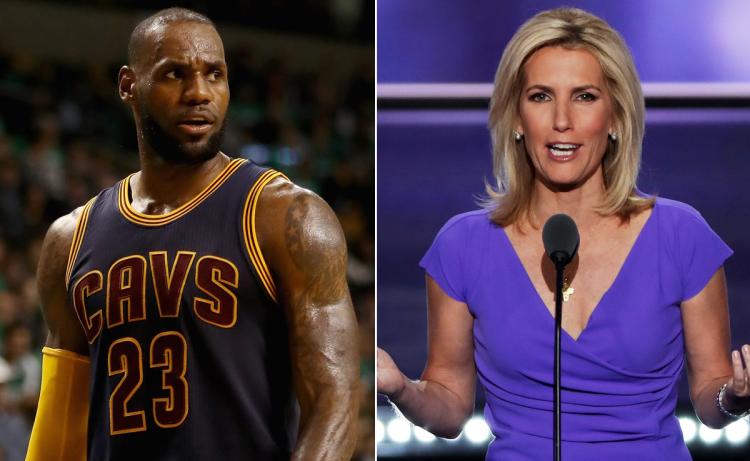 Songjun Na
February 18, 2018
On Feb. 15th, Fox news host Laura Ingraham suggested that NBA stars should not speak up about politics after seeing a video featuring superstars Kevin Durant and Lebron James offering harsh criticism to President Donald Trump.
"I'm numb to this commentary. Must they run their mouths like that? Unfortunately, a lot of kids — and some adults — take these ignorant comments seriously," Ingraham said. "Look, there might be a cautionary lesson in LeBron for kids: This is what happens when you attempt to leave high school a year early to join the NBA. And it's always unwise to seek political advice from someone who gets paid a hundred million dollars a year to bounce a ball. Oh, and LeBron and Kevin: You're great players but no one voted for you. Millions elected Trump to be their coach. So keep the political commentary to yourself or, as someone once said, shut up and dribble."
Laura Ingraham says #LeBronJames should "shut up and dribble" and leave political comments to people who didn't leave high school a year early. pic.twitter.com/vwInOpZJZq

— Thomas Bishop (@bishopk0s) February 16, 2018
I can only shake my head.
Who is she to evaluate someone's credentials when they express their political views? Since we are living in United States of America, a country that promises free speech to its citizens, so shouldn't James be allowed to express his own opinion? The demeaning tone, the belligerent wording she uses to solely reduce James and Durant into basketball players is just sickening to see. It's even more sickening when a top journalism company like Fox news is allowing these ridiculous comments on air for everybody to see.
Now, of course James responded to Ingraham, clearing demonstrating his opposition to her offensive comments.
#wewillnotshutupanddribblehttps://t.co/LyenGRKTUE

— LeBron James (@KingJames) February 17, 2018
Personally, I'm not a fan of James, but I have deep respect for him. James was able to become an NBA superstar despite being poor, not having food or a dad in his life, and living with his coach's family. James has helped revive his hometown which had been in poor shape by giving them hope by teaming up with the University of Akron to help revive education with underprivileged youth in the area, donating close to $41 million dollars. James openly speaks about African American inequality in United States of America, standing up for those who are unheard. James is also family man, constantly looking out for his kids and his wife Savannah. There is no doubt in my mind that James is a role model to so many kids in America. His contributions and care he gave to society deserve recognition beyond his talents in basketball. So when Ingraham labels James someone that just "bounces a ball", the ignorance and derision behind her words are clearly prevalent.
Lastly, defending President Trump? Really? Just because Trump was elected by half of our country, it doesn't mean we can't criticize him and hold them accountable.
Ingraham, I don't know if you did for publicity or out of your ignorant mind, but think twice before going after one of the most revered role models in our country right now. Just like you have a power to criticize James, he also has the power to criticize also.