Boys basketball: Team gets upset win over Fremont HS
Hang on for a minute...we're trying to find some more stories you might like.
Cheers and chants could be heard from the Fremont HS bench throughout the entirety of the boys basketball game on Feb. 7, but they were loudest during the first quarter. The enthusiasm of the FHS players drew many members of the crowd in as they joined in the classic chorus of "defense." FHS fans and players had plenty to cheer about in the first quarter as their team took a dominant early lead, but MVHS controlled the remainder of the game, eventually coming back to win 57-54.
via GIPHY MVHS fought for offensive rebounds and took advantage of second chance opportunities throughout their game on Feb. 7. Video by Akshara Majjiga
This was the second time this season that the two teams met, and the first resulted in an easy victory for FHS 48-18. Now, in front of their home crowd, MVHS had the goal of driving to the basket more according to senior Kevin Yang, and they continued to do this throughout the game. They dominated the final three quarters by aggressively driving to the basket and drawing fouls.
"We took better shots," Yang said. "Last game, we were just chucking up shots from beyond the three point line. This game, we took it to the hole a lot more."
During the first quarter, however, FHS seemed to make all the highlight plays. They drove to the basket often. Even when they didn't score, they managed to draw the foul. They sunk a couple of three pointers and jump shots, to which MVHS seemed unable to respond. As FHS grabbed rebound after rebound, their size allowed them to create and maintain their 19-10 lead.
"I think we started out slow," Yang said. "We came out flat, and we underestimated them even though we lost to them the last game."
via GIPHY The Matadors seized rebounds on defense as well, allowing them to overcome a seven-point deficit at the half. Video by Akshara Majjiga
Turnovers were frequent for both teams early in the second quarter as both teams increased their aggression on defense. MVHS fought for rebounds throughout the quarter and were more successful at securing them. The team was also more forceful on offense, driving to the basket and drawing fouls, especially Yang. He consistently made his free throws, but back-to-back three pointers by FHS late in the half prevented MVHS from closing the gap. The half ended with a score of 29-22 in favor of FHS.
During the second half, the team refocused and began their comeback. They increased ball movement, passing the ball more on offense and were able to capitalize on FHS' missed shots. At the end of the quarter, MVHS had almost overcome the lead entirely as they trailed by one 41-42.
via GIPHY Despite strong defense by MVHS, FHS continued to make baskets to stay within striking distance. Video by Akshara Majjiga
"In the second half, we started to play good defense," junior Josiah Figueroa said, "and our intensity rose to the occasion finally. So that was good. We achieved that because we knew we should be winning."
In the final quarter, MVHS continued to hold FHS off. FHS turned the ball over more, and seemed to be in panic mode as they missed the same shots they were making easily early in the game.
"I think second half we bought on the energy and we were rebounding and playing more unselfishly," junior AJ Falak said.
The game still remained close, and the FHS crowd continued to yell. Over the last couple of minutes, FHS resorted to fouling. Since they were in bonus, MVHS continued to shoot and make their free throws. With 4.8 seconds left in the half, MVHS was leading 57-54. FHS had possession of the ball with time for one final shot, but the MVHS defense didn't allow them to get it off, ending the game with a final score of 57-54.
"We were the bigger and tougher team, and we wanted to be more physical and we wanted those boards," Yang said. "We hope to move on and move forward only, no steps backward."
The team's next home game is on Feb. 14 as they take on Santa Clara HS on their senior night.
Photos by Akshara Majjiga and Carol Lei
About the Writer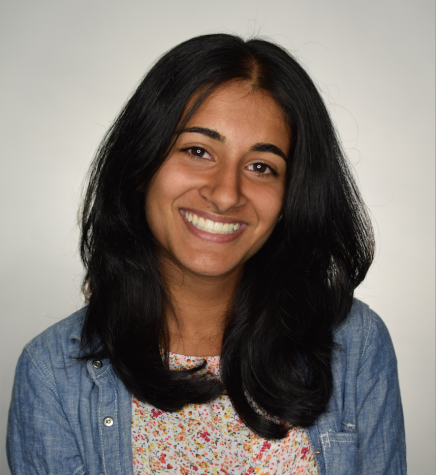 Akshara Majjiga, Staff Writer
Akshara Majjiga is a senior and third year staff member for El Estoque. She has formerly served as Managing Editor and Sports Editor.