A new day is on the horizon
Starting in the 2018 school year, FUHSD's new sexual harassment policy has been changed to fit with the Obama administration's alterations to Title IX. Clearly defined roles accompany this change, as well as clearer definitions and categorizations of sexual harassment as it applies to all those on campus, from students to teachers to administration.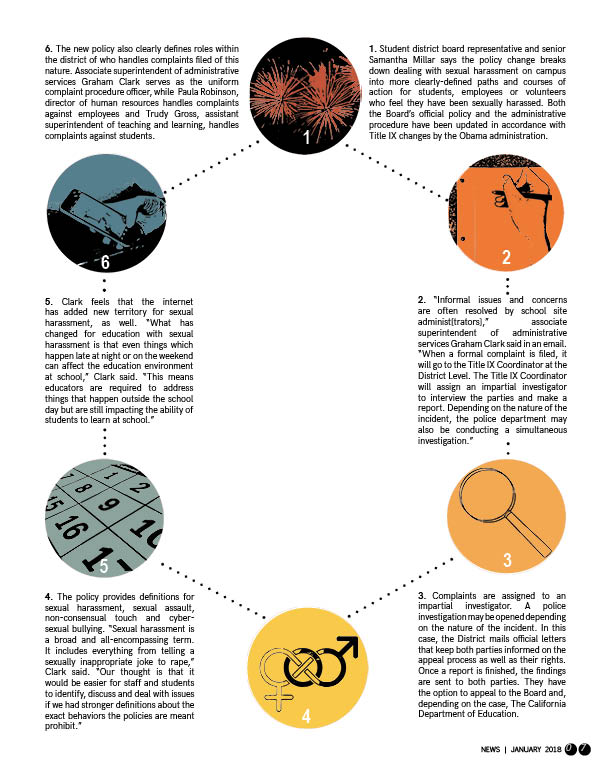 Senior Prachi Gupta and junior Kamya Krishnan, both members of MVHS Girl's Empowerment Project Club (GEP) believe that these changes are much needed with the new attention that has been placed on sexual harassment in recent months. From the #MeToo movement to Time's Up and the Golden Globes, sexual harassment has been at the forefront of the news, and as such, has found its way onto the MVHS campus.
GEP sent an email to its members on Jan. 7 asking them to wear black the next day in a show of solidarity with those who donned black for the Golden Globes.
"Wearing black, it's just for outreach to let people know, but in the end I feel like it connects to people emotionally and an emotional connection is really important, not just logical connection with facts," Krishnan said.
Still, Gupta feels that there is a lack of awareness in the MVHS community regarding sexual harassment.
"Because of the culture of this campus where so much of our free time is spent inside of a classroom that we just aren't out enough to see the thing that other students might be doing," Gupta said. "If we figured out a way to spread awareness for these causes, whether it's inside the classroom or had everyone actually be outside during their social breaks to kind of see these movements happening, we would definitely bring more awareness to these topics."
Student District Representative Samantha Millar, who announced the news of the policy update to many students via Facebook, says that the current climate and discussion of sexual harassment in the news piqued her interest when the policy came up at the first board meeting of the year. She was glad to see a change in the district policy as a result in our district policy.
Specifically, she cited the difference that the new policy has in establishing clear compartments that sexual harassment can fall under, and installing protections for volunteers and interns at FUHSD as well.
"The district is taking care to make sure that they are updated and they are ready for everything that should happen or could happen," Millar said. "[…] One of the policies is actually making it more of a team effort. So they're making sure that all of the available resources are working towards this. It's very protected and I want the students to know that this is updated and that they are in a safe space."
Associate superintendent for administrative services Graham Clark agrees, saying the new policy will provide increased aid and clarity regarding sexual harassment.
"With greater awareness and understanding of the problem, I think the district will be more effective at preventing sexual harassment," Clark said in an email. "This is something we can't ignore. We have to deal with it as it is recognized."
#MeToo and other movements were largely spread about on social media, and based in the digital sphere. Krishnan believes that the origin of the movement in the entertainment industry has helped shed more light on the subject.
"Social media and especially the entertainment industry has its way of moving around because it's something people enjoy," Krishnan said. "Especially since [with] movies you see can change a person's emotions, can make people cry, be scared, be happy, and that huge effect is honestly something that it needs to be utilized in the right way to be able to attack these issues."
It's student interest and involvement, whether through wearing black or expressing a desire for change in other ways, that Millar believes can make a difference at MVHS. She encourages students to come to her if they want something brought to the attention of the FUHSD Board as a whole.
"I want students to know that if they have a problem, or they want the district to operate in a different way, or they feel like the community isn't working for them, they have a way to express it and a way to get it changed and I want to help be the outlet for them," Millar said.
Clark says that students should always report sexual assault to an adult or administrator on campus when it occurs, whether or not it happens to you.
"You don't need to be the victim to file a report," Clark said. "If you are afraid that a friend or fellow student is being harassed, you can make a report on their behalf. Sometimes people are too ashamed or embarrassed to ask for help."
If you feel you have been sexually harassed, follow the steps shown in the infographic to seek redress.