Flipping onto Stage: Another year of MV Andaaz
At the end of seventh period every Friday afternoon, a group of kids throw their backpacks down and meet in front of the gym. They greet each other as they wait for the rest of the their group to show up. Soon the team is lined up, led by their captains junior Ashika Jaiswal, sophomore Vega Jethani, senior Dhruv Parikh and junior Manasi Vats. As the Bollywood music turns on, MV Andaaz is ready to rehearse.
Andaaz is one of three Indian dance teams at MVHS, the other two being Bhangra and Raas. These teams perform at schools throughout the Bay Area. The shows are parallel to MVHS' Winter Showcase and Tashan. Teams practice several hours a week for these shows and go through auditions to be able to perform. These auditions are held by teams sending in videos.
"We're performing at MVHS' winter showcase, so that's going to be our first official show." Jaiswal said. "I think we're pretty prepared because we're going to be doing an audition video,"
Last year, Jaiswal was not a captain and felt disconnected with how the team was run logistically. This year, however, she sees behind the scenes of the teamand believes that she and the other captains have planned out things better than last year.
"This year they figured out a lot of stuff, so we've been on top of [choreography], getting costumes, everything right from the start," senior member Vikas Srinivasa said. "So I think we've prepped ahead of time."
The early planning with choreography allowed the team to practice stunts which could be potentially dangerous. They practiced on turf at the beginning of their practices and then eventually moved to flipping on concrete. Although there is a potential harm, the stunts are something that Andaaz has always been doing.
"Stunts are what make Andaaz different from Bhangra and Raas," junior member Priya Goel said. "They really add on to the hype of the entire performance."
Previously, captain Esha Moona did a stunt but this year, Jaiswal will be the one performing the flip. The team catches their members and look out for each other in case something goes wrong, forming close relationships within the team through trust.
"Andaaz is like a second family to me because everyone is so close." Goel said. "I feel like I've gotten to know everyone of them individually so quickly our practice is my stress reliever for the week because it's very fun and everyone works together."
Additional reporting by Chetana Ramaiyer and Rana Aghababazadeh
About the Writer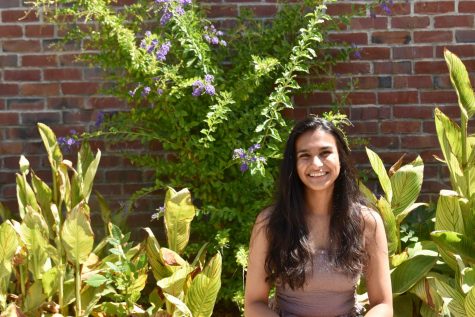 Rucha Soman, Sports Editor
Rucha is currently a senior and a sports editor. In her free time she likes to dance and binge watch TV.