The day was Monday, October 30. Winter sports took over the athletic fields from the fall sports as they began their season. MVHS welcomed a whole new batch of coaches, including a new head coach for the boys basketball team, Calvin Wong, and new head coach for the boys varsity soccer team, Todd Kimble.  
Wong previously served as an assistant coach for the MVHS team from 2000 until 2015. After taking a year off from coaching, he decided to coach for Lynbrook HS for the 2016-17 school year. He soon realized that he wanted to spend more time with his players off the court and possibly during school hours, which was hard to do as School Financial Specialist for MVHS, so he decided to apply for the open position at MVHS this year.
"I always like coaching and seeing students grow as they figure out situations and [get] better," Wong said. "It doesn't necessarily mean you win everything but you improve to be the best version of yourself."
Kimble shares a similar sentiment to Wong, in that his primary emphasis is not solely placed upon wins and losses.
"My focus is on learning how to play right, and winning because you've been [taught] to play right," Kimble said. "I'm big on sportsmanship and technique."
Coach Kimble stands in the middle of the circle during the 2017-2018 boys soccer season tryouts. He sets guidelines and safety cautions before the boys begin to play mini games for their evaluation.
Kimble admits that being a club coach, as well as being a diverse athlete in high school, has allowed him to adopt a unique coaching style. Kimble has been coaching for 18 years, but long before his coaching career had even started Kimble wrestled, swam, ran and professionally skateboarded during his high school years. He competed in skateboarding tournaments throughout Northern and Southern California, water skied for Marine World and was a professional motorcycle racer from the age of 22 to 31.
Out of all his activities, Kimble chose to coach soccer because he found the improvisational aspect of the sport interesting and even beautiful to teach.
"Everybody in soccer has to know the whole game [such as the plays]," Kimble said. "The improvisational aspect means that whoever has the ball makes up what they want to do and everybody else has to build on what they do."
Throughout two weeks of try-outs, Kimble looked for athletes who not only had basic technique and tactical ability but, more importantly, were also willing to work hard, listen and showcase their personality on the field.
"If we get some flair and the boys are enjoying themselves and having some fun and showing me their character and personality in the field, then we've achieved a great thing – win or lose," Kimble said.
Kimble decided to apply to the open position for head coach to become more established in the community, since he just moved to San Jose two years ago. But Kimble also saw the MVHS program as promising, full of potential to expand and grow.
"I applied to five different schools but right away MVHS was my first choice– primarily because of the fact that you have a trainer, a nice program, and equipment," Kimble said. "I love teaching and there was a bonus; I don't have to worry about grades at this school. At Sobrato, I lost about half my boys team because they just didn't make grades."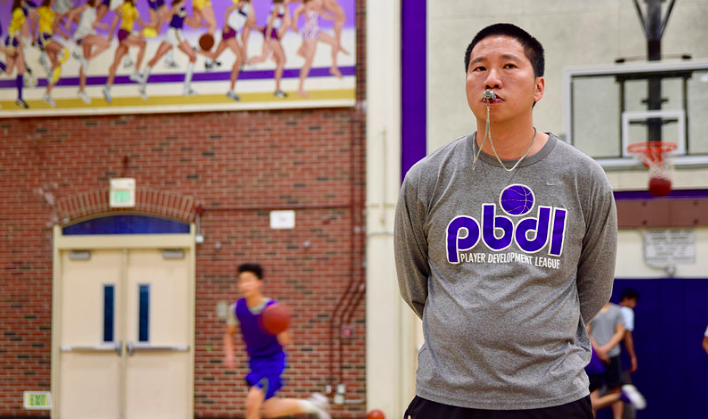 Coach Wong stands in the middle of the court with a whistle in his mouth as he evaluates the boys basketball team. He keeps an eye out for students that particularly stand out or areas where he can help improve in his athletes.
Wong knows how academically rigorous MVHS is, and one of his goals for this season is to instill good time management skills in his students, teaching them how to balance their coursework while having fun during practices and on the court. Apart from practices, he's also hoping to hold a couple of bonding sessions with his team.
"We'll have some team bonding," Wong said. "Boys love to eat. Well, everybody loves to eat, so we'll definitely have some team meals together."
For both teams, this year is a transition year. The past few years, the boys basketball team has had to adjust to new coaches yearly, making it hard for the players as they had to relearn the culture and the plays. This year's seniors have had Wong as their frosh/soph coach their freshman year, and the past two years were with different coaches.
"Luckily some of them have had me before," Wong said. "But not having been there in between, makes it a little difficult."
Senior Kevin Yang, who has played basketball at MVHS for four years, is excited for this season. Wong was Yang's coach during his freshmen year and for three years as a club athlete. He likes the offense Wong runs, but also admits that having a different coach every year has made the sport unnecessarily challenging.
"It's hard because you can't get any continuity. But once we find the right coach and he's able to stay, then it'll be good for the players," Yang said. "This year, we're not as tall, so we're going to be more focused on using our speed and our quickness."
This year is also a rebuilding year for the soccer team, as MVHS lost 14 seniors last year. Kimble believes that this year is going to be a bit challenging, however he still has hope for this season. He sees the passion in the fresh faces of the new players, especially the sophomores.
"So now the question is, do we pull them up to varsity, or do we keep them on the frosh/soph and let them develop for next year," Kimble said. "And the latter is kind of where I'm heading, but then again, as I said, I don't know yet and that's the decision making process we're going through."
Both Wong and Kimble plan on coaching for many years to come.
"I enjoy this job, so as long as my job and my body allows me to do it, I'll be continuing to do it," Wong said.
Kimble is also here to stay. And he has ambitious goals for increasing the size and strength of the program at MVHS.
"Over the years, I want to build a program where we have a hundred kids that show up that want to be out here," Kimble said. "And ideally we'll have a varsity, JV, and a frosh/soph team. Wouldn't that be cool?"