Finding a home: breeders versus shelters
Additional reporting by Nate Stevens
Dr. Kristie Adrian has two dogs — Luna, a seven-year-old Blue Lacy and Jinx, a six-year-old mutt — that are both adopted. In her house, there's a separate area where Luna and Jinx aren't allowed. There, she fosters underage puppies through the Humane Society of Silicon Valley. The puppies are all under eight weeks old, and are too young to be put up for adoption. By her estimate, she's fostered 56 puppies over the past five years.
"There's a need for it — literally those puppies can't stay in the shelter," Adrian said. "They might get sick — they could die. So we're saving those lives, and they're adorable. Who doesn't love a puppy?"
Adrian is an associate veterinarian at VCA Lawrence Animal Hospital in Santa Clara, and through her work with animal shelters, Adrian has recognized the importance of understanding the benefits of adopting their pets from shelters.
On October 13, California passed A.B. 485, a bill that makes it illegal for pet stores to sell pets from sources other than rescue groups or shelters starting in January 2019. Adrian thinks that the bill will further the notion of "adopt, don't shop," a hashtag that's been used to promote animal shelters.
"I think that's a great step in the right direction to promote shelter animals and allow the public to know that that's an option, and not just an option, but a really great option that we have," Adrian said. "[There] are purebred dogs that are available from shelters and even mixed breeds that are wonderful family members."
Although there are purebred dogs in shelters, many still turn to breeders when they want to find a specific breed. Sophomore Anna Kolesov's parents purchased from a breeder to find the miniature schnauzer that they had always wanted, although Kolesov says that if she ever got another dog, she would want it to be from a shelter. Kolesov believes that since people seek out specific breeds of dogs, it's easier for them to go to a breeder to find the dog they're looking for.
"A lot of people want to get a certain breed of dogs for their whole life — like my parents," Kolesov said. "So it's not hard for [breeders] to get their dogs [purchased,] and the dogs live with their [families] in a good condition and a good environment. But in the Humane Society, these dogs need a home."
Senior Madi Anderson-Au's family wasn't looking for a specific dog, which was one of the reasons they chose to adopt both her dog Sunny and her cat Nala from a shelter.
"We definitely wanted a big dog so Sunny's part golden retriever, part golden [labrador retriever] and part other stuff — we don't know and we were okay with that because we didn't really care much about what kind of breed she was," Anderson-Au said.
Under the new bill, people seeking certain purebred dogs from breeders can still buy from them privately, but Adrian says that it would require more research to locate where those breeders are. She considers that to be a positive, since she's seen both responsible and irresponsible breeders. According to Adrian, the responsible ones care for their dogs' well-being, whereas the irresponsible ones care more about the money.
Although Adrian hopes that the bill will simply urge people to research more about their breeders, organizations like the American Kennel Club (AKC) oppose the bill. They believe the bill could harm responsible breeders. Additionally, since shelters are not required to provide pet stores with animals, the AKC says that pet stores could suffer economically.
In a press release from the Pet Industry Joint Advisory Council, Sheila Goffe, the vice president of government relations for AKC said that "A.B. 485 blocks all of California's pet lovers from having access to professional, licensed and ethical commercial breeders."
Sophomore Purnima Venkat, who volunteered at the Humane Society, agrees to an extent. She believes animals from shelters deserve to be in pet stores more, but animals from breeders should be allowed to be sold in pet stores as well.
"[Shelter animals] should be prioritized probably because, especially for animals that people brought in for pet surrender and stuff, they've probably gone through a lot of owners and had traumatizing experiences so you want to make sure that they get the ability to be adopted first," Venkat said.
Kolesov notes that the traumatizing experiences that some shelter animals have experienced may contribute to the negative stigma that shelter animals are less friendly.
"I feel like a lot of people have a bias to animal shelters as to like 'oh, since they're in an animal shelter, they probably have like behavioral issues because they were out in the street or something like that, right? Like why did they get surrendered?' … but that's completely wrong," Kolesov said.
Although Anderson-Au says Sunny loves other people, she barks and growls at other dogs. Anderson-Au says some people may connect that aggressive behavior to the fact that Sunny is a shelter animal, but Anderson-Au's vet said Sunny's more aggressive behavior is more likely caused by genetics.
Venkat and Kolesov volunteered at the Humane Society of Silicon Valley, while Anderson-Au's family and Adrian made the choice to adopt all their pets from shelters. Their own experiences have led them to see the benefits of animal shelters, and they hope that the bill will help others recognize the same benefits they've seen. But Venkat ultimately believes that every animal deserves a home.
"I think that shelter animals should be prioritized," Venkat said. "But every animal should get the chance to be adopted."
About the Writer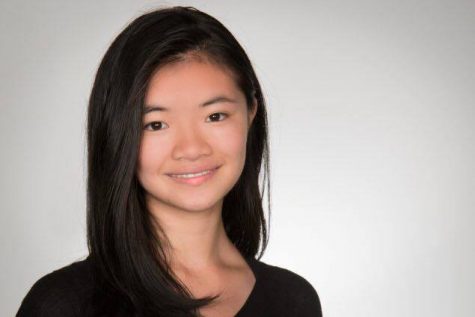 Ilena Peng, Staff writer
Ilena Peng is a senior with a love for tea, books and journalism. Formerly, Ilena was one of two editors-in-chief, as well as a news, entertainment and business editor.