Technovation emphasizes importance of women in STEM
Officers and members share the significance of their club goal
As the lunch bell rang, students filed into A103 for MV Technovation's meeting and a lecture about app programming. The club is focused around the Technovation Challenge, a six-week competition in which teams program their own app to target global issues and create a business plan. Then, teams pitch their app and business plan to judges in their local area, where their performance is then scored to potentially win awards.
Their weekly meetings prepare members for the Technovation Challenge either by teaching teaching them about business or programming or by giving them work time.  
For junior and president Isha Chakraborty, completing the Technovation Challenge was what ultimately led to an increase in her involvement in the club and her becoming an officer. In her freshman year, her group was one of the few to complete the Technovation Challenge, and the previous officers showed interest in her team's app. After that, Chakraborty started designing a curriculum to teach to members, becoming more familiar with the competition's different aspects and the organization itself.
Watching the four-member groups begin preparing for the Technovation Challenge and come up with their own ideas is Chakraborty's favorite part of being in the club.
"You have a certain expectation going into the club like, 'Oh, a lot of people are going to want to do this, a lot of people are going to want to do that and how are we going to combat that?'" Chakraborty said. "But I think this year, everybody has all these really cool ideas and I didn't expect that. It's really cool to witness that and everybody's really excited about it."
This excitement and passion was also something that programming lead junior Divya Karivaradasamy experienced when she first completed the Technovation Challenge, especially with the process of creating an app and learning more about business. This interest in STEM is something that Karivaradasamy hopes to spread through Technovation.
"Technovation's main goal is to inspire more girls to work with technology and business," Karivaradasamy said. "It's a good thing to open up all potential careers, to allow people to explore different interests that they might not have considered. If they're not considering a field just because they're a girl, I think that's really limiting so it's important to encourage them to at least try."
Sophomore and member Manogna Rajanala has a similar opinion as Karivaradasamy but also believes that Technovation teaches skills that she'll be able to apply later in life. She not only enjoys the creative aspect of being in the club but also feels that she's gained an understanding of how the world of business and tech works.
Rajanala also emphasizes that Technovation helps encourage girls to get involved with STEM, and junior Cynthia Hom sees a similar problem with the tech field. Hom feels that Technovation combats some of these prominent issues.
"
I think one of the same main issues with tech in general as a field is that it's really male dominated," Hom said. "As of now, there's a lot of issues with women just not feeling as included in tech or all the issues with sexual harassment. I think those issues could really be solved if more women went into tech."
Rajanala sees the value in having a club like Technovation on campus in order to encourage more women in STEM fields.
"I found it interesting that [Technovation] was promoting women to come into the tech field," Rajanala said. "I found that really amazing because a lot of women should join the tech field [but] the fact that a lot of people don't think that women should be in tech is very disappointing."
According to Chakraborty, this gender inequality is a problem that still exists but is less apparent at MVHS. Though she has access to opportunities like taking computer science classes without others questioning why she's in a STEM class, Chakraborty recognizes that this is a prominent issue in other places.
Especially as MVHS has more freedom in these aspects, Chakraborty stresses the importance of clubs like Technovation that can contribute to solving this issue.
"Since we're more on the frontier of this, I think it's more important for us to propagate that out into the rest of the world," Chakraborty said. "I think it's really important that everybody gets an access to [STEM] because it's going to become the future."
About the Writer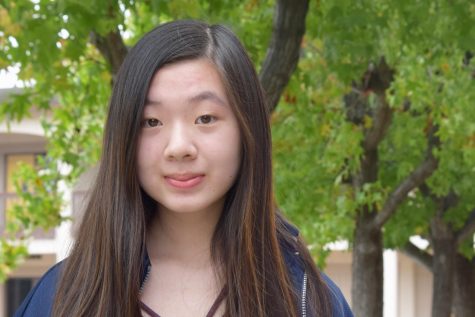 Charlotte Chui, Copy Editor
Charlotte Chui is a junior and arts & entertainment editor for El Estoque. She previously served as a multimedia copy editor, and this is her second year on staff.