A mother who can be there
S

he is there when her kids come home from school, working around the house to fill up the time she has. She is there with them in class, helping the teachers and spending time with her kids throughout their day. She is there to take them to their doctor's appointments, making sure her children are healthy. Her job is not in the question anymore, because her kids take up all of her time. This is the life of a stay-at-home mother who gave up her passion in order to take care of her kids.

This was the life of World Core and American Studies teacher Paola Luna for 17 years, with her two sons: Cameron, age 19, and Dylan, age 16. Cameron, one of the happiest people that Luna knows, has autism. According to Luna, this means that he can't rely on himself to live a safe and healthy life.

"He'll always need help," Luna said. "He can't take care of himself, it's not safe for him to be alone and he needs help communicating."

Luna spends time with Cameron every week, visiting him at the group home he now lives in full time. They go to Sweet Tomatoes, his favorite restaurant, each time that they meet to eat lunch and catch up. Her other son Dylan, though just a typical high school junior, is hard to deal with, according to Luna.

"It's difficult," Luna said. "Teenagers are difficult. [Dylan's dad and I] struggle because he wants more independence and we want to bring him back a little. He's made some poor choices that we've had to deal with, so it's a struggle, always. He's definitely not an easy kid for me. We do butt heads a little bit which I think is typical with a parent-teenager [relationship]."

Luna's relationship with her sons thrived as she stayed home with them from 1998, the year her son Cameron was born, to 2015. Much of her time was spent with her kids, volunteering in the classroom and becoming more and more immersed in her children's lives in general.

"I'm very grateful to have been able to have done that," Luna said. "My mom couldn't, she worked. I always remembered thinking how I wished my mom could've been home."

Her mom is one of the main reasons for her staying at home. She was never home, as she worked two jobs throughout Luna's childhood. When Luna would go to her friends' houses after school and see their mom waiting for them, asking them about their day, she would be surprised — she had never experienced that at home. She typically saw her grandmother or a random babysitter instead.

"I almost resented my mom because she worked all the time," Luna said. "When she was home, she would be super tired, busy, and kind of angry, but that might've just been her. […] Not having my mom at home, but seeing the other mothers being there, I always wanted that for my own children."

But in order to stay home with her kids, there was a lot she had to sacrifice, including her career as a literature teacher. She quit her job at Fremont HS the year she had her older son, Cameron.

"I gave up a career," Luna said. "Had I kept teaching for these 17 years, I would be well in my 20th year. I would be making a lot more money. I would have a lot more retirement. Right now, technically, I'm a brand new teacher. I'm still growing."

However, the lingering feeling of "what if" doesn't mean she regrets her decision to stay home.

"I am so thankful that I got to experience that with my kids cause you can't get that back," Luna said.
About the Writer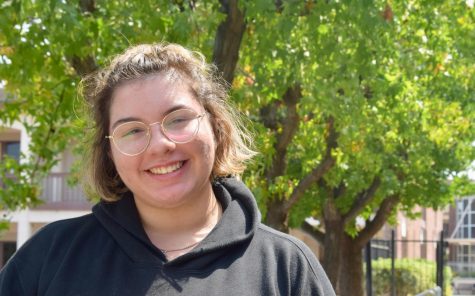 Katerina Pappas, Staff Writer
Katerina Pappas is a staff writer at El Estoque and a former Features editor. They are a senior at Monta Vista and in their free time they like to listen to music and watch movies. Their favorite artists include Brockhampton and SHINee, their favorite movies are Mamma Mia, Forrest Gump and Whisper of the Heart.