Football: Cupertino HS defeats Matadors in Helmet game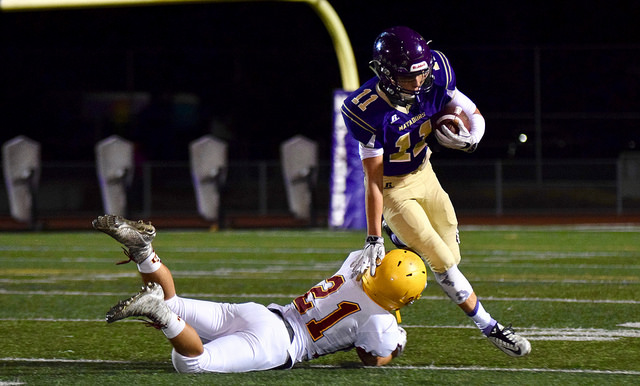 On November 3, MVHS hosted the annual Helmet game against Cupertino HS. After losing last year for the first time in 13 years, the Matadors were determined to take back the helmet. The overcast skies and heavy clouds didn't scare away the crowd, and the bleachers on both sides of the field filled as it grew closer to kickoff. The football senior night ceremony was held before the game – teammates, family members and friends cheered the graduating players as they walked across the field. Hopes were high for a victory in honor of both the seniors and the helmet.
"We felt like we were really prepared all week," senior Varun Muthukumaran said. "We knew that [CHS] is a really good team, that they're number one in our league, and that this game was to matter more in the season than any other game."
During the game several MVHS players got injured, including quarterback junior Cheto Vasquez. Some members of team, such as senior Eliot Lubomirsky, felt that the loss of Vasquez during the first half caused their performance on the field to diminish.
"It was kind of hard for us considering our starting quarterback went down and wasn't able to play in the first half," Lubomirsky said. "We made a lot of dumb mistakes and didn't take every chance we had."
However, other players like Muthukumaran took a different approach to the setback.
"You see that everyone is putting everything on the field," Muthukumaran said. "Even when there are injuries, people are coming back into the game to do whatever they can."
For the majority of the game, CHS' strong offense forced the Matadors to keep their defense up. They continued to drive the ball down the field even against MVHS' best efforts to subdue them. Senior Bob Entezar felt that even though MVHS struggled to keep the opposing team's offense in check, it didn't reflect badly on the team's training.
"We had a lot of opportunities but we didn't capitalize on them," Entezar said. "All we've got to do is clean it up."
CHS ended the game with 39 points, MVHS ended with 14. Even though the Matadors were beaten by a large margin, Muthukumaran was positive about the team and the effort they put into the game.
"I'm sad to say that [the game] was a loss, but I'm happy that each one of my teammates and myself did everything that we could to move the ball and to have a good defense," Muthukumaran said. "I'm proud of this family for what they've accomplished throughout the entire season."
With only one game left in the season, the MVHS football team doesn't have much time to make major changes to their playing style. But Entezar thinks that the team has the potential to win their final game.
"We had fumbles, we had interceptions, those are things that are easy fixes," Entezar said. "It's not an issue of our conditioning or our playbook, it's just a matter of us not converting enough. We were a little sloppy today. We've got to fix that, that's all."
The last home football game will be Thursday Nov. 9 at 7pm against Fremont HS.
About the Writer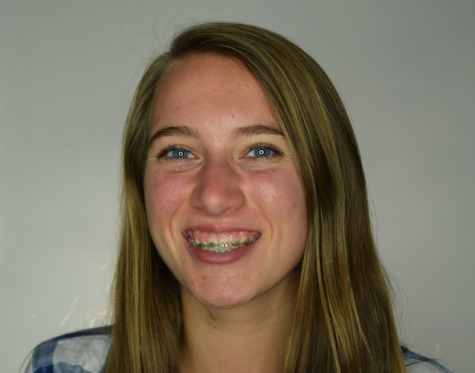 Maggie McCormick, Staff writer
Maggie McCormick is a senior and has been on staff for one year. She likes to swim, play guitar and code. In fall 2018, she will be starting school at University of Redlands in Redlands, Calif.