Astros player Yuli Gurriel's racist gesture shows little concern towards Asians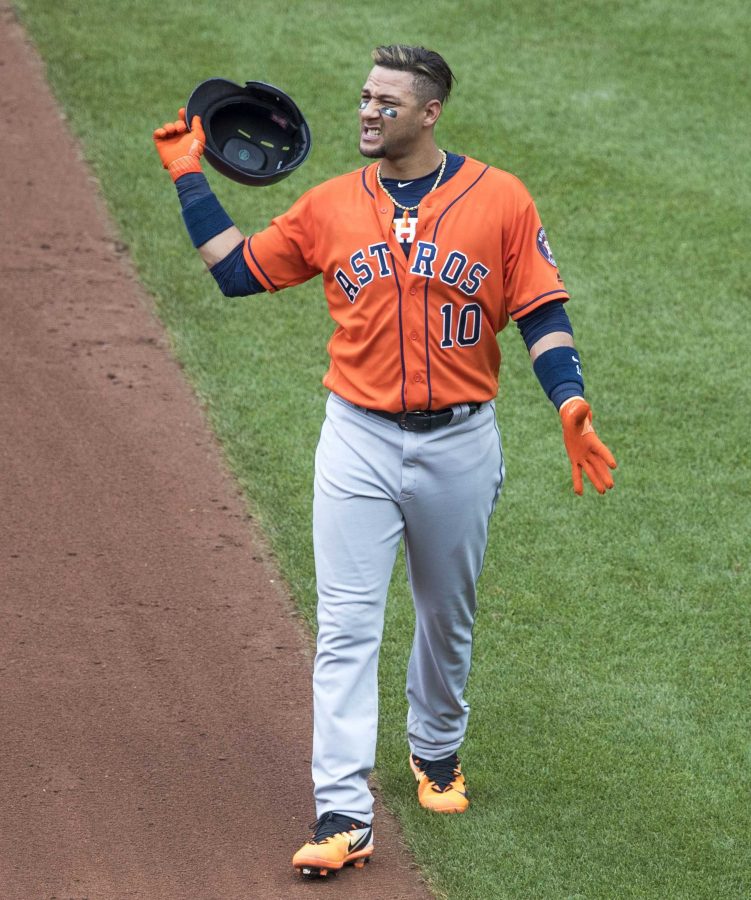 During a World Series game on Oct. 27th, Houston Astros infielder Yuli Gurriel made a gesture towards Los Angeles Dodgers pitcher Yu Darvish after hitting a home run off him, a gesture that many East Asians have gotten to know very well. Yes, that gesture.
Gurriel stretched the corners of his eyes and seemed to have said the derogatory Spanish term "chinito" after his home run off Darvish.
Darvish is a Japanese-Iranian pitcher for the Los Angeles Dodgers. For his response to Gurriel, fans from both the Dodgers and Astros praised Darvish for taking the high road:
— ダルビッシュ有(Yu Darvish) (@faridyu) October 28, 2017
On Twitter, many recognized Gurriel's racism as it is:
He "stretched" his eyes to "look Asian" and said, "Chinito". Okay.. Alright.. I'm logging off. #YuliGurriel #SuspendedForTheRestOfTheSeries

— David Haley (@david_haley1) October 28, 2017

https://twitter.com/PacoTorresCA/status/924095930520891392
But others are calling the backlash towards Gurriel's gesture overly sensitive and argue his actions weren't racist:
Fake news, typical cry baby, liberal snowflakes. Who cares, it was a joke, nothing more. The end! #Astros #YuliGurriel #yudarvish #dodgers

— Jason Tosca (@JT0sca) October 28, 2017
People freaking out about #YuliGurriel someone please explain how that was racist?

— Ryan Covington (@Ryan_Covi11) October 28, 2017
This is where I disagree. Growing up in America as an East Asian, it's inevitable that you face racism and harassment. I've remembered every time someone has said something racist to me: "All Asians look the same," "You only get A's because you're Asian", or "Stop eating dogs." Yuli Gurriel's gesture is definitely not foreign to me.
And what can I say? Everyone knows that racism is widespread. But it's 2017, and the fact that people still defend racism is shocking.
As a kid, I never digested this. When a stranger yelled something racist to me on the street, I didn't bother to tell anyone. I thought racism was the way the world worked, so I accepted it as the norm. It also didn't help that there was — and still is — little to no Asian representation in media or the television shows I watched.
On top of the nonexistent casting calls, Asians are ridiculed on television without a second thought. In January 2017, Family Feud host Steve Harvey made a joke about Asian men being unattractive, which he unapologetically laughed at and failed to recover from for 15 seconds. In response to this, Youtuber Ryan Higa posted a video where he detailed his own thoughts on the matter based on his experiences as an Asian man:
"In our society it's almost okay to make jokes about Asians like this," Higa said in his video. "Can you imagine if we switched the roles and said the things Steve Harvey said about black people on national television? I'm pretty sure that Asian guy's career would be over. He'd probably be getting death threats, he'd probably not be getting another job. There'd be significantly more outrage than there was about this Steve Harvey thing. But since this joke was about Asians, it's not as big of a deal, because you know, it's just a joke."
But since this joke was about Asians, it's not as big of a deal, because you know, it's just a joke.
Ryan Higa
After a few skits and logical rebuttals, he said, "Asians are the punch-bags of society."
My initial reaction to his video was surprise. Not many Asians take a stand to racism like Higa did because it meant stirring up additional trouble, and frankly, up until recently I had been the same way (until I discovered the wonderful gift of intersectional feminism). But the more and more I digested Higa's video, the more it resonated with me. I've experienced countless instances where jokes about Asians were swept aside or laughed off. If the same joke was made about another race, it would've been taken much more seriously. I'm not sure if this was reflected in the decision regarding Gurriel, but it may have played some part in it. Gurriel will receive no disciplinary action in the rest of the World Series, but will receive a 5-game suspension next season.
Racism in sports is not a foreign topic. At MVHS, I've heard non-Asians talk about Asians being bad at sports because they're "unable to build muscle" and "all they can play is badminton." Looking back, I really wish I had said something to refute that because they clearly haven't seen Jeremy Lin play basketball or our majority-Asian MVHS varsity cross country team take back several medals at each race they compete in.
The thing is, racism will never cease unless we show intolerance to it. The MLB failed to do this by allowing Gurriel to finish playing in the World Series without a suspension until the next season. Although Gurriel apologized, it did not feel sincere and it resembled apologies issued by celebrities to get people to stop talking about their mistake.
Jokes against Asians are getting old. But to me and most of the Asian community, they were never funny to begin with.
We already live in a time where the President of the U.S. would condone such behavior. Let's not do it to each other.