Field hockey: Team defeated 0-2 by Cupertino HS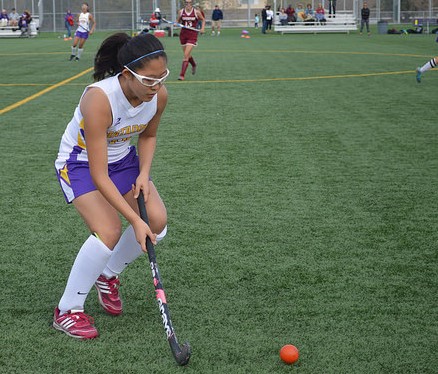 A

fter losing to Cupertino HS earlier in the season, the MVHS field hockey team was looking forward to their second chance to beat their rival on Oct. 20. Practice was centered on taking shots at the goal rather than playing long passes. Knowing that CHS was going to play offense, MVHS decided to practice their defense.

Throughout the game CHS played aggressively on offense, driving the ball down to the MVHS goal and attempting five shots. MVHS was consistently forced to keep up their defense, limiting their chances to actually score. Although CHS was aggressive, it wasn't until the last 15 minutes of the first half that they scored the only two goals of the game.

MVHS lost the game, but senior Emily Twu was positive about her team's playing and felt that this game displayed their progress skill-wise since the last time they played CHS.

"I think there was improvement in our intensity," Twu said. "I felt that last game it took us a while to pick up the pace […] this time we got our rhythm quicker and faster and earlier in the game."
Though there are only three games left in the season, MVHS players hope to make more improvements in their skill sets and make the most out of their season. Senior Serena Yoo felt that the MVHS team needed to work on their playing skills and avoid hacking, the term used to describe hitting an opponent's stick with your own.
"I think [we need to improve on] individual stick skills because I feel like we were a little lacking in the soft reception and having that vision before passing," Yoo said. "The game was really sloppy. Like people were going into each other. The other team was hacking, we were hacking and the refs didn't really call it."
In addition to stick skills, junior Hira Ali said that the team needed to work on mechanics of the game and stop telegraphing, which is a term for when players look to the spot where they plan to hit the ball, giving away their move to anyone watching.
"Instead of looking where we're passing we can sort of fake it and either look some other way and pass a different way," Ali said. "Just so that our opponents don't know exactly where we're passing and are not able to intercept as well."
Check out the photo gallery below to see pictures of the game.
The next field hockey home game will be against Los Gatos HS on Oct. 23 at 3:30pm.