O
n Monday, October 9th, room E203 was packed with excited students, ready to learn about C++ and the upcoming robotics competition. As each individual club member entered, the volume of the class increased bit by bit. The students were excited to learn, and the officers were excited to teach the students. The officers are trying to make the club as interesting as possible and by adding a competition, they believe that will do the trick.
Whether it be president or secretary, every officer plays a crucial role in the club and all of the officers have been making efforts to try and make the competition into a reality. Junior and Secretary Angus Jyu explains how the competition is relevant to C++. C++ is a language that is used in computer science. Many engineers use C++ to make robots and other instruments that can be used for useful purposes.
"Programming is primarily in the C or C++ language, and so being able to build these robots and having a real hands on experience can give deeper insight on how both C and C++ language can be used in real life" Jyu said.
Learning from last year, the officers decided to avoid time consuming lectures and are starting to develop hands on experiments, where the student can learn and have fun at the same time. Such experiments include making robots and making them do real life tasks.
"We were mostly focused on teaching the fundamentals of C++ programming and we realized that it did not gain much interest because it did not offer as much hands on experience that the robotics competition offers," Jyu said.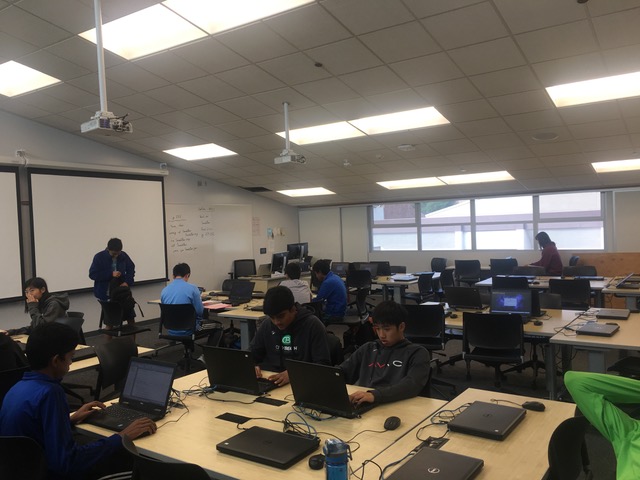 Co-President and Senior Min Hoo Lee describes the competition as a way for students to get a real feel for robotics and C++. Lee believes that since robotics mainly uses C++, it can be a great tool to use in the future for people who are planning to pursue an engineering career.
"Our main focus is not only get interested in C++ but to also go even further in engineering or programming," Lee said.
This year is the first year that the C++ club is hosting a robotics competition and every officer hopes that it will go well. The officers are trying really hard to make this work because they want to make this year a year to remember.
"I definitely am trying to create a lasting impact especially and we have many officers in the club and I am trying to ensure that they have the same goals as I do," Lee said.
Since this is the first year that the club will be hosting a competition, invitations to the competition have not been sent out to other schools or districts. But the officer team hopes that in a couple of years, the popularity will expand and they will have more participants in the competition.
"[It's] just our club and some people from the robotics team, but in the future it is definitely possible for it to [go to] regional sort of things, go to other schools," Lee said.
Through different fundraising events, the C++ club was able to gather the money needed to create the robots that will be used in the competition.
The club will host the robotics competition in second semester, each officer hoping that as time goes by more excited and interested students will join the club and making the competition an event to remember.