Korean club holds their first meeting of the year
Korean Club members discuss their reasons for joining and activities for the upcoming year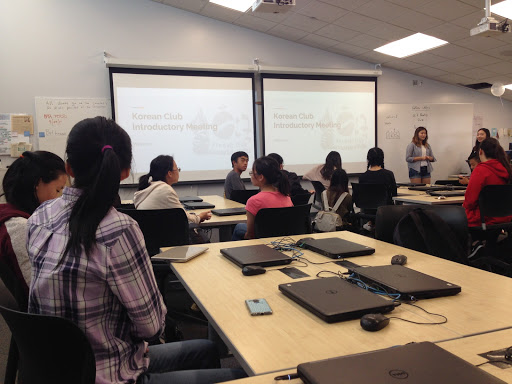 As the bell rang signalling the beginning of lunch and the last few people took their seats in room E202, Korean Club's first meeting of the year began. The meeting, held on Thursday, Sept. 28, was led by officers senior Ashley Chang, senior Haemin Jeong, sophomore Hannah Lee and sophomore Kelly Sadikun. They started off with a presentation introducing themselves as well as their goals and club activities for the upcoming year.
In addition to their annual performance at Culture Night, the club plans for Korean food tastings, Korean language lessons and even teaching members to make paper hanboks. Afterwards, the club officers shared a few interesting facts about themselves.
Senior Kathleen Ra, despite having just joined Korean Club this year, found the experience to be fun and would like to attend more meetings this year.
"I've decided to attend Korean Club because, well I'm Korean so I thought why not just join a club that's about my culture," Ra said. "I thought it was pretty organized and I thought, it doesn't seem so bad [to be] doing crafts or talking about culture and stuff. And even learning the language seems pretty good. I feel like it's such a nice universal opportunity for people to have [that] kind of knowledge about other languages."
On the other hand, returning member sophomore Katherine Chung joined the Korean Club without a Korean heritage, and simply has an interest in Korea.
"At first I wanted to learn more about the language and how people communicate," Chung said. "But now, [I'm] more into the Korean music realm, and learning more about how their culture has expanded over the years."
After the officers finished presenting about themselves and the club they transitioned into a Kahoot!, an online quiz game that members can join using a code. The Kahoot! featured questions about both the club and Korean culture. Ra won the Kahoot! at the end of the meeting and received a bag of honey butter chips as her prize.
"Actually, [Chang] told me that the award is […] honey butter chips, so I was like 'I gotta win it'," Ra said. "And also I've already learned a lot of these things, back at home when my family taught me or when I went to Korean school for a long time. So I guess I happened to have a higher chance of winning the Kahoot!."
Chang, who has been in the club for three years now, expresses her contentedness with the first meeting.
"I think it went pretty well," Chang said. "I think people enjoyed Kahoot! at the end, because they got to learn a little more about Korea before they left."
Soon after the Kahoot! ended and the prize of Honey Butter chips was distributed the meeting concluded. As the members walked out the door they used the officers' computers to check in and collected their promised donut.
About the Writer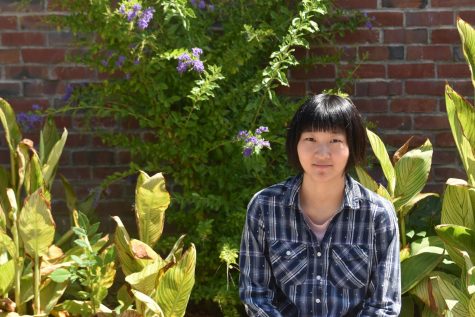 Claire Yang, Graphics editor
Claire Yang is currently a senior at MVHS and a graphics editor for print.