To deal with the high temperatures on Sept. 4, senior head editors of El Valedor Ellen Li and Mayumi Tabungar went to get ice cream from Baskin Robbins along with photographer Vincent Tran. Later in the day, the three of them found themselves in Home Depot and joked about what it would be like to buy a class cactus. By the time they left, a decision was made — they would get a class pet.
Li went to Petco and found a double-tailed Betta fish at Petco. According to her, she picked it because of how cute it was. On Sept. 11, the newest member of EV was brought into A103.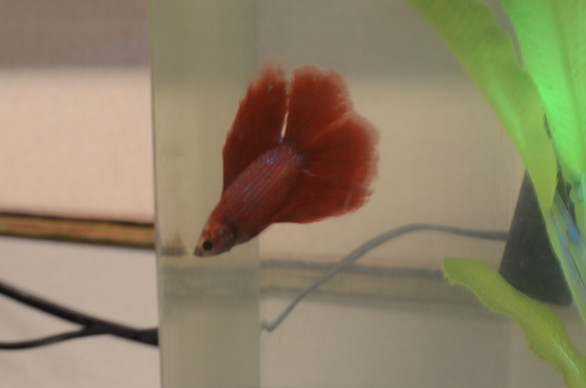 Every year, EV has a theme that they follow in the yearbook, and one of the ideas for this year's theme was the inspiration for the fish's name. The theme has not been announced yet, but according to Tabungar, "Pete" is inspired and derived from a short form of the word.
In their Facebook group, they conducted a poll with three names — Robin, Dinner and Pete. The name Pete won after being picked by 17 staff members.
So far, the fish has been mostly popular, but some aren't as excited about the new pet as others.
"In general, everyone really loves the fish. In the beginning of class yesterday and today, because that's all we've had him for, everyone was really excited and they went to the fish bowl," photographer junior Pallavi Komma said. "There's obviously a couple people who are like 'I don't really care' or 'It's just a fish.'"
Along with a pet comes the responsibility of taking care of it. There is already a feeding sign up sheet in the classroom, and the EV head editors have ordered an automatic feeding machine.
Pete's current home is a medium sized fish tank that junior Sam Liu provided.
"I used to own Betta fish when I was younger and I saw people talking about [getting a fish] and it looked like everyone was lowkey unprepared," Liu said. "I saw that there was a fish bowl [in my house], and I said, "Yo I could bring my set-up" because I wasn't using it at that point."
Adorning the bottom of the tank are rocks that Komma used when she had a Betta fish during her freshman year.
The yearbook staff has been really pleased with the positive responses that various teachers who teach or have taught in A103 — Debbie Frazier, Tyler Cripe, Jay Shelton, Brian Chow and Julia Satterthwaite — have had. Cripe created a Lego friend for Pete, and Chow suggested the name Robin.
This addition to the yearbook family is intended to decrease stress and make the room more lively, according to Tabungar. Those who decided to get the fish also want Pete to set a happy mood.

"It's like a therapy dog, but instead of a dog it's a fish," Li said.