Research Club: A different approach for success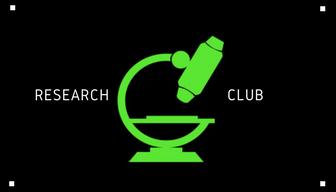 This April, junior Vivek Kamarshi took home the Senior Division Project of the Year Award at the California State Science Fair, under the guidance of the MVHS Research Club. The club's countless achievements and awards come from the optimistic attitude of the students, self- driven to conduct their own research. However, this year, Research Club has a strategy to increase the success rate, (the amount of award winning projects), and quality of the projects.
While it may be simple to get students interested in the task of conducting a research project, Research Club faces a problem in keeping consistent effort. After a while, it gets hard for some to maintain the same level of focus and motivation throughout the year. Officer and senior Pallavi Sripathi shared her thoughts on the overall goal of the club.
"It's kind of different from the other clubs because it's a lot more of self driven," Sripathi said. "People have to do the work outside of the club and we are here to help… facilitate their path towards being able to compete in the Synopsys science fair."
The idea of one-on-one mentoring is going to be implemented for the first time this year. The club will assign each each member a student officer or teacher mentor to help guide their project further by offering advice based on their previous experiences or knowledge.
Mentors instruct their student by conducting an experiment and setting deadlines, while also touching base with the other side of a project: the presentation. Students will give a brief rundown of their technicalities, data findings and reason for choosing the topic to the judges at the competition. Officer and junior Rujuta Sathe talked about the different parts of successfully completing a research project.
"There are two aspects of a project. So one is, yes you really have to have really good data analysis, and then the second part is actually presenting that project because if you can't express what you did then it's not worth much," Sathe said. "So we really guide them through the presentation aspect of it, like how specific can they be about their findings."
The club credits their success to the opportunities present and to the conversant and accomplished science teachers at MVHS. Students have the chance to publish their own scientific paper and teachers have acquired life changing fellowships all over the world including the Galapagos and Mount Vernon. Students don't even have to leave campus to gather materials, data, methods and equipment to conduct an experiment. The club advisor, Renee Fallon claimed that since MVHS has a myriad of resources available, it is very easy to conduct a project.
"That [students are not restricted by the resources available]  is actually a very important point. The science fair project that won states last year was done here on campus," Fallon said. "Students have this misunderstanding… that only science fair projects which are done in research labs win anything and that's simply not true."
With the abundance of resources available at MVHS, students have been very successful at the Synopsys science fair. According to Fallon, only about one third of all participants will receive an award, but for MVHS students that number can be anywhere between 50 and 66 percent. Of the 78 projects entered in Synopsys last year, eight projects were sent to state (junior Vivek Kamarshi taking home the senior title) and three were sent to the Intel International Science and Engineering Fair, all of whom received awards (junior Vivek Kamarshi, junior Anika Cheerla and graduate Nikhil Cheerla).
While the club primarily sets their sights on Synopsys Science and Technology Championships held in San Jose during March, they also want to participate at the Google Science Fair, and bioGENEius, a tech-based science fair (they are both application based). All the programs offer different rewards including grant money, projects to pursue, and opportunities to explore.
"Synopsys is actually the first science competition to happen [during the course of the year]  and it's open to basically everyone, so it's a very good entry level research competition because it's low stakes," Sripathi said. "Going up the competition scale like bioGENEius and Google Science Fair, they usually have higher stakes because you are writing applications and you have to make videos and present."
For anyone who successfully completed their project and participated at an event, the club also opens up many doors for students to explore their interests, from interning at University of Southern California to enrolling in summer programs, and meeting experts in a desired field.  Members can utilize their experience and knowledge during the summer by sharing it with their classmates and incoming members too.
 "One thing different we want to do this year is especially making sure that people stay interested and they continue to want to do a research experiment," Sripathi said. "We hope that anyone who does a research project is willing to participate [in summer programs and internships]. "