Highlights of the 2017 Welcome Back Rally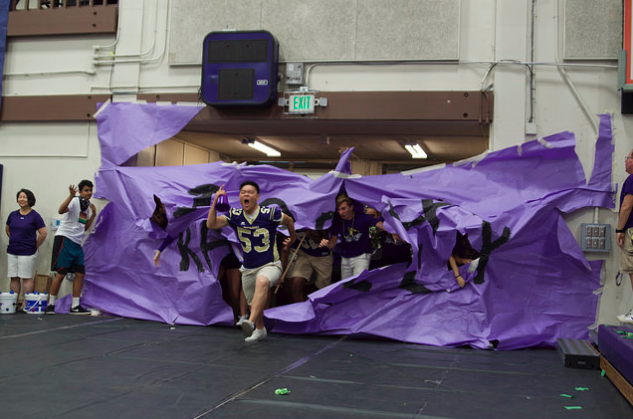 Chetana Ramaiyer
September 2, 2017
Additional Reporting by Shayon Moradi, Shar Rahman and Ilena Peng.
The Welcome Back rally began as it always does. The gym was almost full with the exception of a noticeable gap where you would expect the seniors to be. That is, until the moment when the class of 2018 emerged from behind the poster for the first time, as they had seen previous classes do since their freshmen year.
Scroll through the GIFS and photo gallery below to relive the Welcome Back Rally.
After playing the introduction video, the 2017 Welcome Back Rally began. It started off with each class chanting the traditional "How do you feel" and the 15 second class cheers. Soon after, the MVHS cheer team performed.
MVHS Cheer:
Rally Games:
Four people from each class were chosen to participate in the rally game. This year's game involved carrying a stack of pizza boxes on a tennis racket across the gym, jumping back across in a burlap sack, carrying a balloon using their heads and then getting halfway across through a hula hoop with a team of four people.
MVHS Marquesas:
The MVHS Marquesas then had a high energy performance to the song "Kill the Lights" by Alex Newall. It was their first performance this year with their new coach, Dasha Plaza and assistant coach, Stephanie Milyahi.
Class Sing Along:
Each class then participated in a competition where they sang along to a song that matched the music genre of their class theme.

MVHS Song:
The MVHS Song team then performed a routine, complete with kicks leaps, pom motions and dancing.
Alma Mater:
Per tradition, the MVHS Song and Cheer team performed as Variations sang the MVHS Alma Mater.
Results:
The rally came to a close when the results of the rally were announced: the freshmen came in last place, the juniors in third, the sophomores in second and the seniors in first.
Updated Sept. 3: A previous version of the story that appeared on Sept. 2 incorrectly stated that MVHS Song's routine involved many flips and acrobatics.