Girls volleyball: Keeping up the legacy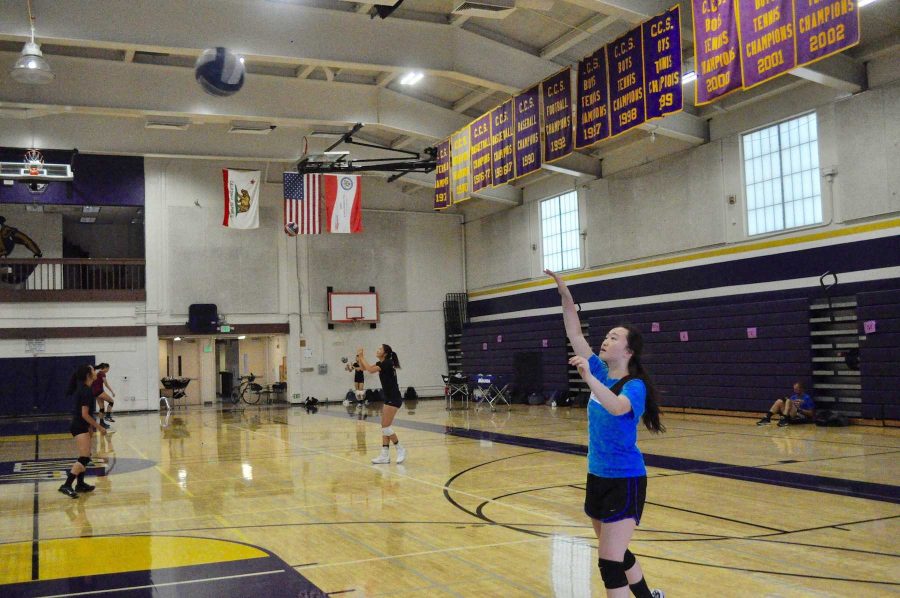 At the start of their practice, senior Hanna Kotesova calls the warm-ups for her teammates on the MVHS girls volleyball team. From high knees to lunges, Mr. Anderson is quiet as Kotesova leads the team during practice. After warm ups, the team works on serving and hitting to each other.
As a returning varsity athlete, Kotesova already knows what it means to be a team player. This year though, the situation is different. For the first time, she's a team captain, taking the lead in a position she still remembers seeing older teammates occupying. Kotesova is joined by two other seniors this year, Kelly Chen and Alia Johnson. Between the three of them, they are the backbone of the team, and each are looking forward to different parts of their captaincy.
 "I think the most important aspect of being captain is being one of the most supportive members of the team," Kotesova said. "Whenever someone is down, or when the team is just quiet and slow, the captains need to be the people that step up, get us talkative, supportive, and get us into the game."
The captains before her did their job. Now it's her turn. Kotesova wants to live up to their legacies and in fact, wants to create her own also. Stepping up is one thing. Bringing the skill, and authority, over the team is another.
"My biggest concern as a captain is not being able to meet all the expectations," Kotesova said. "I don't want the rest of the players to feel like I'm not someone they can talk to, or I'm someone who isn't motivated. Last year our captains were both very skilled and encouraging, so one of my fears as a captain is that my skills and my motivation or energy may not be equal to last year's captains. I want to be someone who is well rounded."
Chen's athleticism is a key part of the team's dynamic, and Chen also serves their foundation as a setter. Chen reflects on the inspiration she got from previous captains on her varsity team like alumnus Sydney Howard.
"I kind of want to follow in her footsteps. [Howard] knew how to organize the team, and also as a setter I kind of look up to her"
Being a captain goes beyond volleyball. For Chen, her responsibility can be measured by her younger teammates
"As a senior and also as a captain, we kind of have to set an example for the rest of the underclassmen." Chen said. "And also conveying message[s] from the coach to the players too. Making sure we're doing the right exercises and staying on task."
With graduating seniors leaving and freshman entering the program, it's a captain's duty to keep the energy up within the team. This season Johnson hopes to maintain and improve the team's liveliness on the court.
"We have a lot of new players, but also a fair amount of returning ones as well," Johnson said. "We will probably be a different team this year because last year's team was very loud and had a lot of energy, and a lot of strong team leaders and most of the captains [this year], myself included, are a lot quieter."
Johnson believes that a confident captain can only be as good as their team. If the captain brings the energy the team has to be right behind them.
"I am expecting them to cheer each other on as much as I would [to] them," Johnson said. "We are much quieter and so we definitely need people to step up and cheer each other on, either when we make a mistake or when we win a point or make a good play."
About the Writer
Rajas Habbu, Sports Editor and Visuals Editor
Rajas is a second year staff writer and a current visuals and sports editor. In his free time, he enjoys playing volleyball both in school and in a competitive club. He also enjoys neuroscience and wishes to pursue a career in medicine. He also enjoys reading books and spending time with friends.