The face behind the grade
F

or many students, completing an Advanced Placement (AP) test means coming out of the testing room, letting out a huge sigh of relief or anguish, and removing a huge burden from their shoulders. However, this burden is now transferred to an army of select experts, some of whom are high school teachers, all with grading pens and rubrics ready. They are AP test graders, strangers whom we rely on to get our college credit from the exams for these classes.

Every year, volunteer teachers and professors take two weeks out of their summer vacations to go to a select city in order to grade the free-response answers of the AP tests. They spend one day running a crash course and getting familiar with the rubric. The rest of their two weeks is spent grading thousands of student answers.
Being a grader can benefit current teachers by familiarizing them with the course material. As a grader and listener for the AP Spanish Language and Culture test, current AP Spanish teacher at Fremont High School Christina DeRuiter relishes the experience of grading AP free-response questions despite the rigor of working nine hour shifts from 8 a.m. to 5 p.m.

According to DeRuiter, the AP Spanish test contains two areas of free-response questions: a written portion and a verbal/listening portion. Regardless of what they are grading, teachers arrive and spend the first day split up into many groups known as "tables." Each table has a "table leader" who, having arrived a week earlier and already previewed the student responses, are responsible of guiding the graders through examples and generalizing them into a certain point value on a five-point scale.

For the next two weeks, the graders spend their time reading or listening to student responses and giving a holistic grade. As a result of the constant repetition in grading, DeRuiter has been able to develop a keen sense of judgement to be able to assess her own students' work on the AP scale.

"I think it is a benefit to any AP teacher who does this because you really see what the readers are looking for," DeRuiter said. "And you really see what's important."

Although not an AP grader herself, English teacher Vennessa Nava also believes that spending time at the grading seminar has helped her familiarize herself with the course material.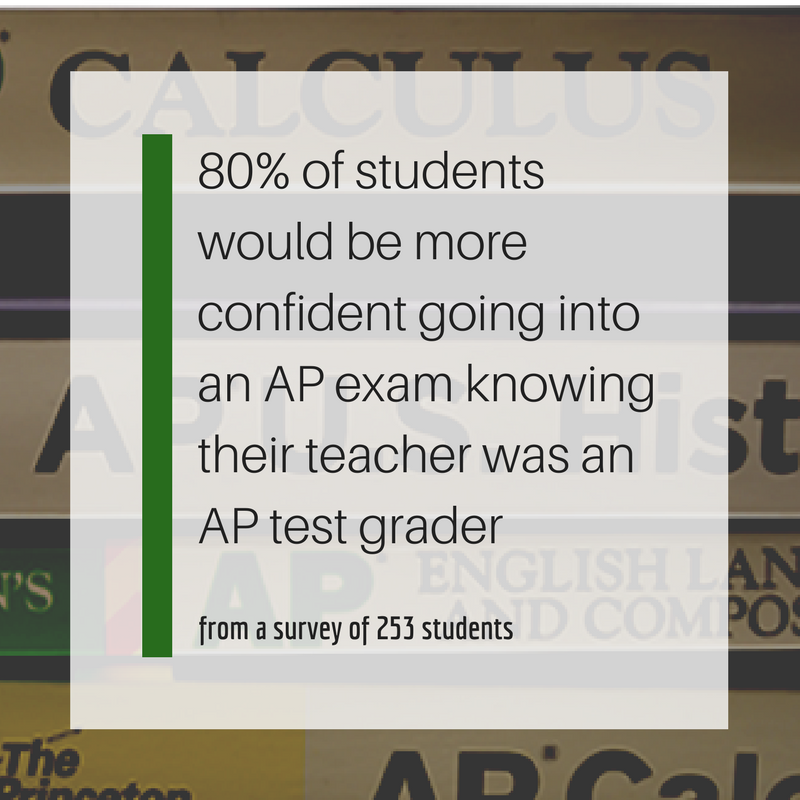 When she had initially decided to teach Honors American Literature, which prepares students for the AP Language and Composition test, Nava spent two weeks learning from a woman who had 20 years of experience grading the exams. Since then, despite never having experience as an AP test-grader herself, Nava shared what she had learned with her class.
Even though many students do not conform to a specific formula of writing, there are still many chances for them to do well. On the AP English Language and Composition exam, the quality of argumentation is very important.
"People who are AP scorers are well-read and so they have a wider acceptance of good prose," Nava said. "Prose is one of the components in the scoring, but it is really about how strong of an argument that student has or how well they are analyzing, and those are less subjective measures."
Although all AP test graders follow similar protocols when grading, the approach toward grading varies drastically between skill-based subjects, typically associated with English langWuage tests, and content-based subjects, associated typically with math and science subjects. Unlike most skill-based language tests, which tend to be graded on holistic feel, most of the content-based tests only allow for one correct answer.
According to AP Calculus BC teacher Jon Stark, many of the content based questions are graded by a rigid points system with a specific number of points given for each part of the answer. For the AP Calculus exams, each free response is worth nine points, with each subquestion accounting for a fraction of points. The graders of the AP Calculus exams are each given a rubric with guideline boxes on the amount of points given for each correct numerical answer or expression. There is one key aspect which Stark thinks is important for his students to know.
"Sometimes there are mathematical methods that aren't anticipated by the rubric makers." Stark said, "But correct mathematics will always get the points."
Although the rubric changes from test to test, the experience and knowledge graders gain does not, and as a result, many students and teachers alike have found themselves benefiting from having relations with grading the tests.