Speaking out of the closet
"Hi, my name is Nate. I'm a junior, 17 years old, I go by he/him pronouns, and uh — I'm gay."
That last part was so hard for me to get comfortable with, probably because I hadn't said it out loud very often. And now, I was going to say it in front of the entire freshman class. It took a couple tries — ok, maybe a  lot more than a couple — to finally get it rolling off my tongue.
I was practicing to speak on a panel hosted by the GSA for freshman Biology and Physiology classes. I, along with other LBGTQ+ students, volunteered to present and answer questions as part of the science classes' Sex-Ed unit, specifically about sexual and gender identities. Being the only member of the panel signed up for all seven periods, it was a little intimidating, but I was ready. After all, I had volunteered to talk about my sexuality, and who knows about my sexuality better than me?
Not being an official member of the GSA, this was all new to me — we didn't do anything like this when I was a freshman, but I wish we did. So when I saw the post asking for volunteers, I knew I had to participate. The opportunity to show freshmen that you can be an openly LGBTQ high schooler is so important to me because that would have drastically changed both my freshman year and coming out process. I was also the only gay guy on the panel, meaning I alone was representing an entire letter of "LGBTQ".
Walking into the choir room reserved for the panel, I was nervous, excited and way out of my comfort zone. However, that quickly changed. I noticed immediately how readily I was accepted into the group and how kind the others on the panel were to me. They were all clearly comfortable talking about their sexuality, and that made me a lot more comfortable, too.
Using a few periods to warm up, I had finally gotten into a nice rhythm — I nailed my jokes every time, not mixing up the punchlines and set-ups, I solidified my generic answers to the repeating questions and, most importantly, I lost any hesitation I had started with. Eventually, everyone else's confidence started to rub off on me.
But during this panel, in which we were teaching other students about topics we were supposedly experts on,  I found myself learning a lot more than I thought I would, both about myself and the people around me. Whether it was simple facts like what "agender" meant, or more deep and personal insights like how I felt about coming out to the whole school, I came away from this experience with a very different perspective.
Out of everything I learned, however, by far the most important to me was learning how to be truly comfortable in my own skin.
Even though I did come out fairly publicly, it wasn't something I made a point of talking about. I got the occasional "I read your article, Nate. It was really good," but besides that, I didn't feel the need to walk around campus holding a large neon sign with the words "I'm gay". But because of me never truly talking about it, I found myself shying away from the topic altogether, too nervous or awkward to even say the words "I'm gay" in front of some freshman I didn't know.
So I'm thankful. Thankful I got the opportunity to speak in front of other students about a topic I am extremely passionate about. Thankful I met some amazing people who were going through or had gone through a similar experience as myself. Thankful I was able to make an impact on other people's lives while at the same time learning so much about myself. And thankful that I can say this now without a moment's hesitation: "Hi, I'm Nate, and I'm gay."
About the Writer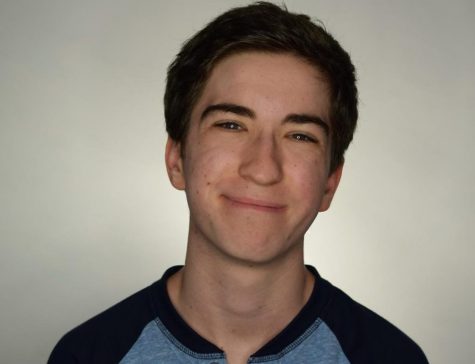 Nathan Stevens, Staff Writer
Stevens is a senior at MVHS and ataff writer for El Estoque. He enjoys watching complex TV, writing as well as hanging out with friends in his free time.