Overview of the 2017 Spring Show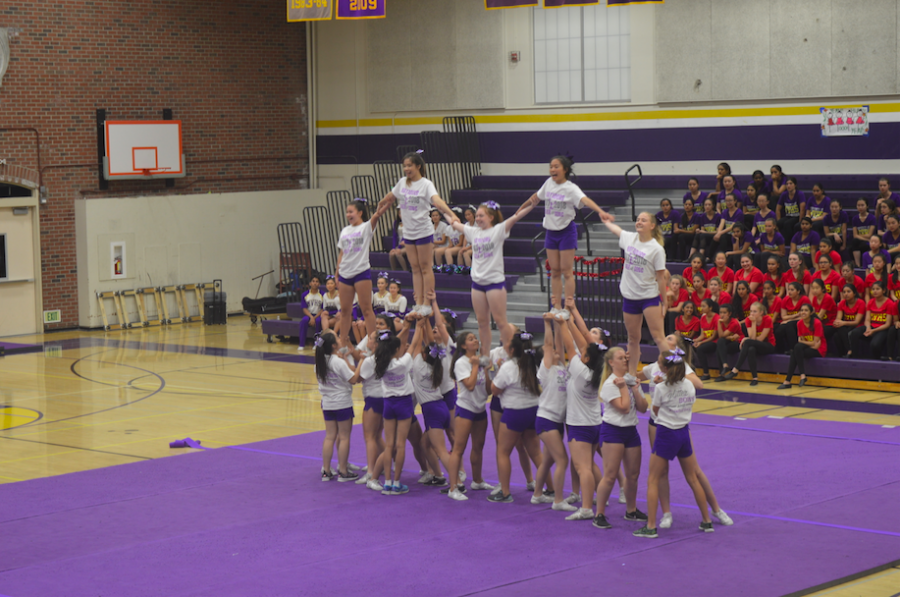 Sara Entezarmahdi
May 15, 2017
Lines of rehearsed, yet anxious performers in black, purple and red lined up along the western bleachers, facing a packed crowd and a view of each performance.
After preparation and numerous practice runs and rehearsals, the MVHS Spring Show on May 12 was a success, consisting of performances by PE Dance classes, Urban Soul Movement, Color Guard, the Marquesas and MVHS Cheer.
For many dancers, this show was their first. But even though it was sophomore PE Dance performer Nia Ivanova's first Spring Show, the experience went smoothly.
"I think that it went very well… since we have been preparing for months," Ivanova said.
Although it was her first time in front of an audience, Ivanova's background in theatre helped her overcome her stage fright, which was a common theme among the Spring Show's newcomers.
While for many, this was a new experience, it was the last for one important individual who worked behind the scenes. This was Marquesas coach Hillary Barron's final year participating.
Barron has coached the Marquesas for the past 10 years — however this is her final year.
"I've been thinking about it for a while, and dancing [and coaching] was a lot of time and a lot of commitment. You practice for days a week two hours a day… and it's been 10 years," Barron said. "But, I think the dancers know this, we always have to turn things down because of dancing, so I think I'm ready to try new things and push myself in different ways."
As Barron's final Spring Show came to a close, students made speeches honoring her commitment and contributions to the Dance team.
"It… [all ended with a bang]. I was really feeling the love from the crowd and… some alumni who came to support me," said Barron. "I think this team has been really wonderful in making this a really special year."
For future Spring Shows, current PE Dance teacher Dasha Plaza will be taking Barron's place as the Marquesas' coach while Barron moves on from dance to become an teacher for an AP class.
And what will never fail to disappoint, though, are the new crowds of fresh faces as well as those preparing, who will close their last Spring Show with a spinning pirouette and their heads held high.