Boys volleyball: Team defeats Los Altos HS in senior night game
U

p against a Los Altos HS team with a 2-10 league record, the Matadors came into their senior night game feeling confident of a win. After a brief ceremony for seniors Prathik Rao and Yash Hegde, MVHS took the court and the players seemed laid back, all smiling and sharing jokes.

"I think a lot of us played in this [senior night] game last year, so we knew what to expect," sophomore Kevin Mathew said. "But the atmosphere was really relaxed, I mean kind of carefree."

Both Hegde and Rao made appearances throughout the game, with the crowd roaring particularly louder each time they touched the ball. Despite suffering from injuries to both of his ankles in games earlier this season, Rao was still able to play for his senior night game.

"It was very emotional, since it was my last game playing on [our] home court," senior Prathik Rao said. "Both my ankles are kinda broken, so I knew that I wasn't going to get my normal minutes, but I was still very excited to be playing."

Mathew explains that the team was not as focused as usual, and this was shown through instances of miscommunication or bad passing throughout the game. However, the Matadors were clearly the more skilled and technical side, and in the end, they easily outmatched their opponents. Senior Yash Hegde and sophomore Kevin Mathew combined on numerous occasions to make momentum shifting blocks, and the team won all three sets by scores of 25-18, 25-15, and 25-18. Check out the photo gallery below to see how the team cruised to a senior night victory on April 28 against LAHS.
Boys volleyball will play their CCS quarterfinal game in the gym on May 11th at 7pm.
About the Writer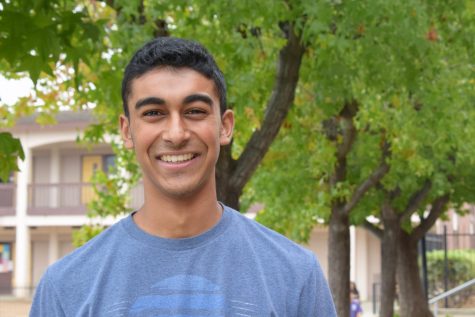 Roshan Fernandez, Co-Editor-In-Chief
Roshan is a senior and co-editor-in-chief for his school's publication El Estoque. He enjoys writing, reporting, interviewing and photography. He was previously a sports editor and a visuals editor in his junior and sophomore years respectively. When he is not writing for El Estoque, he can be found playing soccer or spending time with friends.