"Hamilton: An American Musical" is definitely worth the hype
Hang on for a minute...we're trying to find some more stories you might like.
"The world will never be the same."
The lights dim and the opening chords play — and that is when I recognize the truth that the world, or at least mine, will never be the same.
I got to watch "Hamilton: An American Musical" twice. And I loved it. Both times. I do know that I am privileged to have had this opportunity, and I don't mean to brag, but it was honestly amazing.
I'd been obsessing over the glorious brainchild of Lin-Manuel Miranda since "Hamilton" made its debut on Broadway in August 2015. My obsession reached the point that when my sister moved to New York the next summer, I dragged her and my dad to the Richard Rodgers Theater to wait outside the stage door to catch a glimpse of my hero.
And I did. I remember seeing Miranda walk up and hearing a hundred teenagers shrieking at the sight. There was a girl much shorter than me who was trying to push her way to the front to see him, but the crazed fans wouldn't let her through. I tried moving to the side, but the second I did that, I was crushed by at least 10 people moving forward. But I got my selfie with him, and I was content with that.
Fast forward to me making plans to visit my sister during February break. She was in New York, and so was "Hamilton". After searching for deal after deal, we finally found tickets that weren't as outrageously priced as the others. And just like that, I was going to see "Hamilton".
The two hours and 45 minutes seemed to fly by. Complete with a rotating floor, excellent choreography, traditional costumes with a twist, music from so many different genres and skillful actors, it was perfect. "Hamilton" somehow combines rap, jazz, pop and Beatles-inspired songs into a masterful soundtrack that twists its way into a corner of your heart and refuses to leave. These various music styles together make for an energy-filled marvel that can be felt by listening to the cast recording, but seeing it in real life is breathtaking. The ensemble combines classical dance with modern moves that enchant and delight while wearing costumes that seem to blend period and contemporary styles. 
The lyrics that I had heard so many times before on my phone sounded so different when they were being sung live. Miranda's eloquently penned words made my heart stop and then start again, beating faster than it ever had.
I'd rather not admit that I cry when I get extremely happy, but this masterpiece deserves my tears and the happiness it brings me is not something I'm ashamed to reveal. I got through four and a half songs (but if I'm being honest here, maybe less) before my eyes started to tear up. I think everyone deserves the chance to see something they are obsessed with, just for the feeling of immeasurable happiness that, for some inexplicable reason, translates into tears.
Yes, I was part of a mass of people waiting for the legendary Miranda. But even though I was not part of the mob of hyper fans who would shove anyone out of the way to get a chance to take a picture with him, their crazed adoration suddenly made sense to me. I'd like to think that I'd never be like that though.
Then two months later, my parents announced to me that they had found cheap (in the Hamiltonian definition of the word) seats for the San Francisco show — the seats were restricted view, so they wouldn't see that much, but my parents were still going to go see the musical that had captured my heart the first time I listened to it. I was so excited for them to see it that I spent most of that Friday night listening to the cast recording.
Saturday morning came, and my mom announced to me that she had gotten me a ticket too. I was speechless, probably for the first time ever. This was a big deal, since anyone who knows me knows I talk way too much, especially when it comes to "Hamilton". Fun fact: I even try my hardest to insert "Hamilton" references into my APUSH essays.
Good luck, APUSH students.
I've done what I can. The rest is up to you.

— Lin-Manuel Miranda (@Lin_Manuel) May 5, 2017
That Saturday at the Orpheum, as I sat in the front row all the way to the right, I looked at the show from a different place (pardon the poor pun). My cramming for the AP U.S. History exam was underway, and I started to think about the historical significance of "Hamilton". Miranda had taken history and converted it into a majestic musical with millions of fans around the world. People who would otherwise not care about the first treasury secretary of the U.S. now know all about his plans to assume state debt and his torrid affair with Maria Reynolds.
But regardless of whether I'm analyzing it from a historical standpoint or just jamming out and singing obnoxiously on my bed, "Hamilton" is nothing but wonderful.
After the show, my mom and I talked to a 12 year old girl from Australia whose mom had brought her to San Francisco just to see "Hamilton". She had listened to the music for almost a year and she was obsessed (relatable). She and her mom made a 15 hour plane flight solely for this show, and if that doesn't speak to its quality, I'm not quite sure what will.
To take the life of the man on the 10 dollar bill and transform it into a spectacle of flashing lights, cannon blasts and the fastest Broadway rap is something only a genius can do, and I'm so lucky that I got to witness it.
About the Writer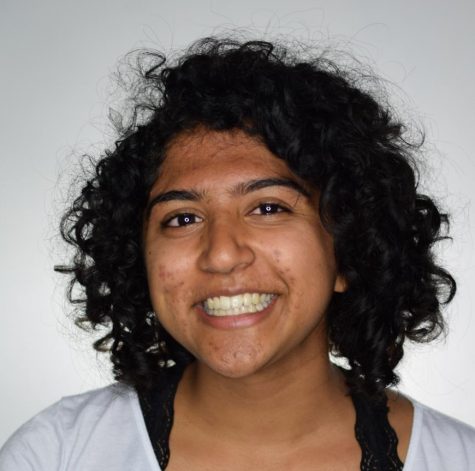 Anjini Venugopal, Staff Writer
Anjini Venugopal is currently a senior and previously served as beats editor for El Estoque. She is quite fond of music and coffee. When she isn't reporting, she's likely to be found sitting with a book.