Take it from the players: MVHS pushes past Saratoga HS in straight sets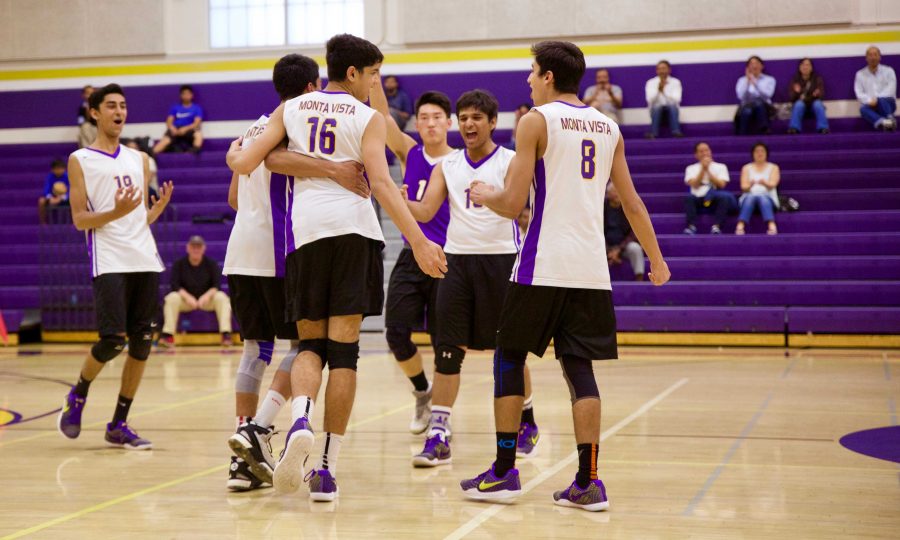 Om Khandekar
April 25, 2017
It's not every game that MVHS takes on Mercury News boys volleyball Player of the Year, Joel Schneidmiller, as an opponent. For sophomore Nikhil Bapat, it was a reality he had to face when MVHS went up against Saratoga HS and their dynamic 6-foot 6-inch hitter. For most of the first set, SHS and MVHS were locked in a close back and forth, trading one showstopping kill for another as the score grew to 19-19. That's when Schneidmiller launched himself towards the net from outside to crash MVHS' defense and swing the game in SHS' favor. But Bapat was ready for him. The crowd went silent as Bapat blocked the spike, absorbing all of the devastating hit and sending it back to the SHS half of the court. MVHS players and fans erupted during the succeeding SHS timeout, and the momentum shifted permanently in MVHS' favor. Scroll down to see what Bapat and other key players were thinking during the victory.
On his show-stopping block against SHS hitter Joel Schneidmiller:
"We really game planned around blocking Joel, because he's their strongest hitter, so I was trying to get in front of him and stop him from getting a hard hit down the line because he would have taken someone's face off if he had gotten that hit, so I just wanted to get in front of it and make sure that he didn't get the kill. It's always fun to block Joel, [but] it doesn't happen often."
On his disrupting inside kills throughout the game:
"You know, right technique and right form are all that matters. If you have the right form or right technique it's going to be a bounce either way. So, it's not about if you're going to bounce or not, it's about if you have the right technique it's just going to go down. [SHS] is a great team, but we kept the pressure on them. We got them in a place that they don't want to be, and in a situation that they don't want to be. Overall, that's how we go the win."
On his unpredictable passes that kept SHS on their toes:
"I think a lot of it was going away from the strong hitters, so even though that sounds counter intuitive, they're not going to think that it's going to happen so they're already running towards our strong hitter and then you go away from them and nobody's there."
Boys volleyball will play Homestead HS in the main gym on April 26 at 6:45 p.m.
Photos by Om Khandekar and Sannidhi Menon