Boys volleyball: MVHS maintains undefeated league record in nail-biting 3-2 finish over Homestead HS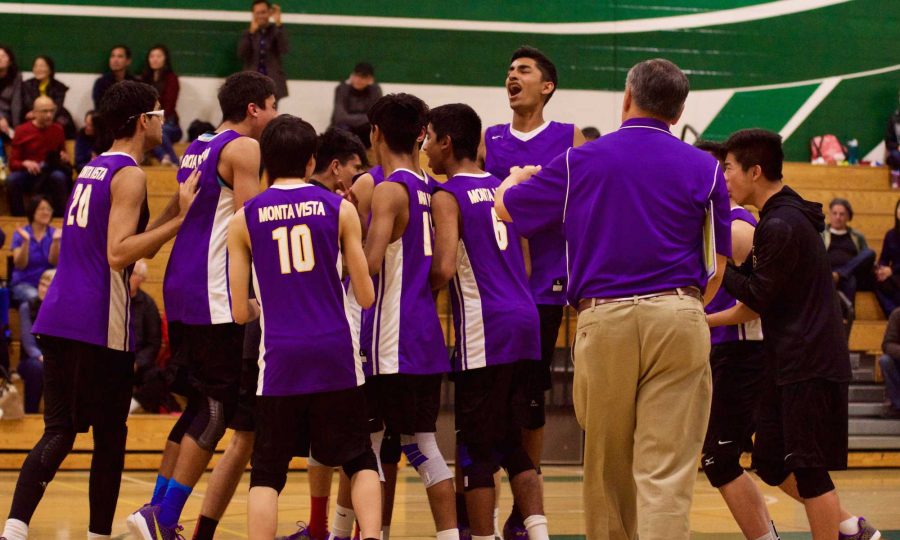 Aditya Pimplaskar
March 28, 2017
F

or the first time this season, head coach Paul Chiu was noticeably uncomfortable. He looked on from his spot on the sideline, occasionally barking plays and signaling to players, but all he could do was watch as the Matadors experienced a matchup unlike any other league team they had faced this season. MVHS had cruised through their previous league games, having defeated every league opponent in straight sets prior to this matchup. As the Matadors faced off against Homestead HS, it was a tough fight; each point warranted its own battle and was celebrated thoroughly as the Matadors took down their league rivals on March 24 in five back-and-forth sets: 25-21, 15-25, 25-23, 21-25, 15-12.

"I knew it was going to be a tough match," Chiu said. "They have big hitters. They played better defense than I thought, and they serve-received better than I thought they would. And it took everything we had."

MVHS took the first set 25-21 despite a cutthroat HHS offense often gunning past MVHS' defense. Both teams exchanged leads multiple times with side out after side out keeping the game unpredictable for either side. MVHS pulled through with a dominant defense, leaving sophomore Gautham Dasari plenty of work powering down kills between HHS defenders.
"The first set, I felt like everything was clicking, we were playing well," Dasari said. "Our serve receive was lacking [but] we still made up with it with [our] offense."
The second set marked the start of the Matadors' struggle. HHS' serve-receive plugged its defensive holes thanks to Mustangs' senior Danny Wong, and the Matadors fell victim to trick plays they often used against their opponents; HHS faked passes, tipped the ball over the net and toyed with the Matadors' defense. The Mustangs went on long-scoring runs, exposing gaps in the Matadors' serve-receive and benefiting off of controversial calls from the referees. The Matadors withered in response to HHS' comeback, ultimately dropping the set 15-25.
If losing their first set in league play wasn't enough for the visibly shaken team, the Matadors also lost one of their own to a sprained ankle. Senior captain Prathik Rao, known to his team as Tiki, took a fall early in the third set, awkwardly landing on his ankle after attempting to block an HHS hit. Rao was helped off the court and sat immobile as his team tried to regain some momentum without him.
"Tiki [Rao] is a court general, you know?" Chiu said. "And he understands the game. We lost a lot when he went down."
But for every misfortune, there is a silver lining. The Matadors let Rao's injury motivate them to fight back from a desperate situation.
"We pulled out the win this time and I think that's because we kinda knew we were playing for Tiki," senior captain Yash Hegde said. "We were playing for him to get better and for his return and that kind of fueled us."
Junior captain Jason Shen led the Matadors in the third set, dishing out successful serves and countering HHS' hard hits with dives that sent him sprawling into the crowd. HHS turned up the pressure with kills from outside, but Shen's efforts and decisive kills from Hegde and sophomore Rajas Habbu propelled the Matadors to a slim third set victory, 25-23.
"I learn to dive a lot because that's how I play," Shen said. "As a libero I just go for everything and I have bruises on my hips to show for it."
The third set served as a wake-up call for the Mustangs, who came out swinging in the fourth set. Despite the Matadors' attempts to break the Mustangs' scoring runs, HHS was able to pull ahead,going on an 11 point streak in the middle of the set. Miscommunication and frustration plagued the Matadors' side of the court, while the Mustang bench celebrated.
"In that set there [were] a lot of them, the rotation was slightly different; there were guys next to each other who weren't used to playing next to each other, so you know that caused some of the miscommunication," Chiu said. "But we cleaned it up in the fifth set."
With the Matadors down 7-17 and HHS gaining momentum, MVHS hoped to break HHS' scoring streak. An HHS serve flew out of bounds, and it was all Shen needed. Shen responded with a motivational "that's one" and led MVHS to break through and cut into HHS' lead. MVHS fought until they were down by four points, but the deficit was too much to overcome, and HHS took the penultimate set 21-25.
"[Shen] didn't let that kid get a kill past him, and he was just playing amazing," Dasari said. "People carried off of that great play and [they] worked harder. Even though we weren't able to come back that drive we had, the fourth set pushed us to play harder in the fifth set and that's why we won."
HHS' Wong kicked off the final set with his spin serve, which had proven lethal against the Matadors in prior sets. He squatted low, dribbled the ball with a menacing drum-like beat that carried across the gym, and looked up. Extending his left arm to his side, he held the ball and spun it. Wong tossed the ball in the air, lept and sent the ball over to MVHS' side of the net, where they were unable to recover it. The process repeated itself, but the second time around, Wong's powerful serve got the best of him; the Matadors got an early side out on Wong's serve that ended up going out of the court.
MVHS and HHS went back and forth, exchanging point for point until HHS went on a short four point run, making the score 8-4.
"I thought the fourth set was very important because we were down 10 and we came back," Chiu said. "We calmed ourselves down and sort of played our game, serve-received better and that gave us the confidence going into the fifth set. But then again we dug a hole in the fifth set that we had to dig ourselves out of again."
The Matadors' spirits fell, but a voice could be heard from the bleachers. Rao was down, but not out, encouraging his team from the sidelines. After a quiet time-out from MVHS, the tide turned. Following a short back and forth, Dasari and Shen, along with sophomore Nikhil Bapat, helped the Matadors gain momentum, putting them up 14-11. In hopes of wrapping up the match, sophomore Kevin Mathew apprehensively served the ball, only to have HHS return it and MVHS' block attempt miss.
HHS' side out prompted yet another timeout by MVHS. The team huddled up in front of their bench, hoping for one final point to put the match away. The deciding point came from a kill from Dasari that left his palm and fell straight onto the hardwood on the HHS side of the court. The Matador bench stormed the court as a relieved Chiu pumped his fist victoriously.
The Matadors' victory over the Mustangs allowed them to maintain their undefeated league record. MVHS will play the Mustangs again later in the season; the matchup between the two league powerhouses is sure to be the deciding factor in the race for the league title. Rao, a key player for the Matadors, will be sidelined for two weeks, but the Matadors are confident they can remain competitive without him.
"We're definitely going to hope [that] Tiki's okay by then," Dasari said. "If he's not we know that we can stand without him. We're still a very strong team capable of beating these really strong high level teams, and we just have to carry the same momentum and energy we had from the first serve in the fifth set and carry that on to every other game we play."
MVHS will play their next match at home against Cupertino HS on March 29 at 6:45 p.m.
Additional reporting by Roshan Fernandez