Glimpses of the food trucks at MVHS "Off the Grid"
Hang on for a minute...we're trying to find some more stories you might like.
The 5 p.m. sun was still high in the sky, its rays filling the rally court as people gradually trickled in. Students, teachers and families formed lines behind four food trucks. The sound of music drowned out the chatter, whether it was a curated playlist or live performances from MVHS' students. The band "Carbohydrates" performed arrangements of pop songs, complete with rhythmic drum beats and saxophone solos. Seniors Maddie Park, Grace Nevitt and Veda Ashok also sang covers of songs like Rolling in the Deep. Seniors Riona Guha and Linnea Cheek performed an upbeat dance routine as well. Meanwhile, students around the rally court played games like Jenga and Ping Pong Cup Toss. Senior Mallika Singh also offered to paint henna designs on students' hands.
Seated on the metal tables in the rally court or on the big steps, students returned to school on March 17 to spend a food-filled night with their friends. All of the profits from MVHS' first food truck event, "Off the Grid" went to the Leukemia and Lymphoma society. Look below for some glimpses of the food trucks.
---
Pearl milk tea is a popular drink among MVHS students, so the line outside Creative Sips' truck wasn't exactly unprecedented.  The truck sold smoothies in addition to the popular milk tea. By the end of the night, the truck had ran out of honey boba, its most popular type of boba.
---
A small group of students followed Judie's Tacos' truck as it entered campus, slowly inching its way along the sides of the rally court before parking in front of the student union. The tacos continued to attract students to the truck right until it decided to close its windows shortly before the clock hit 8 p.m.
---
Crepe'em Coming offered both sweet and savory crepes, although most students treated themselves to the sugary option. After receiving their food, some students pulled out their phones to snap a photo of the sugar-coated crepes before digging in. 
---
Banh Mi Zon sold Vietnamese-inspired food like spring rolls and chicken teriyaki sandwiches. A few photos and a quaint black chalkboard covered in scribbled multicolored handwriting displayed the menu choices.   
---
Even after the sun set, students and parents continued to buy food. Students hung around the rally court talking to their friends until the event ended at 8 p.m.
About the Writer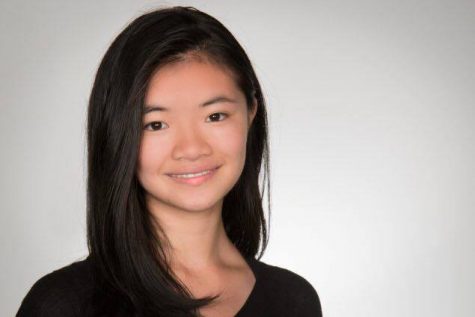 Ilena Peng, Staff writer
Ilena Peng is a senior with a love for tea, books and journalism. Formerly, Ilena was one of two editors-in-chief, as well as a news, entertainment and business editor.