Senior Kelli Russell describes her last year on MVHS Cheer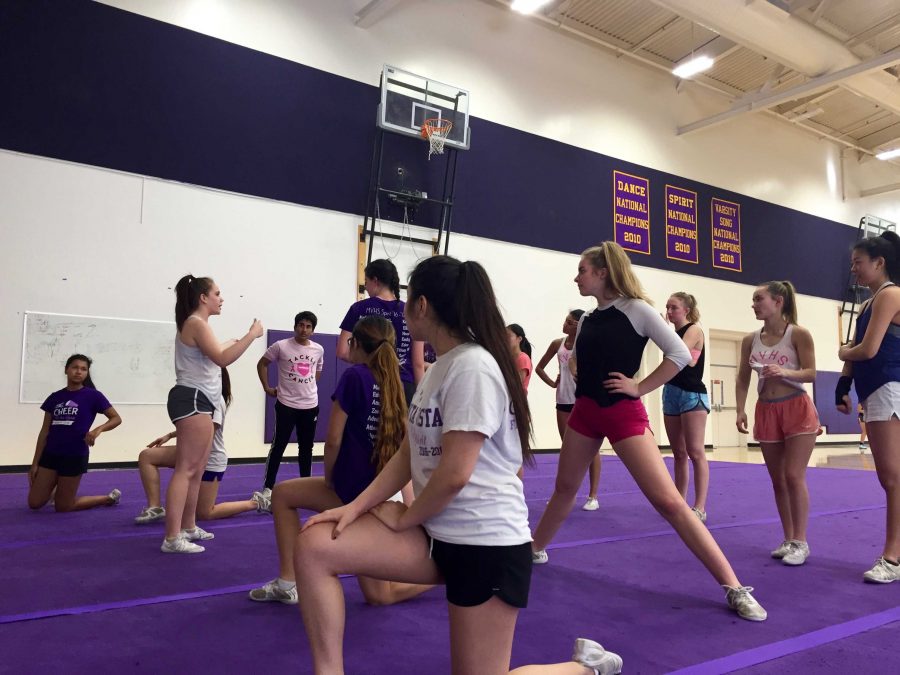 Chetana Ramaiyer
March 10, 2017
Additional Reporting by Becca Wong
Last year, at the 2016 USA Nationals in Los Angeles, the MVHS Cheer team got 6th place in preliminary rounds, meaning they would move on to the finals. The minute they finished their first performance in the prelims, however, Russell describes how she knew already that their routine was flawless.
"The whole team knew that was perfect. We did it as well as we possibly could have, like it's not going to get any better than that one routine, that one performance," Russell said. "It was like such a great moment. Even if we hadn't placed and gotten into finals, we would've been happy."
Senior Kelli Russell, one of the captains of the MVHS Cheer team, talks to the team at their weekly practice. In order to prepare for the USA Nationals that are coming up in less than three weeks, the team is increasing the number practices they have. Photo by Chetana Ramaiyer.
Now, almost a year later, with the 2017 USA Nationals coming up in two weeks, Russell describes how every milestone they take as a team, she realizes more and more how her final year of cheer is almost over.
"It's really weird to think that it's ending. It's more weird that Cheer is ending than high school is ending just because school is school, but Cheer is something that I've only done in high school," Russell said. "So to go from four practices a week usually to nothing is going to be really weird afterwards."
Russell has made many good memories with Cheer, from travelling to far-away competitions to weekly practices. Some of Russell's favorite memories are spending time with former cheer captain and MVHS class of 2016 alumni Emily Leung. Russell describes how Leung was one of her closest friends and simply hanging out with her was one of her favorite memories of cheer.
"Just last year in general, getting to spend her last year with her and then like all those memories we made together because she was one of my best friends," Russell said. "Just the whole idea of like when we finished competing that first time at USA Nationals last year like you could just, the whole team knew that was perfect."
However, the team has a couple milestones left, with their remaining upcoming competitions. Though one of them is less than two weeks, Russell feels confident in their team's preparation.
"The last couple weeks before nationals are pretty hectic… but this year I feel like we're more than prepared. We just need to keep it together," Russell said. "It's more like an individual thing right now. We know we can do it. We can hit this routine and we can perform super duper well, but if we let ourselves get scared, then we're prohibiting ourselves."
One of the team's greatest challenges right now is adjusting to the rules of the USA Nationals. The most recent competition they went to in Las Vegas, JAMZ, only required them to do their routine with music for two minutes and 30 seconds. However, Nationals requires them to cheer on their own for a portion of the routine, which is hard since they just learned their cheer on Sunday, March 5. On top of that, Russell describes how remaining peppy is actually extremely hard, contrary to what most people believe.
"First of all, you're like exercising and you can't breathe. Second of all, when you're saying the words, like yelling them like as loud as you can, it's hard to like fluctuate and make it sound like encouraging to the crowd to like respond to you," Russell said. "So that's like one of our biggest struggles right now and it's something we've kind of always struggled with."
The last milestone of the year, and one of Russell's favorite parts of the year, is the tryouts. Two weeks after Nationals, the team hosts the tryouts for newcomers wanting to join. It's a tradition that seniors are in charge of both choreographing and leading the routine for the tryouts.
For the past three years, auditioning was the most exciting part to Russell as she got to see all the new talent that was waiting to join them for the next year.
"It's really really saddening at the same time because tryouts are my favorite time of the year." Russell said. "I'm really excited to get to lead it because I've always wanted to do that, seeing the other captains do it. But at the same time, I'm really sad that it's not going to be my team anymore."