Fashion Club members gather for first sewing session of year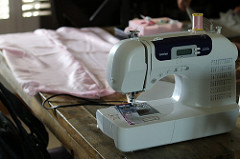 Fashion Club members gathered at senior Aditi Jain's house on Feb. 2 to start preparing garments for the spring fashion show. Sewing sessions are designed to give members  designated time to make garments from their designs and get help from more experienced club officers. Members bring sketches of their designs and spend the session cutting out fabric and draping it around a mannequin to see how their garments will fit on a model.
Jain finds sewing sessions extremely helpful, since she doesn't always have time to make clothes. Sewing sessions give her an assigned time to prepare for the spring fashion show.
Click through the photo gallery below to see Fashion Club members transform their sketches into reality.