All-American junior English courses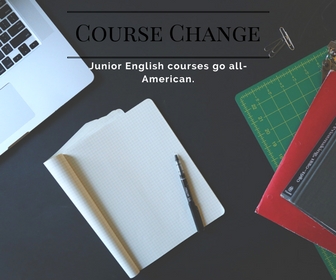 S

tarting next school year, rising juniors will be limited to a choice of three English courses: American Literature, Honors American Literature or American Studies. Rising juniors can no longer take British Literature or Myth, which are now only available to rising seniors.

According to English teacher and department chair David Clarke, it had been a challenge accommodating the diverse range of students, previously consisting of seniors and juniors, in the British Literature and Myth classes.

"You have kids coming in on one end with everything from World Core to American Lit Honors and then on the other end [juniors with] … another year of lit," Clarke said. " … It made it very difficult to look at what the [British Literature and Myth courses] were meant to be in terms of goals."  

Junior Megumi Pennebaker is one of the many students who skipped taking an American Literature course to take Mythology. She says that, in class, she can't see the divide between the students that Clarke mentions.

"I think we're all on about the same level, and to be honest I don't really know who's a junior and who's a senior," said Pennebaker. "It's definitely limiting [the sophomores'] choices."

As a result of this change, collaboration between teachers may also become more cohesive. Clarke believes that if the teachers are responsible for a more "homogenous group of students" — in other words, all senior students instead of a mix of juniors and seniors — it will be easier for British Literature and Myth teachers to decide how their course will play out in terms of units and class expectations.

"Everybody [will be] teaching the same book in the same order with the same assessment," he said. "The collaboration just becomes much easier all the way around."

According to Clarke, the English department has always strived to give students freedom in choosing their classes. Now, however, incoming juniors can only choose between "three flavors" of American Literature, which means students can no longer take both British Literature and Myths classes and "avoid" an American Literature class during the course of their high school career. He acknowledges that there may be a certain amount of disappointment from the current sophomores, but also believes that within a few years, students won't even know there was a change even made in course selection.

"American Lit is the course that's really going to change in some sense," said Clarke. "Giving that there are [currently] only three courses [of American Literature], I would assume that [that's the] course that's really going to expand."

On whether or not taking American Literature is even significant, Clarke believes an element of cultural literacy is important for students.

"It feels like [American literature] is a collective sort of knowledge that all kids should have," he said.